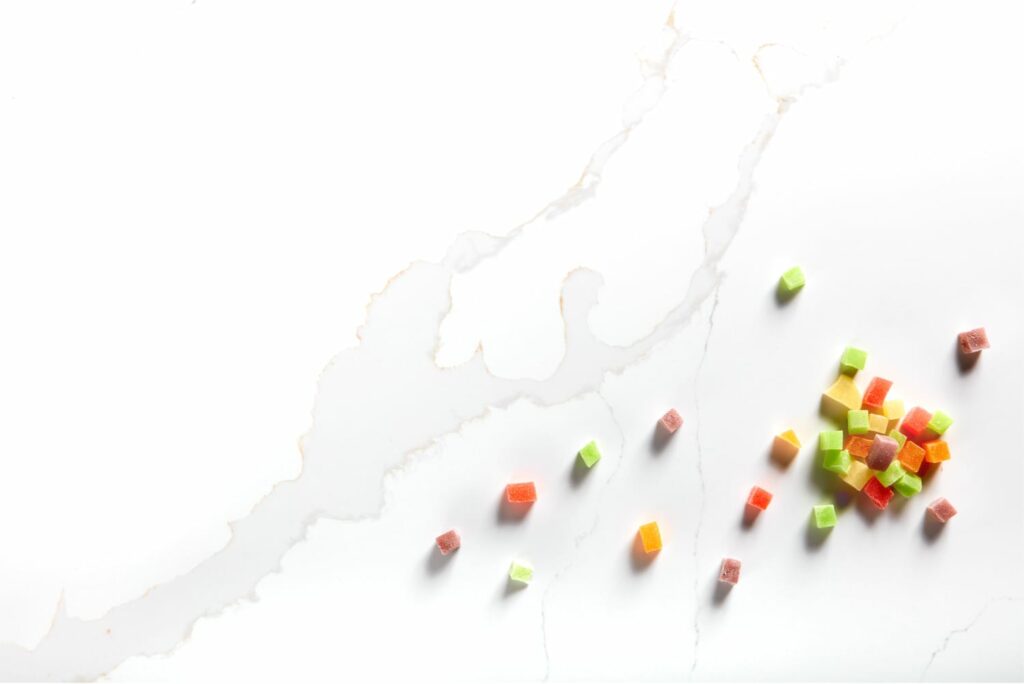 In spaces throughout the home, the neutral tones found in marble can help to imbue a serene and elegant look. For applications that call for extra durability, marble look quartz is a superb choice that encapsulates the timeless beauty of marble, but with added benefits like non-porosity. Read on to learn more about when and how this material might be used to elevate your interior surfaces.
A Complete Guide to Marble Look Quartz
When exploring possible stone varieties for a new countertop, backsplash, vanity or wall feature, you may wonder what the difference is between authentic marble and marble look quartz. Your stone experts at Cosmos SurfacesTM are here to break down some of the key differentiators:
What is marble look quartz made of? – Whereas true marble is a naturally occurring stone, quartz is engineered. Marble is a metamorphic rock containing minerals like calcite, iron, quartz and mica, while quartz is composed of pulverized natural stone pieces and remnants from ceramic tile and glass, plus binders/polymers.
How can quartz imitate marble? – In the past, veined marble was tricky to mimic. But nowadays, thanks to advancements in fabrication techniques, quartz can be manufactured to very closely resemble marble, down to the characteristic veining patterns.
What are the benefits of quartz? – One of the biggest perks of quartz is that it's non-porous, meaning it doesn't need to be sealed like marble typically does. Quartz is designed to resist moisture, bacteria and stains at the surface, making it a super durable and low-maintenance choice for kitchens and bathrooms.
How much does quartz cost? – This will depend on the application and the specific variety chosen. In some cases, certain types of real marble can actually be more affordable when installation costs are factored in. But, marble look quartz can provide an excellent alternative if you have your heart set on the particular aesthetic of a more expensive marble that's out of your price range.
Hopefully you've learned something new and useful about quartz here! This is far from all there is to know, though – for instance, it's vital to be informed on how to care for quartz surfaces if you're considering adding them to your home.
Keep in mind that certain popular cleaning products aren't compatible with the resins and binders found in engineered stone, so it's best to verify that any cleaners are safe for quartz before use. (We suggest sticking with mild dish soap on a soft, damp cloth for everyday care.) Quartz can also be damaged by heat, and it's not recommended for outdoor use. To learn more about maintaining the brilliance of quartz that looks like marble, check out our do's and don'ts for cleaning quartz surfaces.
Discover Our Dazzling Marble Look Quartz Collection 
If your interest has been piqued by the option of combining the stately appearance of marble with the heightened resilience of quartz, look no further than Cosmos for an unmatched selection to choose from.
Our recently released Calacatta Quartz collection features a range of marble look quartz products, such as Calacatta Reed, a dreamy white stone with dramatic gold and black veins that can be bookmatched to up its intensity. There's also Calacatta Brook, a clean white marked by soft brown and rusty gold veining flowing across the surface like a bubbling brook. Other stunners in this collection include Calacatta Telesto, Calacatta Cane, Calacatta Venatina, Calacatta Apex and Calacatta Dune.
Beyond this line, we also offer other sophisticated options like Carrara Stratum, a warm white quartz with dark brown and black veins that imitates the classic Italian Carrara marble. You can preview our full quartz catalog and read descriptions of each distinct variety on our website!
Collaborate with Cosmos for All Your Surfacing Needs
If you're eager to browse top-quality natural and engineered stone surfaces, reach out to the pros at Cosmos, explore our online gallery or stop by our nearest showroom at your convenience! We have locations all across the country where you can see our surfaces in action.
As a second-generation family owned business, we take pride in offering the very best customer service and personalized assistance with choosing the right surface for your application, needs, budget and preferences. Whether you're interested in marble, quartz or other surface varieties, we'll help you compare the pros and cons of each material to reveal your perfect match.
Color of the Month: Steely Gaze
Steely Gaze is an icy grey that pairs well with black for a cool and calm atmosphere. It works well in kitchens, dining rooms, and even laundry rooms.
Calacatta Telesto is a part of the Calacatta Quartz collection by Cosmos SurfacesTM.
Grey and subtle gold veins on a brilliant white background characterize Calacatta Telesto. The varying greys in this quartz add dimension and are reminiscent of the soft yet stunning looks we see in rare Italian marble. If you are looking to add personality to any space, the luxurious Calacatta Telesto by Cosmos SurfacesTM would be a perfect choice.
This marble-looking quartz is a great choice for countertops, backsplashes, wall cladding, and vanities. To amplify its charisma, book-match the gorgeous veins in Calacatta Telesto quartz.
Calacatta Cane is a part of the Calacatta Quartz collection by Cosmos SurfacesTM.
Calacatta Cane is reminiscent of glacial surfaces with a subtle white and grey background. The delicate black and brown veins unfolding across its unique background make for a unique pattern and subtle experience. If you are looking for quartz suitable for areas with high usage that can still make an impression, the humble Calacatta Cane by Cosmos SurfacesTM would be the ideal choice.
This marble-looking quartz is a great choice for countertops, backsplashes, wall cladding, and vanities. To amplify its charisma, book-match the gorgeous veins in this quartz.
Please follow and like us: