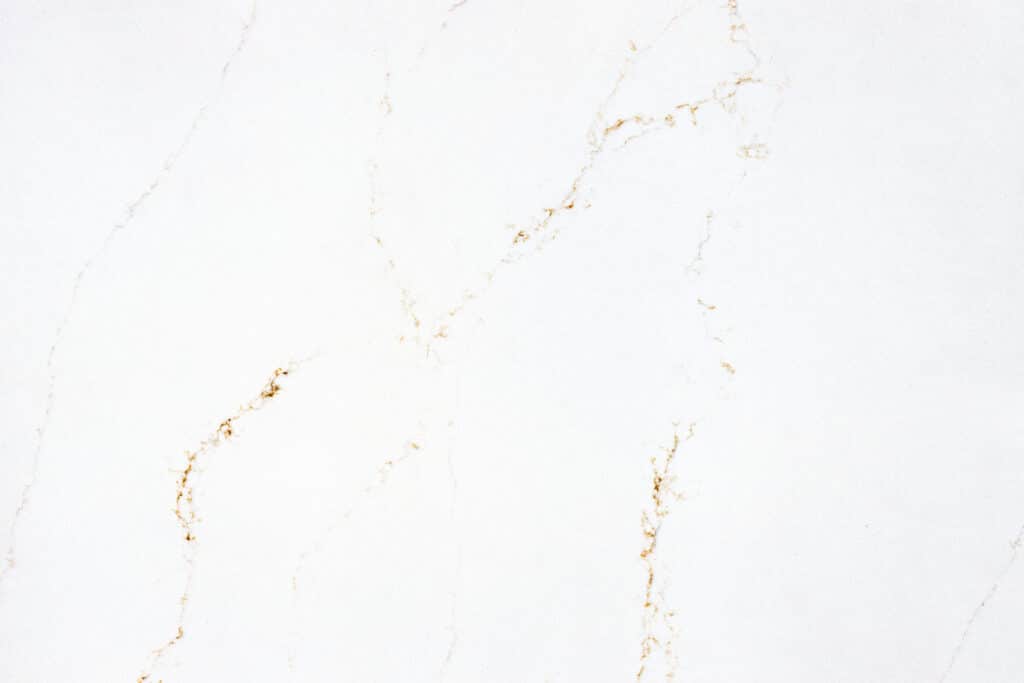 As we summed up in our last blog, marble look quartz makes a phenomenal choice for spaces throughout the home thanks to its superb stain and moisture resistance, sublime beauty and budget-friendly options. Marble look quartz countertops in particular have been trending in recent years. So, let's do a deeper dive into this specific application and why this surface works wonderfully for it! 
Benefits of Marble Look Quartz Countertops
When choosing a new countertop material, it goes without saying that you'll want to pick something that can stand up to daily use – and possibly heavy use, depending on the day and what's going on in your kitchen. Significantly harder than genuine marble, marble look quartz definitely checks the durability box! Let's explore some additional perks of marble look quartz countertops:
Unlike authentic marble and many other natural stones, engineered quartz doesn't need to be sealed. This allows you to skip a maintenance step while resting assured that your countertops offer excellent defense against stains, bacteria, moisture and other things you definitely don't want penetrating your cooking and eating surfaces.
Quartz also gives you enhanced scratch protection over natural marble, thanks to its higher density.
Many times, quartz has a lower price tag than marble. Especially for a large kitchen, opting for marble look quartz countertops rather than the real thing can potentially lower the price of your renovation project significantly!
As you can see, marble look quartz offers plenty of practical advantages for a kitchen countertop, a bathroom vanity top, a backsplash, wall cladding or any other application where you desire the look of classic marble but need extra strength, resilience or affordability.
Possible Cons of Marble Look Quartz Countertops
Of course, no surface is without its potential downfalls. Here are a few things to be aware of with this one in particular:
Due to the binders and resins that help hold quartz countertops together, you'll need to be selective about the cleaning products you use to avoid dulling or otherwise harming them. Typically, mild dish soap and warm water on a soft sponge or cloth will do the trick. Rubbing alcohol diluted with water is also safe for disinfecting quartz. Just be sure NOT to use harsh or acidic cleaners containing vinegar or bleach.
As another result of its composition, quartz and heat don't mix. In turn, you'll want to be extra careful about using hot pads, coasters and trivets for hot dishware placed on a quartz countertop.
One last important note: As we pointed out in our general guide to marble look quartz, there are actually some cases where certain types of quartz come at a higher cost than some marble varieties, once installation costs are factored in. So, if you're working within a budget, keep this in mind and let your surfacing professional know.
Prepare to Be Dazzled by Our World-Class Quartz Collection 
Are you excited by the prospect of installing marvelous new marble look quartz countertops that will enliven your kitchen while heightening its utility? Allow the pros at Cosmos SurfacesTM to help you make your vision a reality! We give you an extensive range of stunning, top-quality marble looking quartz varieties to choose from, including Calacatta Telesto, Calacatta Brook, Calacatta Apex, Carrara Stratum, Calacatta Venatina, Calacatta Cane, Calacatta Dune, Calacatta Reed and beyond.
Each of these options is magnificent in its own way, with some being more understated while others are more attention grabbing. Thanks to improvements in manufacturing, quartz can now be made with veining that looks nearly identical to what you might find in a piece of marble derived from the Earth. Whether you're going for a uniform look or something with higher contrast, you can find it in our array of awe-inspiring quartzes!
Successful Surfacing Projects Start with Contacting Cosmos
If you'd like to see our quartz collection and other splendid surfacing options in person, we invite you to visit any of our showrooms across the country. Or, contact us from wherever you are in the U.S. for personalized assistance with choosing the very best surface for your purposes. If you're on the fence between different varieties, we'll be happy to help you compare their features to reveal the right choice for you. Reach out to our experts today to get started!
Color of the Month: Steely Gaze
Steely Gaze is an icy grey that pairs well with black for a cool and calm atmosphere. It works well in kitchens, dining rooms, and even laundry rooms.
Calacatta Venatina by Cosmos SurfacesTM delivers the classic and rare Italian marble look. Bold grey veins with subtle hits of gold across a soft white background are characteristic of this gorgeous Calacatta Venatina quartz. Bookmatch the veins to amplify its beauty and make a statement.
Calacatta Venatina is a part of the Calacatta Quartz collection by Cosmos SurfacesTM. This marble-looking quartz is a great choice for countertops, backsplashes, wall cladding, and vanities.
Calacatta Reed by Cosmos SurfacesTM is a beautiful white marble look quartz with intense black and gold veins. The high-contrast veins against the white background of this quartz make a dramatic statement in any area it is used in. Calacatta Reed Quartz can be book matched to intensify the impact of this stunning product.
This is a part of the Calacatta Quartz collection by Cosmos SurfacesTM. This marble-looking quartz is a great choice for countertops, backsplashes, wall cladding, and vanities.
Please follow and like us: