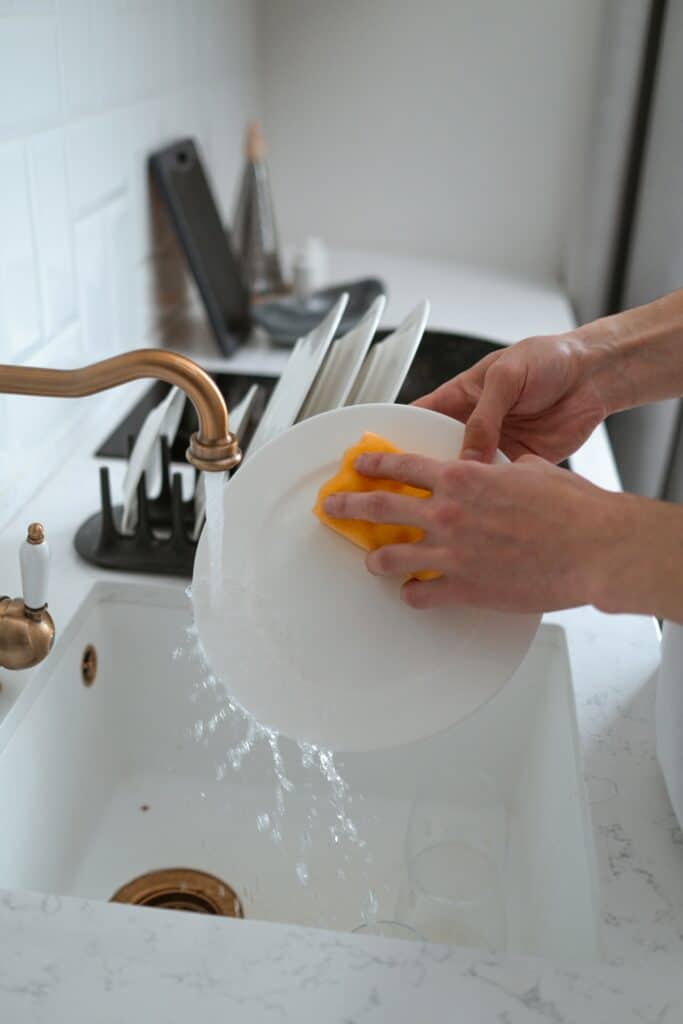 In many ways, the sink is the centerpiece of your kitchen. It enables you to rinse ingredients, maintain hygiene while you prepare food and clean up at the end of each snack or meal. So, when contemplating an upgrade for this focal point, many homeowners wonder what kitchen sink is best from both a practical and aesthetic standpoint. The truth is there's no universal answer, as it all depends on what you personally like and value the most in your kitchen. Today, we'll have a look at some of the top options.
What Kitchen Sink Is Best?
At Cosmos SurfacesTM, we offer a selection of sink types which each bring their own unique benefits to the table (or in this case, to the middle of your kitchen countertop or island!). Let's compare and contrast.
Materials
Composite – Among the most durable and stylish sink materials out there, our Vortex composite sinks feature a matte black basin for an intriguing look not found often. Thick walls, superb stain resistance and easy care make this sink a winner for many home cooking enthusiasts.
Stainless steel – Stainless steel's bold look and resilience earns it favor for many kitchen appliances and features, and sinks are no exception. This very sanitary, heavy-duty metal can handle heat and frequent use with no problem. At the end of the day, it's simple to wipe away any smudges or water spots to restore its sleek shine.
Porcelain – If you're aspiring to achieve a charming and rustic atmosphere in your kitchen, then a porcelain farmhouse sink could be the perfect addition. This material is sturdy and chip resistant, with a low moisture absorbency level to prevent leaks. In white or biscuit (a cream color), a porcelain sink can lend a modern or more traditional feel to a kitchen.
Formats
Single-bowl – These sinks provide plenty of working space, making them versatile and accommodating of larger dishes, pans and bakeware. Featuring a basin with no center divider, a single-bowl sink allows you to place these bigger items flat for easy cleaning. They're a great solution for smaller kitchens with limited counter space.
Double-bowl – If you prefer to have two sections in your sink for organization purposes (ex. still-need-to-be-rinsed vs. rinsed dishes), then this is the option for you. Depending on the specific design, these two sides may be the same size, or one may be slightly larger.
Installation Styles
Drop-in – A drop-in sink offers easy, affordable installation that's compatible with virtually any type of countertop, plus built-in support since the sink rests atop the counter.
Undermount – As the name implies, undermount sinks get mounted underneath the countertop, so it's best to add them during a bigger kitchen renovation if possible. They often require added support, but are ultimately easier to keep clean, and many feel they look a bit more "finished."
Shapes
Rectangle – The standard kitchen sink shape, a rectangular sink gives you plenty of room to work, clean up and place dishes into it.
Oval/round – A circular or oval sink is great for handwashing, but might not be the best for food prep. However, a rectangular sink with rounded edges instead of straight ones can be great for preventing chips to dishes and making your kitchen safer for young sous chefs.
Hopefully, this overview will help you decide what kitchen sink is best matched with your specific design goals, preferences and practical considerations. Still undecided? Our well-informed team will be more than happy to talk specifics and help you land on your perfect kitchen sink selection, based on your kitchen layout, countertop type, budget and other factors.
Look to Cosmos for Help Selecting a Stellar Sink
With a thoughtfully chosen sink, you can enhance both the beauty and performance of your kitchen space. But, as you've learned here today, there's a lot to think about to decide what kitchen sink is best for your household and family!
If you could benefit from professional guidance and more details on the sink styles you've seen on our website, don't hesitate to reach out or stop by one of our showrooms. We also offer a wide range of top-performance countertops, flooring and other surface options, in case you'd like to elevate several aspects of your kitchen at once.
Please follow and like us: