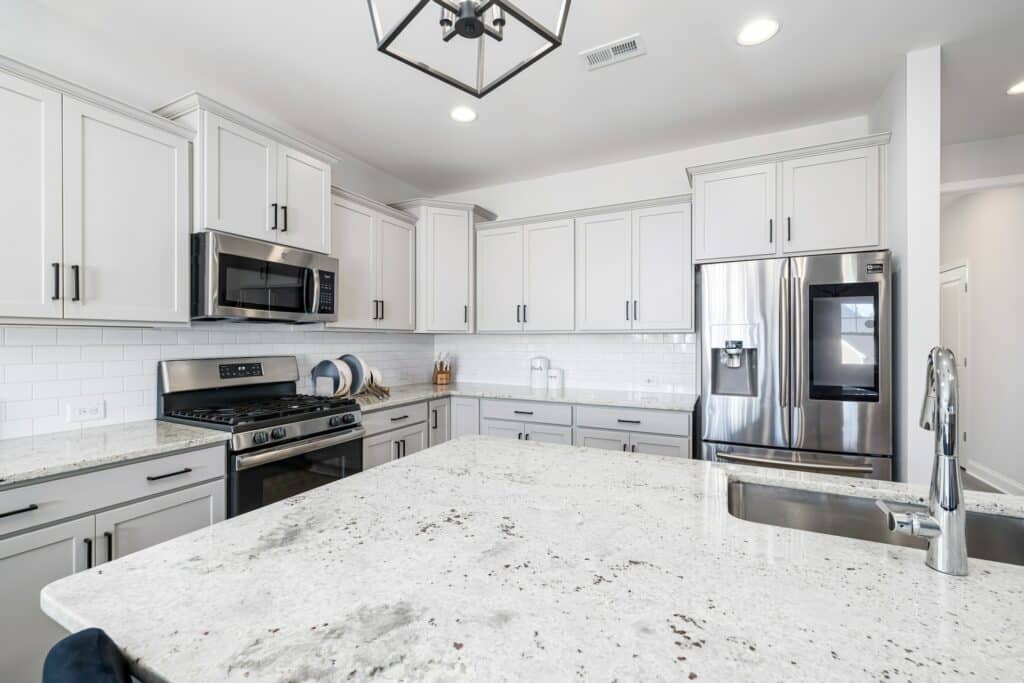 Are you looking for a countertop option for your kitchen, bathroom or bar that brings a combination of vibrant beauty and impressive resilience into your living space? Many homeowners seeking a material at this intersection compare quartzite vs. granite countertops. To help shed light on the best selection to meet your personal needs and desires, let's take a look at their respective features, perks and possible cons.
Quartzite vs. Granite Countertops: Similarities
Because both stones are naturally occurring, granite and quartzite have several things in common. For instance, they are both:
Dense – Being subjected to elements like extreme temperatures and pressure during their creation means that both granite and quartzite are very hard. Quartzite has a slight edge in terms of hardness, but both are quite resistant to scratching, staining, chipping and heat. In turn, they are well poised to perform readily in a kitchen or bathroom that's buzzing with activity (although it's still wise to use hot pads and cutting boards to protect your counters!).
Low maintenance – The recommended care routine for both stones is rather simple and straightforward. You'll want to use cleaners approved for natural stone, avoiding aggressive scrubbers, acidic substances and heavy-duty chemicals like bleach. Instead, stick to tackling everyday messes with a soft cloth & mild soap and sanitizing with a solution of rubbing alcohol and water.
Porous – Like most natural stones, quartzite and granite are both porous, meaning it's highly advised to seal them to prevent intrusion of liquids, bacteria, food particles, etc.
An important note on resealing frequency: How often it will be necessary will vary depending on the specific variety and application. Since bathroom vanity tops and kitchen countertops alike are unavoidably subjected to lots of splashing, you definitely won't want to skip or put off this maintenance step!
If you're not a fan of having to think about sealing and resealing, then you might choose a non-porous alternative that won't ever need to be sealed, such as soapstone (also a natural stone) or quartz (a manufactured stone).
Quartzite vs. Granite Countertops: Differences
Since they're both natural stones, it's no surprise that quartzite and granite have some overlap. Then again, there are certain idiosyncracies to be aware of when it comes to quartzite vs. granite countertops. Keep in mind that they are distinct stones with unique compositions and properties, leading to differences in:
Look – Quartzite is organically designed by Mother Nature in a range of whimsical color palettes and patterns that are sure to draw attention, as well as some more muted options. The same goes for granite, with no two slabs being exactly alike. Generally speaking, you're more likely to find veining in quartzite vs. granite countertops, among other nuances. The appearance ultimately depends on the minerals present and what they've undergone during their transformation over time, with plenty of different aesthetics to choose from across categories.
Affordability – There's a wide cost spectrum for both quartzite and granite, largely depending on how rare the variety you pick is and how much surface area there is to be covered. Luckily, it's possible to find a suitable price point for virtually any budget.
At the end of the day, the style of granite or quartzite you choose will dictate its exact appearance, cost and care requirements. For expert assistance with finding a stone that's just right for your budget, decor and other preferences, look no further than Cosmos SurfacesTM.
Compare Brilliant Surface Options for Countertops & Beyond
As you plan your personal countertop upgrade, our online gallery is a wonderful place to find inspiration. Whether you're most interested in natural stones like granite and quartzite or you're also open to engineered options, we have so much to choose from. Check out Agatha & Blanco Minuet granite plus Scarlet Crystal & Verde Maestro quartzite to begin experiencing the magnificent range for yourself.
Have questions about particular varieties and if they're a good fit for your space? For help narrowing down the choices to ones that best suit your individual needs and design goals, reach out to our surface experts or look for a Cosmos showroom in your area. We'd love to see you in person or help you pick your perfect surface from afar!
Please follow and like us: