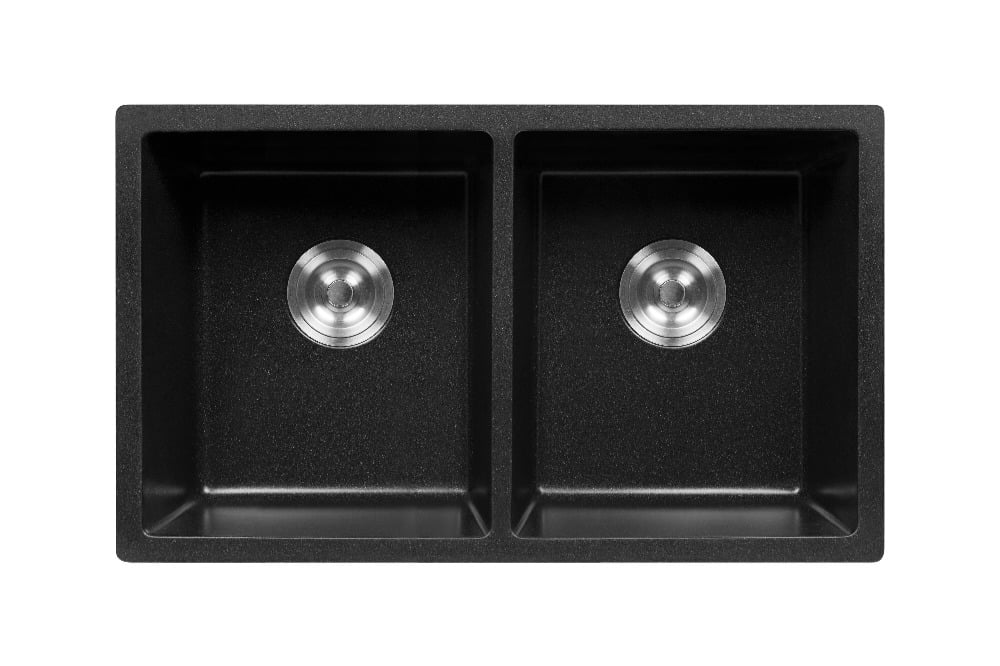 While stainless steel sinks have come to the forefront as a leading pick for homes across America, they're certainly not the only option. For instance, a black composite sink is another favorable choice you might look into for your sink revamp. So, what features define this sink style, and how do you figure out if it's the best decision for your personal kitchen or bathroom? Let's dive in and talk about factors to consider.
Pros and Cons of a Black Composite Sink
Made from pieces of pulverized stone like granite or quartz blended together with acrylic resins, composite sinks bring a distinct aesthetic and texture to a space. A black composite sink in particular can look striking, regal and mysterious all at once.
With their composition in mind, here are some points for and potentially against these bold and beautiful sinks:
Hardness – The materials comprising a composite sink make for a high level of hardness, with top-tier durability to match. As a result, these sinks won't scratch, chip or dent easily, even with hard use. The only potential downside is that glasses and dishware may break more easily if they come into contact with the edge or get dropped into the sink basin.
Cost – Generally speaking, composite sinks tend to have a higher price tag attached to them than stainless or porcelain. Installation can also be more costly, as this sink type often requires extra support due to its weight. Fortunately, working with Cosmos SurfacesTM, a distributor dedicated to offering competitive pricing on quality products and service, can ensure you get the best value.
Size – Composite sinks are spacious, giving you plenty of room to prepare food, wash dishes or simply rinse your hands. A single-bowl sink features one large basin for unrestricted access, while a double-bowl sink gives you two separate compartments to help maintain organization and hygiene in a busy kitchen.
Care – Composite sinks readily resist staining in the course of everyday use. Still, it's important to establish a regular care routine to keep them fresh, sleek and sanitary. Gently scrubbing the inside with soapy water and a soft nylon brush should do the trick, after which you'll want to wipe the sink dry with a cloth to prevent water marks. For a deeper clean or to remove spots, a paste of baking soda and water or a few drops of diluted white vinegar can work wonders. Just take care not to use anything harsh or abrasive on the sink, as this can lead to damage. To prevent warping, be mindful of letting super hot pots and pans cool down before placing them into the sink.
All in all, composite sinks are simple and straightforward to care for. They have a lot going for them, assuming they align with your budget and design preferences.
Is a Black Composite Sink Right for Me?
To reiterate, a black composite sink can be an attention-grabbing statement piece in a kitchen or even a bathroom. Alternatively, it can blend in effortlessly if nearby design elements are also dark in hue. Either way, these sinks are an alluring pick for more adventurous homeowners looking to expand their design palette while enjoying continuous functionality.
Then again, the modern, edgy look of a composite sink naturally won't be for everyone or every project. For these cases, we also offer porcelain and stainless steel sink collections, both of which include a number of options for color, size and layout!
Shop Sinks & More at Cosmos 
Whether you're looking for a sink that will fit seamlessly into your existing counter or vanity top, or you're eager to reinvent your entire design at once by installing a brand-new sink and complementary surrounding surfaces, our experts are here to assist. We can provide customized design advice, plus help you decide on the right specifications for your particular project. 
Our stunning and resilient sink selections include two varieties of Vortex black composite sink, an array of stunning stainless sink options and several different shapes and colors of porcelain sinks. To find your perfect combination of practicality and style, get in touch with our team or visit a Cosmos SurfacesTM showroom at your convenience!
Please follow and like us: