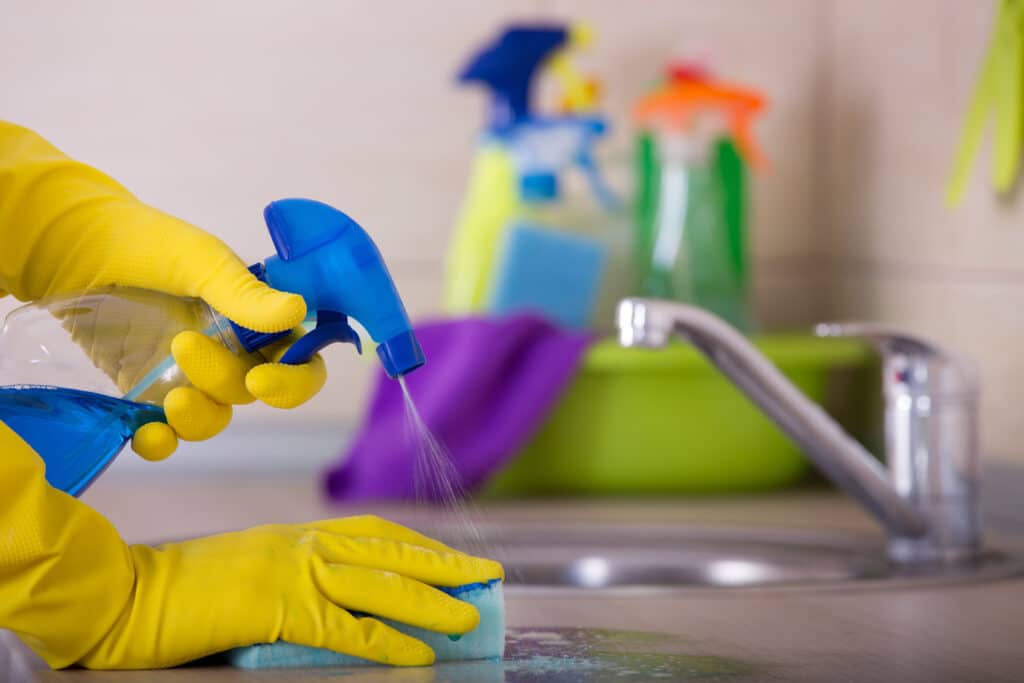 Holding the rare title of a natural stone that doesn't require sealing to keep out moisture and bacteria, soapstone is a fan favorite among homeowners looking for beautiful and easily maintained countertops, backsplashes, fireplace surrounds and beyond. After learning that you can skip adding sealant on a regular basis since this surface is nonporous, the natural next question is how to clean soapstone for extended longevity. While the process is super straightforward, there are some important things to be aware of and keep up with. Let's talk about them!
How to Clean Soapstone Surfaces
One vital-to-know fact about soapstone is that it is softer than many other natural stones. In comparison to granite, for instance, soapstone is significantly less dense and more delicate, meaning it may get chipped, scratched or gouged more easily in the course of everyday life. Fortunately, these imperfections can often be repaired through uncomplicated DIY methods, or simply embraced as part of your surface's character.
Now that we've provided this note on composition and durability, let's get into how to clean soapstone on a regular basis for best results:
Adding a light coating of mineral oil to your soapstone surfaces about once per week will help to freshen them and sustain consistent color throughout. After applying an even coat of mineral oil, simply wipe it off with a clean cloth.
Mineral oil can also work to buff out scratches on soapstone, as needed. Since a polished finish isn't an option for soapstone, regular oiling will help to enhance its natural warm glow. Plus, it'll promote oxidation, thereby deepening the color.
For everyday soapstone care, use a mild cleaning agent such as dish soap diluted with water on a sponge or rag to wipe down the surface. Gentle scrubbing in a circular motion is often enough to effectively remove more stubborn spots. But, if you're dealing with hard-to-handle blemishes, it may be time for another coat of mineral oil.
As you can see, the routine for how to clean soapstone is very simple and intuitive.
What Else to Know About Soapstone
Now that we've covered soapstone maintenance best practices, we'd like to share a few other helpful things to know about this material when considering it for your home:
Soapstone gets its name from its "soapy" texture, which comes from a very soft mineral called talc that is key in its composition. Meanwhile, harder minerals like amphibole, chlorite and magnesite add strength to soapstone.
Depending on the proportions of the various minerals, specific varieties of soapstone may be harder or softer. This is something to keep in mind when comparing options in the soapstone family in search of the choice that best suits your needs.
Along with its unique look and feel, soapstone's composition lends it several other attractive features. The magnesite makes it an excellent heat absorber and retainer, qualifying soapstone as a top choice for a fireplace or hearth.
As we mentioned earlier, soapstone is nonporous and in turn doesn't need to be sealed to protect against germs, water and other liquids. This is owing to the high talc content in the stone, as this mineral is naturally hydrophobic (water repellent). For this reason, soapstone is a terrific fit for bathrooms and kitchens alike.
As you can see, soapstone has many beneficial characteristics. For any project where you may want to incorporate this surface, it's important to work with a reputable dealer to ensure you get a quality soapstone that is aligned with your application and personal objectives.
Partner with the Experts at Cosmos SurfacesTM
Here at Cosmos SurfacesTM, we're proud to be a well-established, family owned surface company offering all sorts of natural and engineered stone options, including soapstone. Our collection features several luxurious looking yet easy-to-maintain picks like Soapstone Black, Grey/Silver and Jade.
We have showrooms across the country where you can peruse all our different offerings and compare surfaces with one of our knowledgeable representatives. Or, reach out to us from anywhere to get the same level of service, plus helpful tips such as how to clean soapstone of a specific variety and other FAQ answers. Either way, we look forward to helping you make your project a gleaming success with surfaces that fulfill your unique needs and desires!
Color of the Month: Keepsakes
Keepsakes is a grey-toned baby blue with a hint of indigo. It creates a spa-like atmosphere in a bedroom or bathroom, or a fresh and clean atmosphere in any kitchen. Pair with white and ivory trim.
Java Blue is a compilation of several blues and soft crystal color. Primarily a calming light blue, Java Blue is cut through with streaks and spots of navy and gold. Upon closer inspection, the crystals are apparent and beautiful. Java Blue is great for aquatic environments and looks great poolside as a fountain, waterfall, or exterior countertop. Quartzite is resistant to scratching, staining, and fading, and the beauty is unmatched.
Amazonite brings to mind splotches of sunlight filtering through thick leaves of a rainforest or the turquoise blue of the Atlantic Ocean. This Brazilian quartzite is great for bathrooms and sunrooms. It matches perfectly with both aquatic and botanic environments, and looks great as a vanity, counter, top, or wall. Quartzite is resistant to scratching, staining, and fading, and the beauty is unmatched.
Please follow and like us: