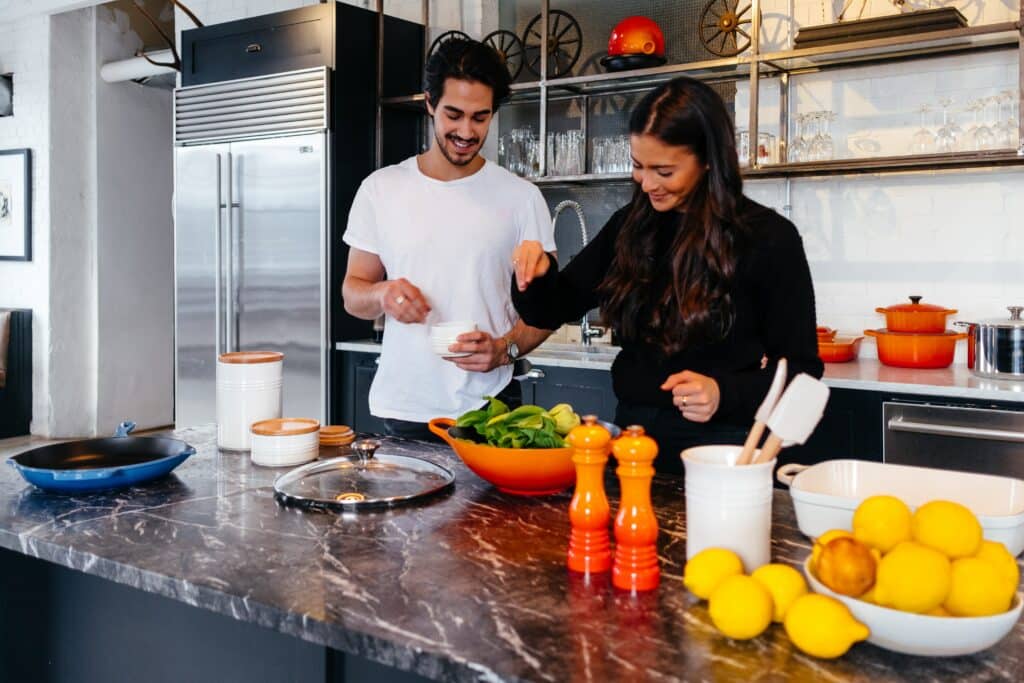 Your kitchen countertops take a lot of heat – both literally and figuratively. Hot pots and pans, dishes and mug bottoms are all usual suspects on a typical day. So, when comparing countertop materials, you want to find something that can stand up to a range of temperatures and the general hustle and bustle of an active kitchen. Today, we'll look at the properties of two of the most popular countertop materials: quartz vs. granite heat resistance and more.
Quartz vs. Granite: What They're Made of
Before we break down quartz vs. granite heat resistance capabilities and other characteristics to consider when deciding between these two materials, let's first establish the basic composition of each.
Quartz is an engineered stone made from a blend of pulverized stones like granite, natural raw quartz and industrial waste products such as glass, all held together by polymers and resin binders. Meanwhile, granite is a naturally occurring stone that's created as magma crystallizes deep underground. Featured minerals in its composition include feldspar, mica and quartz.
Quartz vs. Granite: Heat Resistance & Other Properties
Now, let's investigate how these differences in composition influence the properties of each material respectively:
Heat resistance – When it comes to quartz vs. granite heat resistance, granite decidedly wins out. The process by which it originates lends granite nearly unparalleled density, making it incredibly durable. Its hardness also enables granite to tolerate heat, along with other elements of a busy cooking space, quite well. Quartz is also very strong, but it can crack or sustain other damage if hot cookware is placed directly atop it. This is because the resin that binds quartz together may melt or warp.
Sealing requirements – Whether a countertop requires sealing depends on its porosity. Quartz has a leg up on granite here, as it is nonporous and thus doesn't need sealant to guard against bacteria and liquid intrusion into the surface. Many types of granite, on the other hand, will need to be sealed to keep them hygienic and prevent stains and other damage, as is the case with most natural stone surfaces.
General maintenance – Both quartz and granite are relatively easy to take care of from day to day. Simply wipe down countertops as needed with a soft cloth or sponge and a mild cleaner. (For granite, double-check that your chosen cleaning solution is approved for use on natural stone.) With either material, it's best practice to wipe up spills promptly. And, just to be safe, it's always a good idea to use trivets and coasters to prevent marks and protect against damage, even though granite is heat resistant.
Applications – Quartz can be damaged by exposure to direct sunlight over time, so it's best limited to indoor spaces that don't get overly sunny. Granite, however, can stand up to the elements without issue. Thus, it can work in a wider range of settings, including in outdoor kitchens.
Ultimately, the choice between quartz vs. granite hinges on the particular qualities you most prioritize in your new surface. If you're looking for a heat-resistant and overall resilient material and you don't mind keeping up with sealing your countertop or other surface, granite may be your best bet. If you wish to skip sealing but still seek a hardwearing surface that offers plenty of benefits, quartz may be preferable.
Torn Between Surface Options? Allow Us to Help!
To decide whether quartz, granite or another surface is the most well-aligned match for your project, it's very helpful to work with a professional who knows the ins and outs of all the different options. At Cosmos SurfacesTM, we bring years of expertise to help our customers locate the very best material for their personal application, needs and desires.
Whether you're curious to learn more about quartz vs. granite heat resistance or to compare other properties of various natural or engineered stone options, we're here to serve as your trustworthy information source and surface provider.
You can browse our marvelous, ever-expanding quartz, granite and other collections via our online gallery, or visit one of our showrooms across the U.S. to see and discuss your top choices in person. Reach out to us today to start narrowing down your search for the perfect surface with one of our knowledgeable experts.
Color of the Month: Snow White
Snow White is a true winter white that can be paired with almost any color. It can be used as a main wall, trim, or accent. It tends to open up spaces and make them feel inviting.
Much like its namesake, this beautiful milky white Brazilian granite is adorned by small flecks of deep black. The gray crystals add an element of depth to the stone while the streaks of light gray add movement. The consistent and clean pattern of the Pitaya makes it a great choice for highlighting bolder design elements in the area. Pitaya is best used as a countertop, vanity top, or backsplash.
A wondrous plateau of glimmering alabaster, charcoal gray, caramel and hints of cherry red, Bianco Romano is a type of granite fit for royalty. Capable of withstanding freezing temperatures, this Brazilian stone can be used in outdoor applications as well as indoor ones. Leverage its grace and panache to fashion outstanding countertops, outdoor living area features and more.
Please follow and like us: