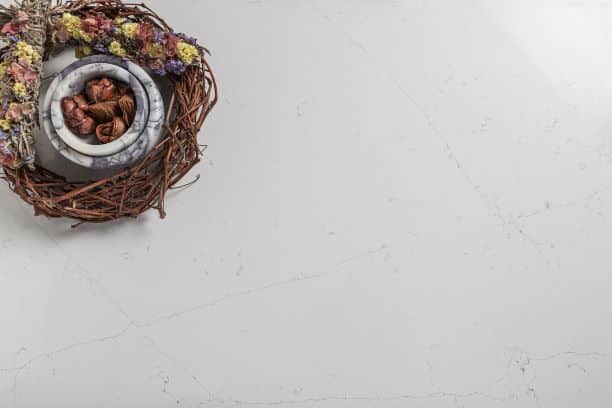 Quartz is one of the most popular materials used in kitchens today. Owing to its durability, versatility and ease of maintenance, this eye-catching countertop option rivals long-standing kitchen favorites like granite and marble.
Keep reading to learn all about using quartz for kitchen surfaces, why you should consider it and how to maintain quartz surfaces to keep them looking gorgeous long-term.
What Are Quartz Countertops?
Before we dive in, there's an important distinction between quartz and quartzite countertop materials. While quartzite refers to all-natural quarried stone countertops, quartz countertops are a form of man-made or engineered stone.
Quartz counters typically consist of pulverized natural quartz particles (around 90-95%) mixed with polymer resins (around 5%) to bind it all together. In some instances, small amounts of recycled crushed glass or metallic particles are added during the manufacturing process, along with pigments. As it is a man-made surfacing option, quartz countertops can be designed to mimic the patterns and veining structures of natural stones like marble.
The Pros of Quartz Kitchen Surfaces
Kitchen surface materials typically see a great deal of use. Aside from aesthetics, quality countertops need to stand up to everyday wear-and-tear while keeping maintenance simple.
Here's where quartz countertops really shine:
Durability — The natural quartz components found in quartz countertops are hard and durable, which means they stand up well to the high-traffic challenges common in kitchen areas.
Aesthetics — The manufacturing process behind quartz countertops makes it possible to manipulate the look, colors and patterns on quartz surfaces to match design styles or mimic natural stone.
Stain-Resistance — The resin binders in quartz kitchen counters makes them non-porous, which means they are highly stain-resistant and anti-microbial.
Ease of Maintenance — Warm water, mild dish detergent and a soft cloth or sponge is all you need to clean quartz countertops. Because they are non-porous, quartz surfaces don't need to be sealed.
These are all highly desirable qualities in the kitchen. If you're ready to browse quartz kitchen countertops, you can find our quartz products here.
The Cons of Quartz Kitchen Surfaces
While no home surface material is 100% perfect, the cons of using quartz for kitchen surfaces won't be problematic for everyone. Whether or not quartz is a good option for your household simply depends on your needs and budget.
Here are the main drawbacks of using quartz in the kitchen:
Heat-Resistance — The resin binders found in quartz products can melt or warp when exposed to extreme heat, so be sure never to place hot items like pots and pans directly onto quartz countertops.
Affordability — While typically less expensive than its natural stone counterparts, quartz tends to have a higher price point than DIY options like wood or concrete.
Indoor Use Only — While quartz countertops are durable enough to hold their own in indoor kitchens, they aren't suitable for outdoor environments, where exposure to the elements can damage resin binders.
How to Clean Quartz Kitchen Surfaces
Quartz countertops are non-porous, which makes them a breeze to clean. In most cases, mild detergent and warm water will do the trick for daily cleaning. Be sure to use soft sponges or microfiber cloths, avoiding harsh scouring pads.
Some chemical cleaners can break down the bond between quartz and resin binders, so always check in with a manufacturer to ensure cleaning products are safe to use on your quartz countertops.
Tips for maintaining quartz kitchen counters include the following:
Always use cutting boards, trivets, coasters and cooling racks
Never place hot pots and pans directly on counters
Clean spills right away
Wipe down counters frequently, especially after food prep
Avoid using highly acidic or alkaline cleaners, including nail polish remover, bleach, oven cleaner, turpentine and drain cleaners.
Avoid putting excess pressure on countertops, and take care not to drop heavy items like pots or glass dishes on quartz kitchen counters.
Where to Find Quartz For Kitchen Countertops
Quartz for kitchen uses offers a wonderful alternative to those who desire the look of natural stone, but have a slightly lower budget in mind. To ensure you're getting the best possible product, it's essential to work with a reputable manufacturer.
Cosmos SurfacesTM offers a wide range of quartz products along with other top quality surface materials. Our experts are happy to answer questions and help you decide which material is best suited to your needs and budget – reach out to Cosmos SurfacesTM today to get started!
Color of the Month: Midnight Blue
Midnight Blue is a cool, stormy shade of blue-gray with navy undertones. It is perfect for a striking accent wall in a bedroom or living room.
Venturesomely dotted and speckled by Mother Nature's paintbrush, Blue Pearl GT is a Norwegian granite with a reputation for unparalleled elegance. Dubbed Blue Pearl for its characteristic spots of white that pop against the rich blues and blacks that span the granite, this natural stone is a terrific pick for a fashionable countertop.
Java Blue is a compilation of several blues and soft crystal color. Primarily a calming light blue, Java Blue is cut through with streaks and spots of navy and gold. Upon closer inspection, the crystals are apparent and beautiful. Java Blue is great for aquatic environments and looks great poolside as a fountain, waterfall, or exterior countertop. Quartzite is resistant to scratching, staining, and fading, and the beauty is unmatched.
Please follow and like us: