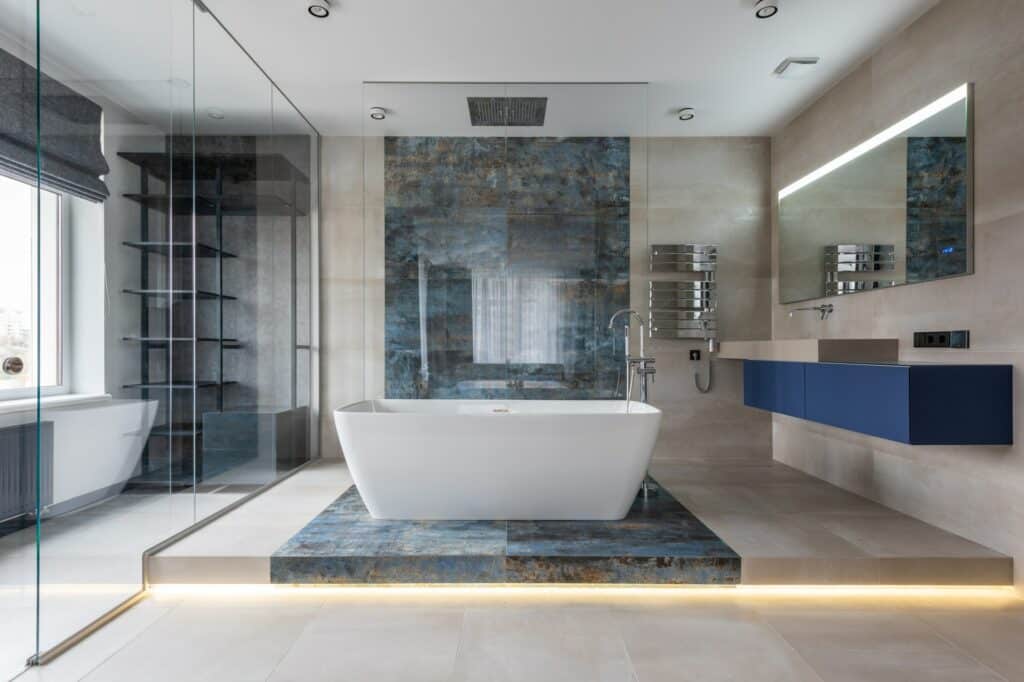 There's nothing quite like a warm shower to help you unwind at the end of a stressful day. Adding natural stone elements to your bathroom can elevate this space and help you create a serene sanctuary, but what is the best stone for shower walls?
We invite you along as our experts discuss.
What is the Best Stone for Shower Walls?
Durability, aesthetics and ease of maintenance can all factor into the materials we choose for our homes. When it comes to selecting the best stone for shower walls, homeowners have several gorgeous options to consider. Let's dive in.
Marble for Shower Walls
Marble is synonymous with luxury. This impressive stone has many desirable features for bathroom uses. Known for its soft, light coloring and intriguing veining patterns, marble is a timeless classic that will serve you well in the bathroom for many decades.
Natural stone marble is porous, and one of the most notable points about selecting it for the shower is the importance of sealing and cleaning it often. Very light variations of marble can stain over time if homeowners neglect the necessary maintenance steps.
As some marble has a high iron content, frequent exposure to water can cause it to rust and discolor unless it is properly sealed. By using an impregnating (penetrating) sealer, you'll protect your marble investment from moisture damage, mold and staining or discoloration.
Marble sometimes gets a less favorable reputation as a high-maintenance stone, which might concern some homeowners. It's wise to remember, however, that any material in the bathroom will require a little extra TLC to keep it from taking on moisture damage, discoloring with use and developing mold/mildew growth.
Learn all about how to clean a marble shower here.
Pro Tip: The vein composition in marble can be slightly more vulnerable to moisture damage. To mitigate this, opt for high grade marble with fewer inclusions and minimal veining.
Granite for Shower Walls
Granite is a beloved natural stone in the home. Durable, easy to maintain and available in a wide range of dramatic colors and patterns, granite can help you design the bathroom of your dreams.
Granite is durable with a dense composition. This makes it less prone to absorbing moisture. Just like marble, however, granite will also need to be sealed and resealed often to protect it against moisture damage, staining and mold/mildew growth.
Homeowners looking to incorporate a darker color scheme in their bathroom design will find plenty of gorgeous options in granite, though a range of lighter shades are available too.
Pro Tip: Homeowners looking to install natural stone on shower floors will want to go with a slip-resistant natural stone finish, like a flamed or leathered finish.
Quartzite for Shower Walls
Quartzite is one of the hardest surfacing materials, which makes it perfect for standing up to daily wear and tear in a busy bathroom or kitchen. Compared to marble, which stands at a 3 on the Mohs hardness scale, quartzite has a Mohs hardness of 7.
Even though quartzite is so hard, it is still porous, which means it needs to be sealed. You can expect to have to seal quartzite about once every 10 years, or when you notice that the surface seems to be absorbing water and turning darker in wet areas. Properly sealed quartzite is easy to clean with mild household cleaners and a soft sponge.
Most quartzites are white or light in color due to their quartz content, but additional minerals in the stone can produce vivid colors. If you're thinking of a lighter color scheme in your bathroom, quartzite is definitely a natural stone to consider.
Porcelain for Shower Walls
While not a natural stone, large format porcelain slabs should also be considered for shower walls. A porcelain slab shower is a low-maintenance, hardwearing option that is available in a wide range of colors and patterns. It can be cleaned with common household cleaning products and doesn't need to be sealed. Porcelain is slip-resistant, which makes it a safe option for bathrooms. Some porcelain is even antibacterial and antimicrobial.
If you love the distinguished look of marble but want a lower-maintenance option for your shower, porcelain that looks like marble is a great option. Thanks to an advanced engineering process, porcelain can be made to mimic the characteristic veining and smooth texture of marble. Although porcelain slabs may be more affordable than natural stone, they can come with higher installation costs due to the experience and equipment needed to handle them.
Natural Stone Care for Bathrooms
Diligent care is always important to help preserve natural stone investments in the home. This fact is even more pronounced in bathroom areas. Neglecting the proper cleaning and maintenance requirements can lead to cracks, mold growth, staining and discoloration.
To care for natural stone in the shower, consider these cleaning tips:
Clean Stone Weekly — Opt for non-abrasive, neutral cleaners and clean stone showers weekly to remove dirt, grime, soap scum and mineral deposits. Always check in with a manufacturer to ensure that a cleaner is safe to use on your natural stone of choice.
Ventilate the Area — To prevent mold and mildew growth on stone surfaces and in grout, ensure proper ventilation after using the shower. This includes running the fan and opening doors and windows after each use.
Wipe Down Excess Water — Stones like marble can take on water stains and lose its luster with constant exposure to water. Homeowners can mitigate this by wiping down excess water after each use (a squeegee can also help remove residual water).
Clean and Seal Grout — Whether you opt for natural stone or porcelain, the grout between any kind of tiles can become porous and vulnerable to staining and mold growth. It's important to keep up with cleaning and sealing grout lines. You can find a primer on sealing grout here.
Seal Stone Regularly — One of the most important maintenance activities you can perform on natural stone in the bathroom is to seal it regularly (every 1-3 years) with an impregnating sealer. Be sure to check in with a natural stone fabricator on how often to reseal your natural stone.
Buy Natural Stone for Shower Surfaces
If you have any questions about selecting the best stone for shower walls or bathroom areas, reach out to Cosmos today! We bring decades of expertise to the table, and our pro team is always happy to help.
Ready to browse natural stone? See our selection here.
Color of the Month: Castle Stone
Castle Stone is a subdued, midtone green with azure undertones. It is a soothing color that works well in bedrooms and sitting rooms. Pair it with soft cream or and white trim for a light and airy effect.
White crystal bands and silver streaks dance through the vast and layered green and brown background of this Brazilian granite. The high contrast color palette coupled with the unpredictable patterns of Vostok granite are sure to add motion and momentum to modern design elements.
True to its name, Macaubus Fantasy brings to mind a calm, cool breeze across relaxing oceans. Ideal for kitchens and bathrooms or outdoor surfaces and tiles, this versatile white quartzite swirls shades of blue, grey, and subtle tans across a white background. Quartzite is resistant to scratching, staining, and fading, and the beauty is unmatched.
Please follow and like us: