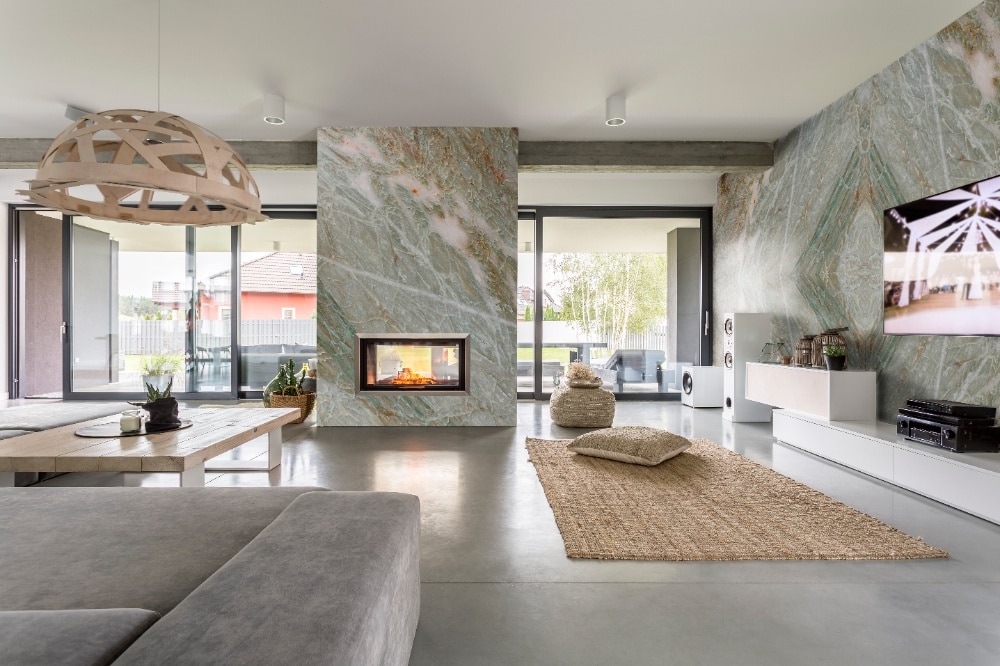 Quartzite is a virtually indestructible natural stone. This gorgeous metamorphic rock begins its journey as sandstone. When exposed to extreme heat and pressure from tectonic compression, sandstone transforms into the gorgeous, durable quartzite we know and love. The breathtaking beauty of quartzite is rivaled only by its uses in the home. Perfect for high-traffic kitchens, quartzite is available in a wide range of colors and patterns, but what are the most popular quartzite colors? Keep reading to find out and learn more about quartzite. 
Looking for gorgeous, high-quality quartzite? Browse our collection here.
What is Quartzite?
Quartzite is often confused with quartz countertops, though they are completely different. Quartz countertops are man-made and combine roughly 90% quartz minerals with resin binders, pigments and other materials like crushed stone and recycled glass.
Quartzite, on the other hand, is a completely natural, quarried stone. One of its most significant and impressive properties is its hardness and durability. Quartzite is twice as hard as glass and harder than the blade of a knife, which means it's unlikely to take on scratches, etches or other forms of damage. The sealer on the surface, however, might show wear, so it's always important to use caution, even with durable stones like quartzite and granite.
To learn more about quartzite, check out our blog post covering quartzite FAQs. You can also learn more about the difference between quartzite and quartz countertops and see how they compare here.
The Most Popular Quartzite Colors
Natural stone can instantly elevate the look of a space. Whether dramatic, breathtaking patterns or serene, calming colors are more your speed, you'll find a quartzite variation to make your heart sing.
These are the most popular quartzite colors:
Taj Mahal
Taj Mahal quartzite countertops are a consistent bestseller — and it's easy to see why. This gorgeous natural stone may originate in Brazil, but its beautiful ivory white coloring serves as an instant reminder of the majestic monument to love it was named for. With a complex crystalline structure, Taj Mahal quartzite adds the perfect amount of detail balanced with a simple, soothing color scheme.
Macaubus Fantasy
Invite the ocean breeze into your home with the calming swirls of Macaubas Fantasy quartzite. Soft, relaxing shades of blue, gray and touches of tan move gently across a white background, making it easy to match this stone with surrounding decor. Macaubus Fantasy makes a wonderful addition to kitchens, bathrooms, and even outdoor areas.
Azurra Bay
True to its name, Azurra Bay quartzite features a light blue background with gray to white layers interweaving across its surface. The result is a stunning display that often reminds onlookers of overlapping ocean waves. Azurra Bay quartzite adds a level of detail and interest while maintaining a mostly neutral color scheme to suit a variety of design styles.
Dakar
Originating in Brazil, Dakar quartzite features a unique, dramatic pattern that instantly evokes the power of water. Dark gray veining sweeps and swirls across a light gray and white background, creating a sense of energy and movement. This eye-catching pattern makes Dakar quartzite perfect for use as an accent wall or main fixture in the home. It's neutral tones can easily match surrounding furniture and decor, while the desirable properties of quartzite will make this stone easy to maintain over time.
Calacatta Lux
Featuring light gray veining across a soothing white background, Calacatta Lux is an excellent option for anyone looking to create a spa-like sanctuary in their home. The light, bright palette of this stone can help open up your space, make it appear larger and reflect light to enhance the sense of a bright, fresh atmosphere. The veining patterns in Calacatta Lux are multi-directional, which helps create a gentle sense of rhythm and movement.
Quartzite is highly resistant to staining, fading, taking on scratches, and showing wear. You can find a comprehensive guide on how to clean and maintain quartzite here.
Where to Find Quartzite Countertops
If you have questions about quartzite or if you're on the hunt for a reputable quartzite supplier, we'd love to hear from you!
Cosmos SurfacesTM is a 2nd generation family-owned business, and we're passionate about sourcing high-quality surfaces for homes and businesses. You can get in touch with our team by filling out our contact form today.
Color of the Month: Castle Stone
Castle Stone is a subdued, midtone green with azure undertones. It is a soothing color that works well in bedrooms and sitting rooms. Pair it with soft cream or and white trim for a light and airy effect.
A gorgeous gathering of greens from forest to seafoam, Verde Karzai green quartzite is the perfect material for bringing an earthy accent to your space. One of the perks of quartzite is the naturally occurring collage of colors and crystalline minerals. Verde Karzai green quartzite has that beautiful natural variation plus a pop of color.
Mountains of colors come to life in the quartzite named Galapagos. Galapagos brings to mind an aerial view of a cloudy mountainous, with peaks of green, rivers of blue and shadows of black. Unique layers and bands of color create a bold tone that looks great among blacks and silvers. Galapagos makes for interesting and artistic countertops and tables. Quartzite is resistant to scratching, staining, and fading, and the beauty is unmatched.
Please follow and like us: