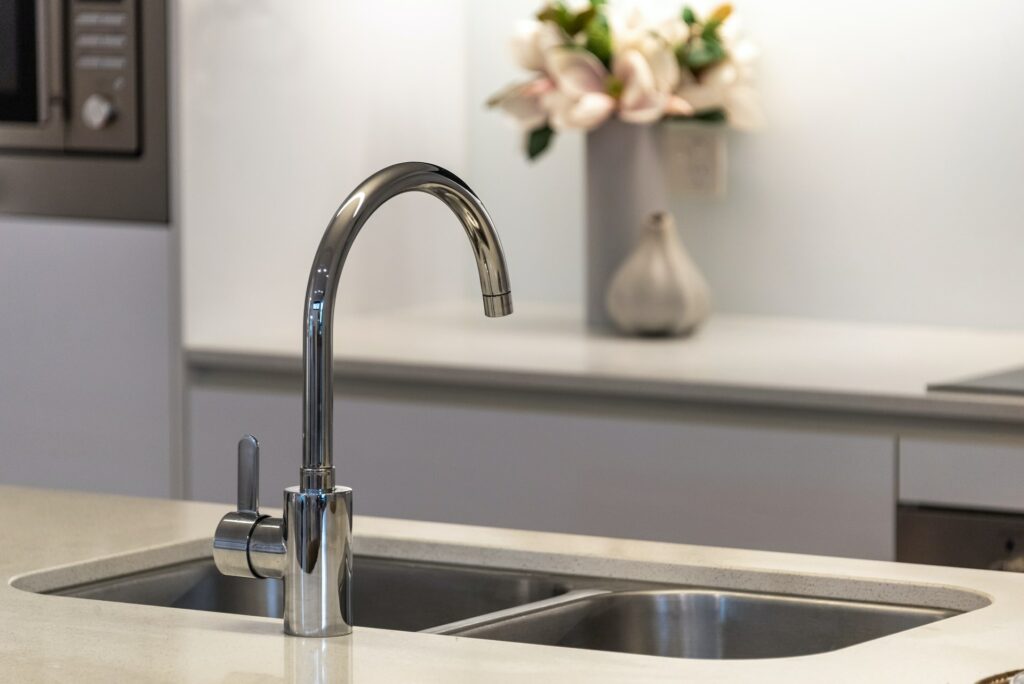 In most homes, the kitchen and/or bathroom sink can't escape daily wear. Sinks also tend to reside in major focal areas of the home. These two factors combine to make choosing the right sink materials for your home essential. In today's post, our experts discuss porcelain vs stainless steel sink properties and answer sink material FAQs.
Looking for high quality sinks? Browse our sink options now or contact us online with any questions.
Sink FAQs: Porcelain Sinks vs Stainless Steel
Kitchen and bathroom sinks need to be durable and easy to clean — not to mention, easy on the eyes. Sink options like composite sinks, porcelain sinks and stainless sinks all bring a unique set of properties to the table (or counter, if you will). The best sink materials for your home will depend on your needs, your budget and your design style.
Let's take a look at how porcelain and stainless steel sinks compare.
Porcelain Sink Properties
Porcelain sinks are a timeless classic. This man made material is easy to customize in terms of its looks. Though more widely seen in bathroom settings, options like our Orion Farm Sink can turn any kitchen into a farmhouse style dream. Keep reading to learn more about porcelain sinks.
What are the Pros of Porcelain Sinks?
Porcelain is a popular choice for sinks, and for good reason. Here are the pros of installing a porcelain sink in your home:
Versatility — Due to its man made nature, porcelain sinks can be made with patterns or colored glazes not found in nature. Of course, a classic white porcelain sink will never go out of style.
Durability — Porcelain sinks are highly durable and stand up well to everyday wear and tear, though care should be used not to drop heavy items in the sink.
Heat and Cold Resistant — Porcelain is made of highly dense clay, which is fired at extremely high temperatures. The result is an incredibly durable material that can withstand extreme temperatures, both hot and cold.
Easy to Clean — This is a big one. Owing to the glaze that's applied to porcelain, these sinks are smooth and non-porous, which makes them a breeze to clean and maintain.
What are the Cons of Porcelain Sinks?
All materials have their downsides, and porcelain is no different. Here are the cons of porcelain:
Chipping — As it is a very hard, dense material, porcelain can chip, especially if heavy items are dropped on it. That said, you can always get your sink refinished to repair such damage.
Weight — Porcelain sinks can be on the heavy side, which complicates installation and may necessitate installing supports.
Be Mindful of Cleaning Products — Harsh chemicals like bleach can damage the finish on your porcelain sink. Always check in with a manufacturer to ensure a cleaning product is safe to use on your sink.
Do Porcelain Sinks Stain?
Compared to stainless steel sinks, porcelain sinks are more susceptible to taking on staining. In the kitchen, certain types of foods and spills should be wiped up and thoroughly cleaned immediately. In the bathroom, cosmetics are often the culprit, so always be mindful of what's left out. As with all surfacing materials, a little bit of proactive care and maintenance can go a long way.
How Long Do Porcelain Sinks Last?
Porcelain sinks have an average lifespan of 20–25 years. While all materials take on wear and tear over time, porcelain sinks can be refinished to keep them looking brand new and gorgeous for decades.
Stainless Steel Kitchen Sink
It's all in the name — stainless steel sinks are beloved in high-traffic kitchens for their durability, stain resistance and hygienic properties. Let's dive in to learn more.
What are the Pros of Stainless Steel Sinks?
Stainless steel sinks are highly popular in homes and in commercial settings. Here's why:
Durability — Stainless steel sinks can look good as new for many decades, even with daily wear, and high-quality stainless steel won't dent easily, even if heavier items are dropped in them (though exercising caution is always wise).
Easy to Design Around — Stainless steel sinks are typically grayish-silver in color, which makes them a neutral design element to match with surrounding colors and/or other stainless steel kitchen appliances.
Easy to Clean and Maintain — Stainless steel sinks are almost impossible to stain (hence the name), and they're easy to clean and maintain over time.
Environmentally Friendly — Stainless steel sinks are highly recyclable, which makes them an excellent choice when it comes to sustainability.
What are the Cons of Stainless Steel Sinks?
No one is perfect, and neither are stainless steel sinks (though they do come close). Here are the downsides of selecting a stainless steel sink:
Noise Levels — This tends to be more of a problem with thinner gauge, low-quality stainless steel sinks, but this material is susceptible to crashing and clattering sounds. The issue can be solved by installing noise pads and/or investing in a sink with a sound spray finish.
Lack of Variety — Stainless steel sinks are limited to their distinct steel gray coloring, which may or may not be an issue depending on your design aesthetic.
What is the Best Grade for Stainless Steel Sinks?
Grade-304 is considered the best grade for stainless steel, which is exactly why we use it for products like our Phoenix Ro Single Bowl Sink.
Do Stainless Steel Sinks Scratch?
While they're not likely to chip or crack, even with extreme wear and tear, stainless steel sinks can be susceptible to scratching. Use caution when placing hard items in the sink and avoid harsh cleaning products like steel wool and scouring pads.
Shop Kitchen Sinks at Cosmos SurfacesTM
Your home deserves the best — and here at Cosmos SurfacesTM, our team is dedicated to providing the best materials on the market. Browse our composite sinks, porcelain sinks or stainless steel sinks today. You can also reach out to Cosmos with any questions, comments or concerns — our team is always happy to help.
Color of the Month: Onyx
Onyx is a cool, dark black with stone undertones. It lends a stately, serious look to any room, but is versatile enough to use alongside any color or texture.
Python Black's smooth surface, broken up by subtle, patterned streaks of white and grey, bring a clean look and modern feel to any project. Ideal for monuments, fountains, and other exterior works, this black granite sourced from Brazil is also versatile enough to fit countertops, walls, and most residential interior needs.
Truly unique and eye-catching, Portoro is a black porcelain that is sure to make a statement. Its deep, dark black background is complemented by splashes of white and gold tones, bringing a royal finish to its shiny surface. The contrasting flashes shine bright, reflecting light beautifully to transform any surface into the spectacular.
Please follow and like us: