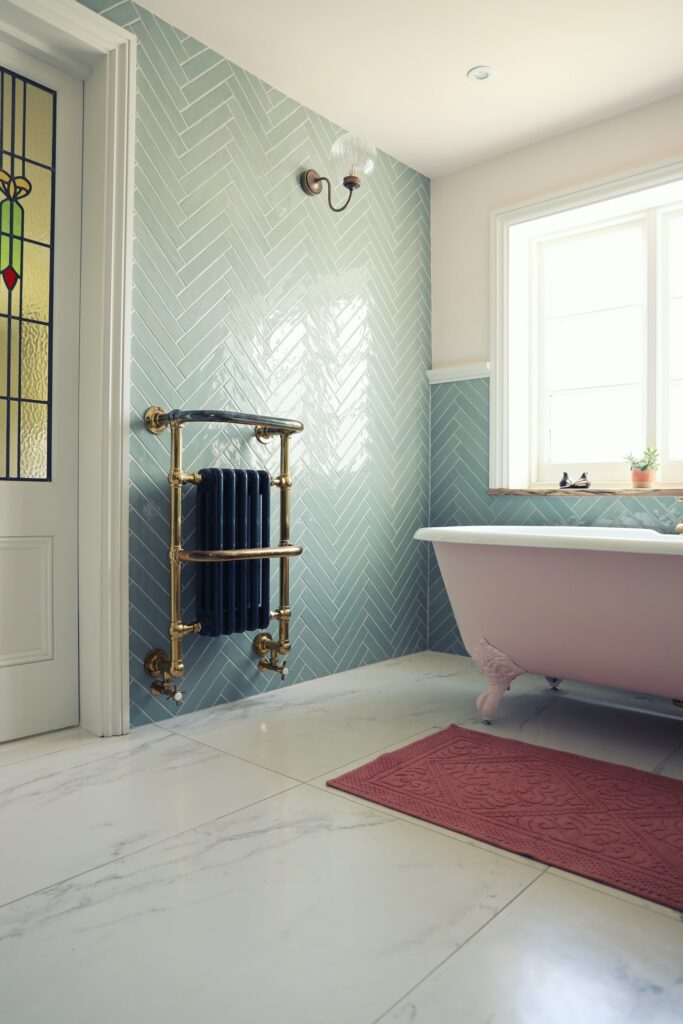 When designing spaces throughout the home, it's important to think about both function and aesthetics. For bathrooms in particular, elements which evoke feelings of serenity and will stand the test of time in a high-moisture environment are commonly wished for. To strike this balance, you might consider porcelain tile for bathroom floor. Today, our surface professionals are here to fill you in on the pros and possible cons of porcelain bathroom floors to help you decide if they're a good fit for your project.
Pros and Cons of Porcelain Tile for Bathroom Floor
To land on the best flooring material for a bathroom renovation, it's wise to take a comprehensive look at the perks and potential disadvantages of each option. Doing so will help you avoid unexpected surprises and make an informed choice, leading you to a floor that aligns with all your top priorities.
Here's a big-picture overview of what to know when evaluating whether porcelain tile fulfills your particular needs and desires for your new bathroom floor.
Pros
Available in a wide range of patterns, porcelain gives you freedom to bring just about any design vision to life. Your eye might be caught by a spectacular veined slab simulating the look of marble (but at a more affordable price point), a more muted neutral-toned porcelain that lets surrounding elements take center stage or even a wood-look porcelain tile. The world is your oyster!
Versatility in tile size & shape adds to the allure of porcelain. By virtue of advanced engineering techniques, porcelain can be made in a full spectrum of sizes and shapes to suit different applications. Dazzling countertops and flowing floors for bathrooms can be easily achieved with large format porcelain slabs, while smaller projects like backsplashes and tub surrounds are also possible with porcelain tile.
Slip and water resistant, porcelain makes for a safe flooring option for bathrooms and beyond. You can count on it to give you great traction underfoot, even when used for a shower floor or another area where moisture is often present.
Invulnerable to sunlight, porcelain resists fading and maintains its color and radiance over time. You don't have to fear using it in sunny spaces, or even outdoors!
Unfussy compared to its natural stone cousins, porcelain is among the most easily maintained options for bathroom floors, shower walls and more. It's safe to use most household cleaners on porcelain surfaces, and you generally don't have to worry about buffing or sealing them to keep their finish fresh.
With inherent antibacterial/antimicrobial properties, porcelain is an especially excellent choice for the bathroom of a health-conscious homeowner. As an important note, it's essential to regularly clean and seal the grout between tiles to prevent staining and mold growth. Luckily, large format tile typically doesn't come with an excessive number of grout lines to maintain.
Possible Cons
Installation can be more costly for porcelain than for certain other materials, as special equipment and expertise are required to engineer and install porcelain properly.
Porcelain is less hard than some natural stones (like quartzite), meaning it can be more susceptible to damage – especially with very heavy use over time.
Scratches or chips may stand out – more so than on natural stone – since the surface pattern on porcelain might not run through the entire slab.
As you can see, there's a whole lot to love about porcelain tile for bathroom floors and more. But as with any surface, it comes with some characteristics that can be less than ideal, depending on what exactly you're looking for.
Before deciding on porcelain tile or another bathroom floor material, it's important to be fully in the know about the features, from cost to maintenance requirements. Hopefully this rundown has been helpful in providing more insight into whether porcelain tile for bathroom floor installation might be right for you! For any questions you may still have, our surface specialists are here to assist.
Consult Our Pros for Help Finding Your Ideal Surface
If you're eager to begin exploring porcelain slab, tile and other beautiful, versatile, long-wearing surface selections, we invite you to take a look at our online gallery. We also have showrooms across the US that you can visit, in case you'd like to compare our offerings in person.
Whether you're seeking an envy-worthy bathroom floor, kitchen counter or some other unique surface to enrich your home's beauty, comfort and value, our knowledgeable team will be glad to help. Fill out our contact form today to get started!
Color of the Month: Onyx
Onyx is a cool, dark black with stone undertones. It lends a stately, serious look to any room, but is versatile enough to use alongside any color or texture.
Maori granite has a pattern that's reminiscent of drawings on a chalkboard, with thin-to-wide, grayish-white lines intersecting on top of a stark black base. A striking and stylish stone, Maori is a suitable selection for anyone seeking an adventurously decorated granite countertop that will continue making a statement for years to come.
Waves and ripples of white and gray adorn this brilliant black granite dubbed Via Lactea from Brazil. The gentle veins and patterns of the Via Lactea create a compelling sight to behold when set against white cabinets.
Please follow and like us: