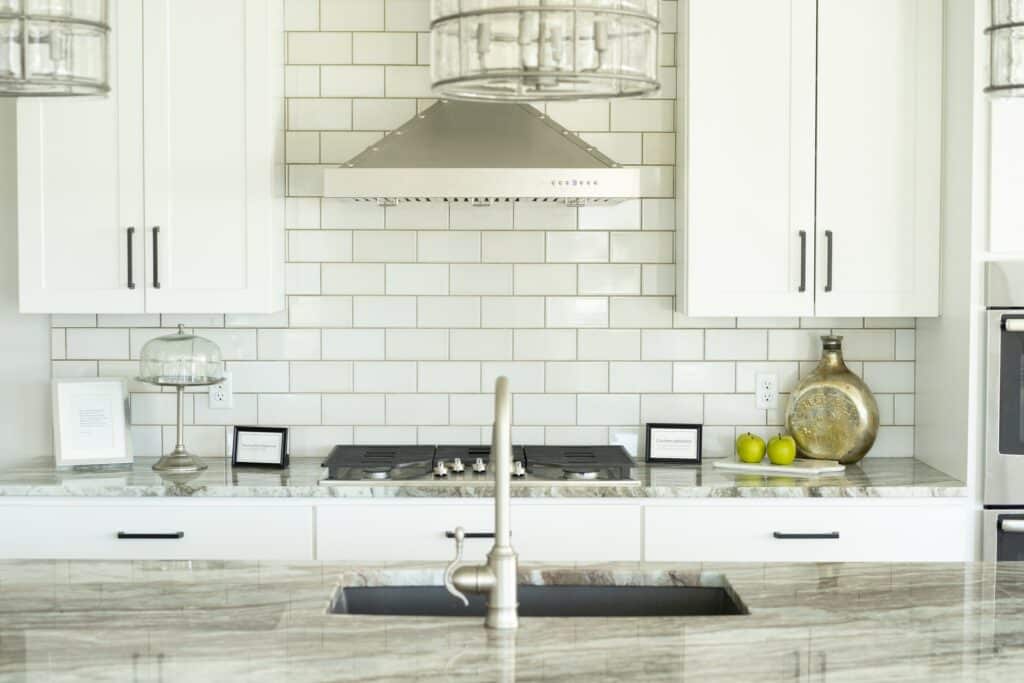 With so many gorgeous options on the market, choosing the right surface materials for your home can be overwhelming. It's important to understand the properties of each material, so you can not only achieve your design goals but create a functional space for you and your family. In today's post, we look at porcelain vs quartzite to help you decide which one is right for you!
Porcelain
A durable, heat-resistant ceramic, porcelain has been used to adorn spaces for over 2,000 years. Porcelain can be used for kitchen countertops, flooring, walls, showers, backsplash and more, making it versatile and cost-effective.
Why We Love Porcelain
Porcelain boasts the following properties:
Ease of Maintenance—porcelain tiles can be cleaned with common household cleaners and don't need to be buffed or polished to maintain their finish. 
Color Fast—the colors in porcelain won't fade with age, and they aren't vulnerable to fading from prolonged exposure to direct sunlight. 
Slip Resistant—porcelain tiles have traction, which is useful when it comes to flooring, especially in areas prone to spills and foot traffic or in showers.
Versatility—porcelain comes in a variety of colors and patterns. It can also mimic the look of natural stone, like in the case of porcelain slabs that look like marble, providing a lower-cost alternative without sacrificing any of the elegance. 
If you are considering porcelain kitchen countertops, there are a few drawbacks to be aware of, including:
Surface patterns may not run all the way through a porcelain slab. As a result, if porcelain gets scratched or chipped, it can interrupt patterns/textures that only run surface deep.
Quartzite
Quartzite is a metamorphic rock that originates from sandstone. Lightly metamorphosed quartzite can have a "grainy" quality, while crystalline quartzite is less grainy and less porous. You can learn more about how quartzite is formed in our blog post explaining different types of quartzite
Quartzite or Quartz?
Before we dive into the properties of quartzite, it's important to note that quartzite and quartz are often confused, but they are two different surface materials. Quartzite is a natural stone, while quartz surface products are an engineered, man-made material.
Why We Love Quartzite
Quartzite is incredibly durable, heat-resistant and versatile, making it a great option for various applications, including kitchen countertops, flooring, fireplace surrounds and outdoor use.
Quartzite has the following properties:
Hardness—quartzite is twice as hard as glass and harder than the blade of a knife—it's just about indestructible and perfect for high-traffic areas, like kitchen countertops.
Heat-resistant—quartzite is highly heat-resistant, which makes it great in the kitchen and for applications like fireplace surrounds.
Ease of Maintenance—when it comes to cleaning quartzite, a mild detergent and soft cloth will do the trick in most cases. Avoid using heavy-duty scouring pads, abrasive cleaners, or bleach on quartzite or any other natural stone and be sure to clean spills right away.
Outdoor Applications—quartzite stands up well to the elements and can be used for outdoor applications like patio flooring, pool decks and stair treads. This makes it possible to create a seamless, flowing look from the inside of your home to the outside.
Key Differences Between Quartzite and Porcelain
It's clear that both quartzite and porcelain bring highly desirable qualities to the table. Both materials are versatile, beautiful and highly heat-resistant, and each one can elevate your space with a look of elegance. Let's look at the key differences between the two:
Hardness—quartzite is one of the hardest surface materials out there, while porcelain tends to be less hard than some of its natural stone counterparts, like granite. If you are looking for a surface material that will stand up to high-traffic and significant amounts of daily wear and tear, quartzite is likely to perform better.
Strength – Quartzite is a naturally compact and dense material due to which chipping, and/or scratching is extremely unlikely as opposed to its porcelain counterpart.
Cost—porcelain offers a lower cost alternative to some natural stone surfaces, while still having the ability to mimic the look of natural stones like marble. 
Thickness—quartzite provides a more substantial-looking countertop option and can take on varying edge profiles, while porcelain slabs tend to be on the thinner side and are usually finished with a waterfall edge.
Work with Cosmos SurfacesTM!
Still not sure which material is best suited to your needs? Cosmos SurfacesTM brings over three decades of knowledge and industry experience to the table. Get in touch by filling out our contact form today!
Color of the Month: Silver Leaf
Silver Leaf is a subdued, ethereal green with azure undertones. It is a soothing, yet inviting color, perfect for a bedroom or kitchen when paired with soft cream and white.
One of our most unique pieces, this quartzite is aptly named Fascination. Resembling an aerial view of the earth, the alluring waves and layers of Fascination captivates and delights no matter where it's installed. New patterns continue to draw the eye the longer one looks upon the winding veins of black, gold, green, and white that make up Fascination. Quartzite is resistant to scratching, staining, and fading, and the beauty is unmatched.
Botanic Green fittingly gets its name from its leaf-green color. Native to Brazil, this quartzite is also known as aqua, due to its silvery metallic sheen that resembles the calming teal waters of South America. Botanic Green looks great in an aquatic setting or next to rich and lush plant-life. Quartzite is resistant to scratching, staining, and fading, and the beauty is unmatched.
Please follow and like us: