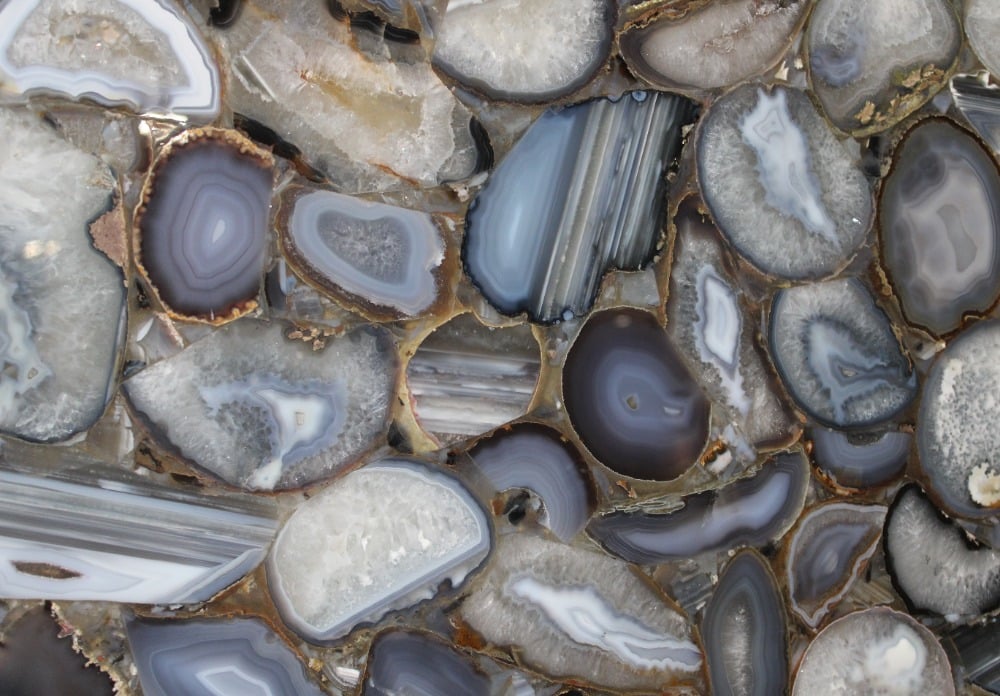 Categorized as a semi-precious natural stone, blue agate is a bold and beguiling choice for spaces around the home, from kitchen to bathroom to living room. On an agate countertop, hand-selected stones marked by vibrant blues, moody grays and other varying tones give a nod to nature and honor the astonishing power of our planet. But, appearance isn't all there is. If you're interested in blue agate countertops, it's important to familiarize yourself with their features and care requirements. Cosmos SurfacesTM is here to tell you more about these whimsical, long-enduring, one-of-a-kind premium stone slabs for countertop applications and beyond.
All About Blue Agate Countertops
Using a gemstone like agate for a countertop is sure to garner attention and spark well-deserved interest. Along with mystifying shades of blue, this stone can feature many different striking hues, including pink, red, brown, white and gray.
The product of silica from groundwater being deposited in the cavities of igneous rocks, agate's wide color spectrum occurs in unique banded patterns reminiscent of growth rings on a tree trunk. In similar fashion, agate's lines tell the story of its past and of changes in the groundwater composition as it was formed.
Once you bring agate into your home, how will it fare over time? Let's cover some key things to know about its properties:
Heat resistant, agate lends itself well to placement next to stoves and other heat-producing appliances or fixtures.
Scratch resistant, agate countertops can stand up to everyday use in your cooking area or on a bathroom vanity.
Ranked as a 7 on the hardness scale, agate is similar to granite in that it offers high levels of strength, durability and longevity.
Non-porous by virtue of being bound together with resin, blue agate countertops are simple and stress free to maintain. Much like when caring for engineered quartz countertops, you'll want to use a mild, pH-neutral cleaner and a soft, damp cloth to revitalize agate surfaces, plus wipe up any spills promptly to avoid staining.
Owing to their captivating beauty and other favorable features, agate slabs are an alluring choice for countertops – but smaller pieces can also be used for numerous other applications, including decorative accent walls, fireplace surrounds, backsplashes and even water features.
Blue Agate & Other Stunning Varieties Available at Cosmos SurfacesTM 
If agate has caught your eye, it's no wonder – these impossible-to-ignore gemstone surfaces are sure to make a statement in any space, while also offering a slew of practical and delightful benefits. Blue agate countertops are a popular standout, but they're certainly not the only option.
At Cosmos SurfacesTM, we offer several different types of agate to fit different design schemes and styles:
Agate Azure is our bold and beautiful choice for admirers and desirers of blue agate countertops. It features complex lake and geyser blues, robust grays and tones of white and brown dispersed throughout its bands. Due to its translucence, it pairs magically with under-cabinet lighting and white backsplashes.
Agate Earth is a bit warmer and more subdued in contrast to Agate Azure. Its tranquil characteristic hues of amber, red, brown, gold and black serve as the perfect complement to brighter crystalline whites scattered throughout.
Agate Vermell stimulates the senses with bands of spirited reds, browns, blues and tans. Unexpected and inspiring, it looks particularly remarkable alongside wood design features.
Regardless of which agate variety you choose, you and your guests will surely not soon tire of gazing upon the natural splendor of this gemstone. Whether you display it on your countertops or use it for another application – indoors or out – you can count on agate to serve you well for years to come.
Discover a World of Wonderful Surfacing Options at Cosmos 
If you'd like to learn more about agate and explore a full selection of semi-precious stone surfaces, trust the professionals at Cosmos SurfacesTM to be your guides. From dazzling slabs of agate for countertops to white quartz for floors, we offer a vast selection of gorgeous and long-wearing stone surfaces for an array of projects.
Cosmos works with both homeowners and businesses across the US, delivering top-quality surfaces and service. You can visit one of our showrooms to see our stunning surfaces in person, or consult our experts from wherever you are to get reliable recommendations and advice for your project. Feel free to reach out to us anytime for assistance in bringing your design vision to life!
Color of the Month: Intrigue
Intrigue is a dark spiced brown with warm red-rock undertones. It lends exquisite depth to a room when paired with light cream accents as a trim or accent wall.
Citrino is a canvas of crystals, a work of art come to life. Baubles of white, gold, and black make up this Brazilian quartzite. Elegant and stylish, Citrino responds differently depending on the lighting. Mellower in low light, but striking in bright light, Citrino is a unique and classy choice for kitchens and bathrooms alike. Quartzite is resistant to scratching, staining, and fading, and the beauty is unmatched.
A sheet of gold, it's no surprise how Golden Paradise got its name. But it's not just gold – look deeper to see the crystals of whites and greys that make up this Brazilian quartzite. Highly translucent, Golden Paradise makes for spectacular floors, walls, and fireplaces and matches well with blacks and woods. Quartzite is resistant to scratching, staining, and fading, and the beauty is unmatched.
Please follow and like us: