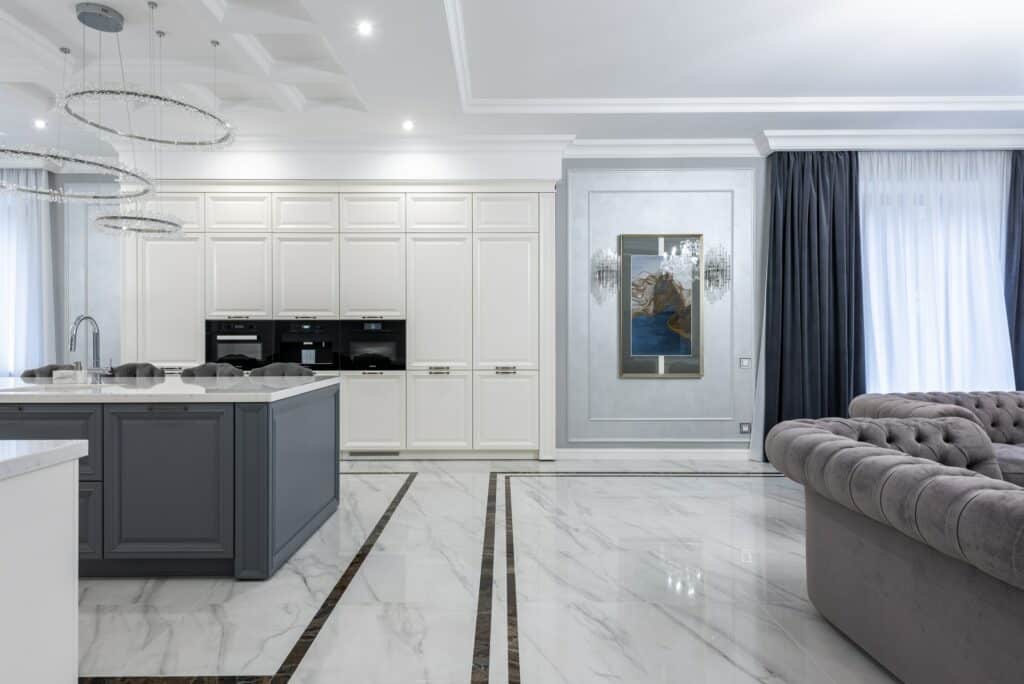 Dating all the way back to the period of ancient Greece & Rome, marble is an ornate yet durable stone with an abundant array of possible uses. Easily identified by its sprawling veining pattern, this naturally occurring stone has certainly earned its reputation for elegance, endurance and ease of maintenance over time. With all of this in mind, you might contemplate adding a marble kitchen floor to your home. Today, Cosmos SurfacesTM will walk you through the distinctive features, advantages and things to be aware of when considering this surface for kitchen flooring.
Pros and Cons of a Marble Kitchen Floor
There are so many wonderful things about marble – but is it a good option for kitchen floors? Indeed, there are numerous advantages offered by a marble kitchen floor. Some of the main ones include:
Marble is uniquely and dramatically beautiful – Quarried in Brazil, Italy, the US and other countries around the world, marble is one of nature's wonders. No two slabs are the same, making for a standout, one-of-a-kind kitchen floor. From classic to more daring, there are ample varieties to choose from to bring your kitchen design vision to life!
A range of finish options are available for marble – For a kitchen floor in particular, a honed finish is a suitable choice because it provides traction to minimize the risk of slips and falls. This finish is warmer and more matte than a polished finish, but ultimately safer and more practical for flooring applications.
Marble is relatively dense and long-wearing – While other natural stone floor options like granite may be a bit harder, marble's durability is typically sufficient for a kitchen floor. The lower degree of hardness can actually be a good thing, too, as it lends a warmer and more inviting feel.
Marble retains and radiates heat readily – This makes it more comfortable under foot, whether you're cooking, doing dishes or just passing through the kitchen space.
Like any surfacing material, marble comes with drawbacks in certain settings. Here are a few potential downfalls to take into account when deciding if a marble kitchen floor is right for your home and family:
Installation can be costly – This is owing to the fact that properly installing a marble floor requires special techniques and professional expertise.
Marble itself can come at a premium price, especially for a larger surface area – For some homeowners, this stunning stone featuring non-repeating patterns originating from the earth is well worth the cost.
Marble may scratch or chip more easily than its counterparts – This is a possible side effect of it being among the softer stone surfaces. Fortunately, it can be resurfaced, repolished and/or rehoned by a professional, should damage occur.
Marble is porous – In other words, it will be susceptible to intrusion by liquids and bacteria if left unsealed. So, you'll likely want to keep up with having your marble kitchen floor sealed on a regular basis to prevent staining or water damage.
Preserving Marble Floors 
If you've made it through the pros and cons list and are still thinking you might love a marble kitchen floor, then it's time to talk about best practices for marble care and maintenance. Thanks to their resilience, it doesn't take much to take good care of marble floors. But of course, there are tips and tricks you should know and follow to avoid damage and extend the life of your marble kitchen floor:
To stay on top of dust and dirt, try to make sweeping your marble floor a part of your daily or weekly cleaning routine, depending on how much foot traffic your kitchen receives. Keep in mind that vacuuming isn't recommended, since it can cause scratches and other imperfections on the porous surface.
Wipe up spills as soon as possible – especially acidic liquids like coffee, vinegar, fruit juice or wine. Most messes should be manageable with a damp microfiber cloth and mild dish soap. Avoid the use of scrubber sponges, as they can leave scratches on marble.
Any mild, non-abrasive cleaner should work safely and effectively on a marble floor, but it never hurts to double-check the manufacturer's care instructions to make sure a product is a good match before using it.
Hard water deposits can etch marble surfaces. So, be sure to dry floors thoroughly with a dry mop pad after cleaning to prevent them from losing their brilliance or taking on etch marks.
Discover a World of Splendid Premium Marble for Various Applications
Now that you've gotten the full scoop on what to expect when installing marble as a kitchen floor, you might be eager to see examples of different marble varieties. Look no further than Cosmos SurfacesTM for a full selection of invigorating marble slabs and tile, spanning from traditional varieties like Calacatta Berrini to more colorful and charismatic choices like Blue Sky.
Whether you're perusing for the perfect kitchen floor or for another surface in your home, our experts are here to help you make an informed, outstanding choice based on your project requirements and budget. We know the ins and outs of marble and other natural stone surfaces, as well as of engineered alternatives that mimic the look of nature-made stone. Browse our online marble gallery, visit your nearest Cosmos showroom or contact us on our website today to get started!
Color of the Month: Intrigue
Intrigue is a dark spiced brown with warm red-rock undertones. It lends exquisite depth to a room when paired with light cream accents as a trim or accent wall.
Audax is a type of schist that is dynamically layered and one-of-a-kind. The layers create fluid bands of brown, black, silver, and white that is stunningly complex and pleasing to the eye. A work of art, audax looks great in kitchens and bathrooms. The long bands of layers can be installed as floors and countertops.
Elegant, powerful, beautiful – Roma Imperiale is one-of-a-kind. Crystals of white and gold crisscross and swirl, battling for dominance in this Brazilian quartzite. Roma Imperiale is complex, detailed, and stunning. It looks great among greenery and in bathrooms as vanities, bathtubs, and countertops. Quartzite is resistant to scratching, staining, and fading, and the beauty is unmatched.
Please follow and like us: