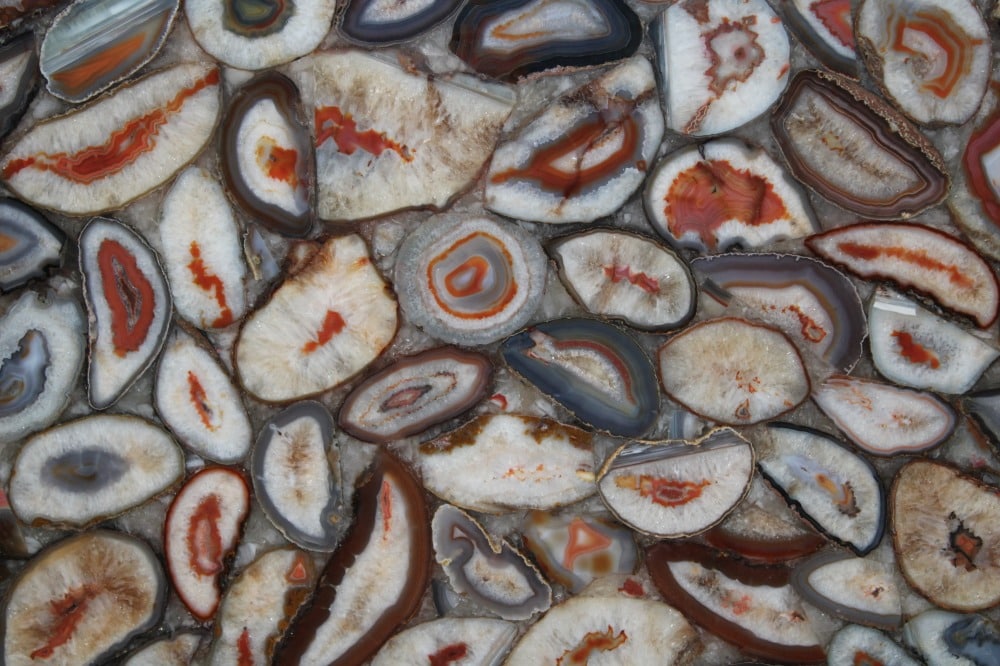 You may have heard of agate and its many uses in the home, but what is agate stone? From decorative set pieces to permanent household fixtures like countertops and wall applications, agate is eye-catching and versatile. In this post, the Cosmos team discusses agate stone countertops. 
What is Agate?
Agate is a type of microcrystalline quartz sometimes used as a semi-precious stone. That is, when it's of high enough quality and coloring. Agate is formed when silica from groundwater gets deposited in the cavities of igneous rocks (rocks formed from the cooling and solidification of magma). These deposits can occur in concentric layers around cavity walls, or in horizontal layers building from the bottom up, producing gorgeous banded patterns.
Agate comes in a wide range of colors, including white, blue, brown, red, pink, black, grey and more. The coloring found in agate is the result of impurities and appear as alternating bands within the patterning of the stone. This happens when different groundwaters, made up of different compositions, are deposited into the cavity over time. The banding visible in a piece of agate essentially acts as a record of water chemistry changes. In this way, the history of the stone is written in its pattern.
The Uses of Agate Stone in the Home
Agate stone is often found around the home. Individual pieces make for handsome decor elements like paper weights, bookends and standalone sculptures, while larger slabs utilizing agate can be used for permanent fixtures. The uses of agate as a surfacing option include:
Countertops
Wall applications
Backsplashes
Fireplace surrounds
Water features, like fountains or waterfalls
The Properties of Agate Stone Slabs
It's always important to consider a stone's properties and whether it's appropriate for its intended use. The properties of agate stone slabs include:
Hardness—agate comes in at a 7 on the mohs scale of hardness, which makes it comparable to granite. Both are considered highly strong, durable stones.
Heat Resistance—agate is highly heat resistant, which makes it appropriate for use near stove tops and as fireplace surrounds.
Scratch-Resistance—owing to its hardness, agate makes for a highly scratch-resistant surface, which is always great news in high traffic areas like the kitchen.
Easy to Clean—the gemstones in agate countertops are carefully selected for their color, shape and pattern, then bound together with resin. This makes agate countertops non-porous, which makes cleaning and maintaining them a breeze.
Agate Stone at Cosmos
Agate countertops are beloved for their striking colors and dramatic patterns. This makes them an excellent option for a focal point in the kitchen or for use as an accent wall. Here at Cosmos, we're proud to offer several gorgeous varieties of agate stone slabs, including:
Agate Azure—a bold, striking blue slab fit for installation as countertops, walls, backsplash and more. Agate Azure features handpicked stones in ocean hues that contrast beautifully with white, grey and brown tones scattered throughout in dramatic patterns.
Agate Earth—featuring a custom blend of hand-picked stones, Agate Earth plays hues of brown, red and black off of gorgeously contrasting white. These earth-inspired tones can help create a warm, inviting feeling while adding dramatic texture and visual interest to your space.
Agate Vermell—a work of art in and of itself, Agate Vermell features deep amber, warm browns and dramatic reds. The hand-picked, semi-precious stones that make up Agate Vermell pair well with natural features like wood and bring a sense of vibrancy and energy into a space.
Pro-tip: Hard natural features like stone pair well with softer materials in the home. Decor like plush rugs, blankets and pillows or woven wall art can help create eye-catching contrasts, along with making the space feel warm and inviting.
Work With Cosmos!
Cosmos SurfacesTM brings decades of knowledge and industry experience to the table. As a 2nd generation, family-owned business, our team is passionate about bringing businesses and consumers exceptional materials. If you have questions about agate countertops or where to find them, we'd love to hear from you! Get in touch by filling out our contact form today.
Color of the Month: Saffron
Saffron is a radiant gold with bright and deep undertones. It is perfect for adding sunny color to the walls in any living space. Pair with deep toned antiques or clean black and white.
Experience the singular beauty of Sedna, an exquisite vein of molten gold running through pitch black and rich brown granite. Like a wealth of brilliant magma trapped just below the surface of the earth, black Sedna is a rare and powerful treasure, embodying the most raw and powerful forces of nature.
Please follow and like us: