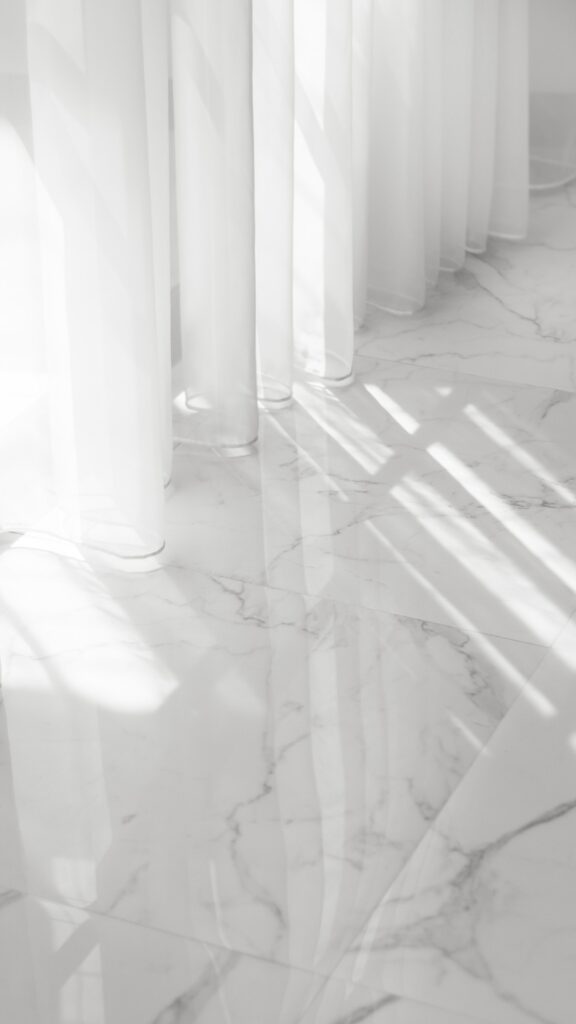 Few things are as synonymous with luxury as marble surfaces. From walls and countertops to floors and sculptures, marble has been around for centuries. If you're wondering, "is marble good for bathroom floors," you've come to the right place! Cosmos SurfacesTM is a proud supplier of gorgeous, high-quality marble for home and commercial spaces. In this post, our experts discuss whether marble tile is good for flooring and offer cleaning and maintenance tips. 
A Brief Introduction to Marble
Marble has a timeless, classic aesthetic that can elevate any home. A metamorphic rock, marble forms when limestone is subjected to high amounts of heat and pressure. This typically occurs at convergent plate boundaries near the Earth's crust.
Marble is largely composed of calcite, but often also contains minerals like micas, quartz and iron oxides. Since marble is a calcareous stone, it is porous and requires regular sealing to protect it from staining and moisture-related damage.
The Properties of Marble
Marble is softer than granite, which can make it more prone to damage in high traffic areas, but with proper care and maintenance, marble can last for centuries. The stone is highly heat- and crack-resistant, which makes it a great option for the kitchen or as fireplace surrounds. Marble also works as an elegant flooring option.
Is Marble Good for Bathroom Floors? The Pros
Marble tiles can be used for gorgeous flooring in the home or in commercial spaces. Here's what you need to know:
Aesthetics—marble floors are unique and beautiful. With its signature veining and wide range of colors and patterns, marble can make any space stand out from the rest.
A Polished Look—marble can be polished to a high-gloss, light-reflective finish that gives the illusion of translucency and brings out the beautiful colors in its patterning.
Honed Marble—many types of marble can be given a honed finish instead of a polished finish. This option is great for those who do not want a glossy look, but prefer a soft, warm finish instead. Honed tiles have more traction, which provides a non-slip flooring option in high-risk areas like bathrooms and the kitchen.
Marble as a Heat Conductor—marble retains and radiates heat well, which works wonders if you're looking to install radiant heat systems in your home.
Natural Material—marble is a natural stone, typically quarried in mountainous regions. The natural, earth-made source of marble makes it an eco-friendly surfacing option that is completely unique, as no two slabs of marble are exactly alike.
Marble Floors: The Cons
Every surfacing material has its drawbacks, and it's important to understand them when deciding between types of natural stone. Here are the cons of marble floors:
Installation—marble is more difficult to install than its ceramic tile counterparts and will likely require the help of a professional.
Cost—marble tiles are more expensive than porcelain tiles, but this comes with the benefit of unique, natural flooring and patterns that never repeat.
Repairs—since marble tiles are softer than porcelain (a popular tiling option), they can take on scratches or chips more easily. Luckily, marble can be resurfaced and repolished to look brand new.
Marble Floors: Cleaning and Maintenance
To enjoy and preserve the beauty of marble floors for generations, consider the following cleaning and maintenance tips:
Sweep floors daily to avoid scratches from debris like sand or grit.
Wipe up spills immediately, especially acidic substances like juice, wine or vinegar.
Seal polished floors regularly. For an in-depth look at this process, take a look at our blog post on sealing natural stone.
Use mild, non-abrasive cleaners that are appropriate for use on natural stone surfaces like marble floors. Mild dish detergents and microfiber cloths often do the trick, but it's always wise to check in with a manufacturer and ensure a product is safe to use on your investment.
Marble surfaces can be etched by hard water deposits. Be sure to dry floors completely after cleaning to avoid etching or dulling over time.
Need Marble Tile? Work with Cosmos SurfacesTM
Is marble good for bathroom floors? Definitely! Work with Cosmos SurfacesTM today to find the best marble flooring for your needs. We offer high-quality marble in a wide range of colors and patterns. Our experts are always happy to answer questions and our active blog has numerous articles to help you decide which type of marble is best suited to your needs and budget—contact us online to get started.
Color of the Month: Saffron
Saffron is a radiant gold with bright and deep undertones. It is perfect for adding sunny color to the walls in any living space. Pair with deep toned antiques or clean black and white.
Elegant, powerful, beautiful – Roma Imperiale is one-of-a-kind. Crystals of white and gold crisscross and swirl, battling for dominance in this Brazilian quartzite. Roma Imperiale is complex, detailed, and stunning. It looks great among greenery and in bathrooms as vanities, bathtubs, and countertops.
Slivers of black overlay a creamy white background in this Brazilian granite named Polar Cream. The subtle tones of white and off-white in this granite make it an excellent choice for creating a calming environment. The understated beauty of the Polar Cream granite makes for beautiful countertops, backsplashes, and tub surrounds.
Please follow and like us: