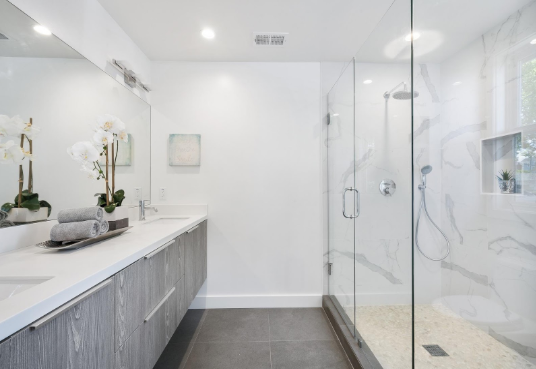 Across the U.S. and Europe, large format porcelain tile has become a beloved option for an extensive list of design applications. Owing to its impressive durability, easy maintainability and many other favorable features, porcelain is now a top contender for design projects like kitchen countertops, bathroom vanity tops, shower and tub surrounds, fireplaces, floors and more. Of particular popularity among discerning homeowners is the porcelain slab shower – a stunning, decidedly modern choice that's as hardwearing as it is beautiful. The brand new Large Format Porcelain Tile Collection – Opulith® from Cosmos SurfacesTM includes something for every taste, project and budget.
What Makes Porcelain So Wonderful for Shower Walls & Floors?
The selection of materials for shower walls and floors can be overwhelming. If you're currently considering several different options for your bathroom renovation, here's why porcelain should be a standout on your list:
Very dense and resistant to water absorption
Resistant to scratches, stains and chips
Retains heat well
Requires little maintenance
Available in a wide range of patterns and colors
Very easy to install in slab form
Due to the size of the slabs, the number of grout lines are greatly reduced
Another great thing about using large format porcelain tile to give your shower a facelift? This durable material can be installed over existing stone, meaning you may be able to skip the work of removing your old shower walls!
Cleaning Your Porcelain Slab Shower
As mentioned above, porcelain is incredibly easy to take care of, which is a must-have quality for your shower. It's safe to use any type of gentle multipurpose cleaner in a porcelain shower. Just be sure to wipe your porcelain shower dry after cleaning to avoid unwanted water marks.
Find Breathtaking Porcelain Tile at Cosmos SurfacesTM
Looking for the perfect porcelain for your shower renovation? We recommend Sicily White, a refined and elegant style that's suitable for shower walls and floors. Featuring smoke gray veining and specks on a backdrop of milky white, this slab will lend modern beauty to any bathroom.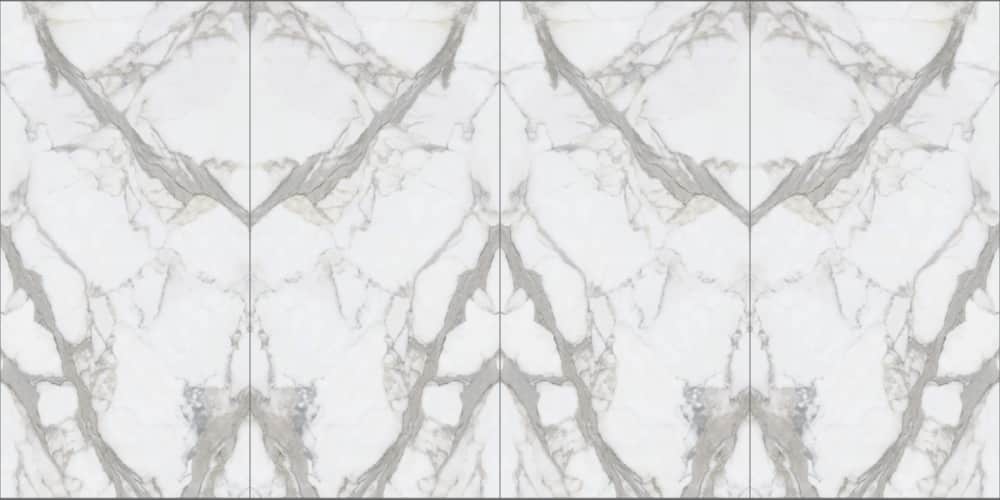 Explore our entire selection of porcelain slabs for showers and much more! Whether you are a homeowner, an industry professional, a vendor or a supplier, we are here to answer any questions you may have about our high-quality, competitively priced porcelain tiling. Reach out today to find out why we're known for outstanding customer service and unbeatable product quality.
Color of the Month: Sunlight
This month's featured trending color is Pantone 13-0822, Sunlight! The Pantone Color Trend Report says, "Soft Sunlight invites happiness, pleasant cheer and a smiling presence."
Aurum is the Latin word for gold, so it's no surprise Aurum Ivory captures heavenly radiance with its gentle, curling golden veining. The angelic delicacy of this white quartz is unmatched, and its polished finish makes it a pristine choice for bathrooms, kitchens, and beyond. Enjoy a serene retreat into the clouds with the help of this elevating white quartz.
Please follow and like us: