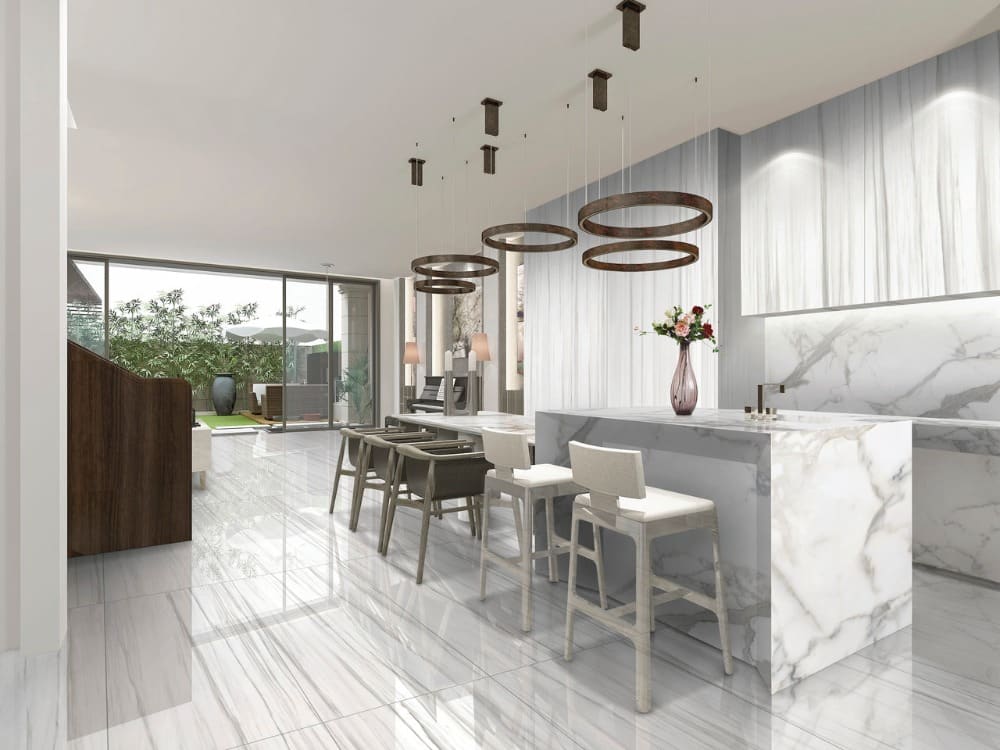 Discerning homeowners looking to achieve an elevated, luxurious interior are often attracted to marble – and it's no secret why! After all, this premium natural stone has been treasured for its beauty and durability since the Ancient Greeks & Romans first used it to construct everything from detailed sculptures to essential buildings. Fast forward to the present, and one need not spend a fortune in order to enjoy the distinguished look of marble. Thanks to advances in engineering, porcelain that looks like marble is now available as an alternative option – and it boasts numerous benefits beyond heightened affordability. Today, we'll take a look at how marble and porcelain looking marble compare in an array of categories.
Marble vs. Porcelain That Looks Like Marble: How Do They Compare?
If you are enthralled by the elegant appearance of marble, but you have a set budget for your project, porcelain that looks like marble may just be the material you've been waiting for. Cost aside, there are some situations where engineered porcelain is better suited to the application than natural marble. Let's discuss some pros and cons of real marble vs. porcelain that mimics marble's appearance.
Required Care
When it comes to maintaining the integrity & pristine appearance of the stone over time, porcelain is arguably easier to care for than marble. Because it is super dense by design, and often comes glazed, porcelain is highly resistant to stains and moisture. In turn, it is simple and straightforward to maintain using typical household cleaning products, and it can stand up to heavy use with no issue.
On the other hand, marble is more porous, meaning it requires sealing to safeguard against spills & stains. Additionally, you'll want to be careful to avoid using acidic or abrasive cleaners on a marble surface.
Durability
Ultimately, both porcelain and marble are highly durable materials. But if your project requires the surface to stand up to heavy foot traffic, it's important to choose a type of stone which is equipped for the job.
Keep in mind that different types of marble and porcelain have different hardness ratings, and the durability of the two stones is ranked using separate scales. To learn more about how this works, visit our post in which we introduce porcelain slabs that look like marble and go into further detail on this point.
Appearance
For many home and business owners, a large part of porcelain's appeal is that it comes in so many different patterns and colors. Through an advanced engineering process, this modern stone can artfully imitate the aesthetics of naturally occurring marble – right down to the characteristic veining and smooth texture for which marble is known and loved.
As a prime example, Sicily White porcelain encapsulates the refined presence of the finest marble, with deep, organic looking veins and flecks of gray adorning the luxe white background.
Price
As we've already alluded to, porcelain is generally a more affordable option than marble, making it preferable for many homeowners. Still, it is vital to note that porcelain can actually come with higher installation costs, since the knowledge, experience and equipment to handle and process these slabs is still limited in the industry.
Design Possibilities
While the characteristic differences setting porcelain apart from marble can make one material more suitable than the other for certain applications, many design projects can be completed using either. Much like marble, porcelain tile is available in a large format slab style. In turn, both materials can work well for more sizable surfaces, such as floors, kitchen islands, accent walls, shower walls and fireplace surrounds. When beautiful surfacing is desired for a more spacious area, large format porcelain tile can even be used to achieve the bookmatched effect which is huge with marble right now. Check out our recent post on the art of bookmatching to learn all about this symmetrical, kaleidoscopic design trend!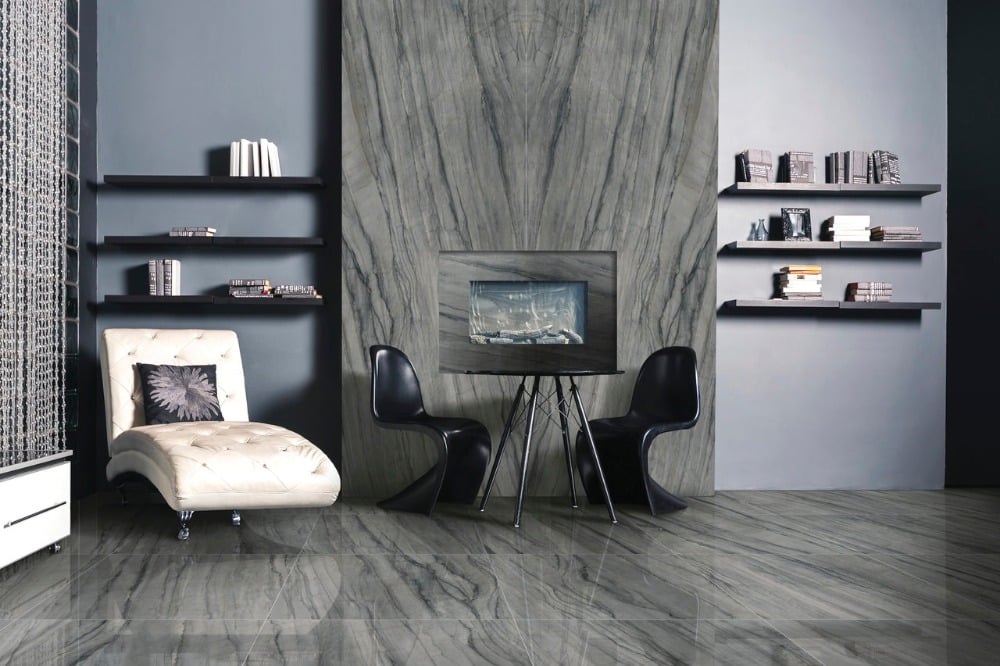 An important factor to consider while choosing between marble and marble looking porcelain is the edge finish. If you are considering these materials for an area where the edge will be exposed, it is imperative to know that porcelain slabs can only be finished with a straight edge or mitered for a waterfall effect due to their hardness and density. Natural marbles on the other hand can be finished with any type of an edge you desire owing to their low density.
For Amazing Results, Collaborate with Cosmos SurfacesTM On Your Design Project
Are you in the market for a stunning surface which will perfectly suit your application and offer incredible longevity? Cosmos SurfacesTM is here to help you locate it! Whether you are deciding between marble and porcelain that looks like marble, or you are curious to explore other materials, you can count on our stone specialists to provide expert guidance and assistance. To be connected with a team member from our 2nd generation family-owned surfacing company, simply fill out our contact form!
Color of the Month: Fired Brick
This month's featured trending color is Pantone 19-1337, Fired Brick! The Pantone Color Trend Report says, "Strong and sturdy, Fired Brick adds gravitas."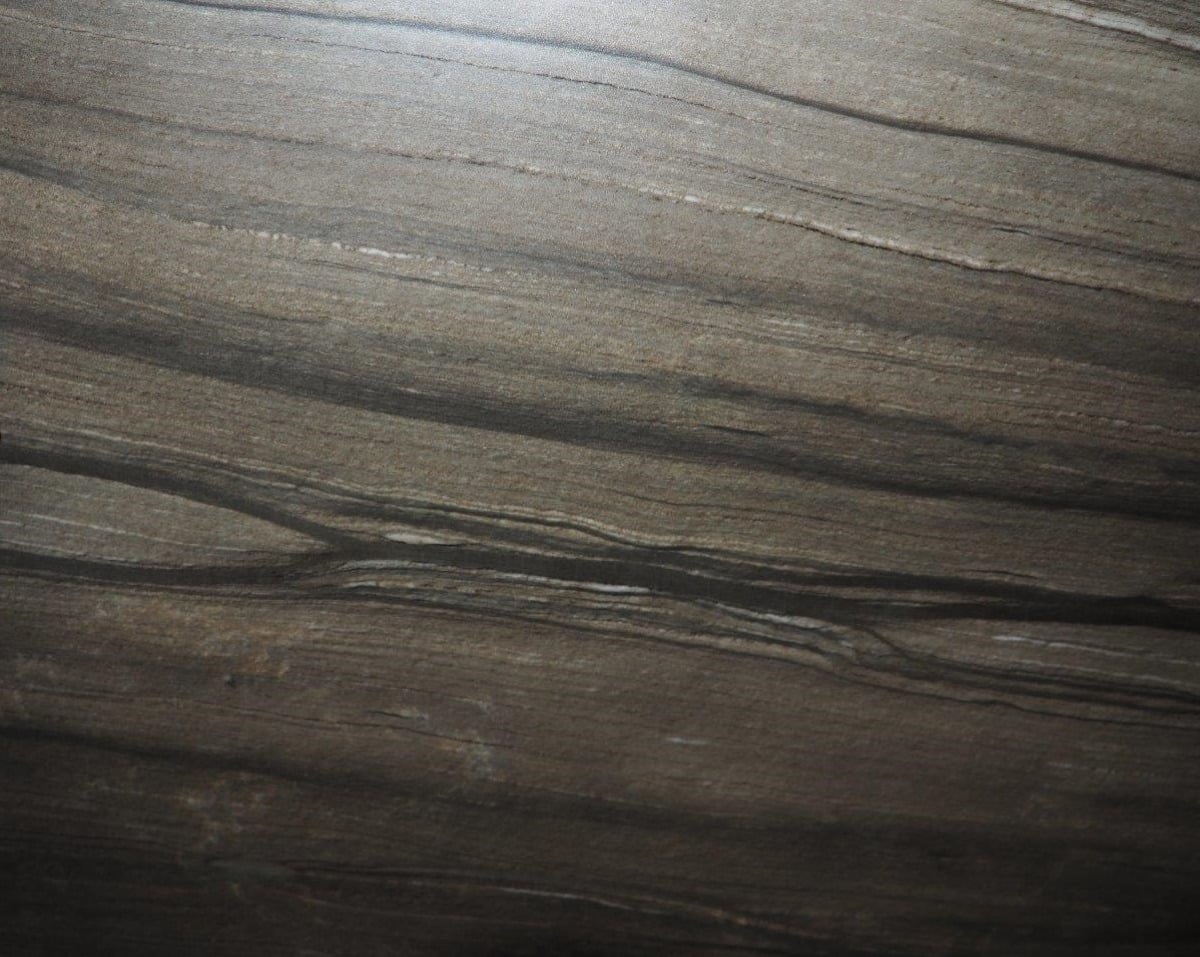 Natural stone that looks like wood — say what? Sequoia Brown is a very special kind of veined, brown and black Brazilian quartzite that mimics the appearance of a sequoia tree's bark. Offering the supreme durability of natural stone coupled with the rustic look of wood, Sequoia Brown is a great fit for bar tops, countertops, table tops and more.
Please follow and like us: