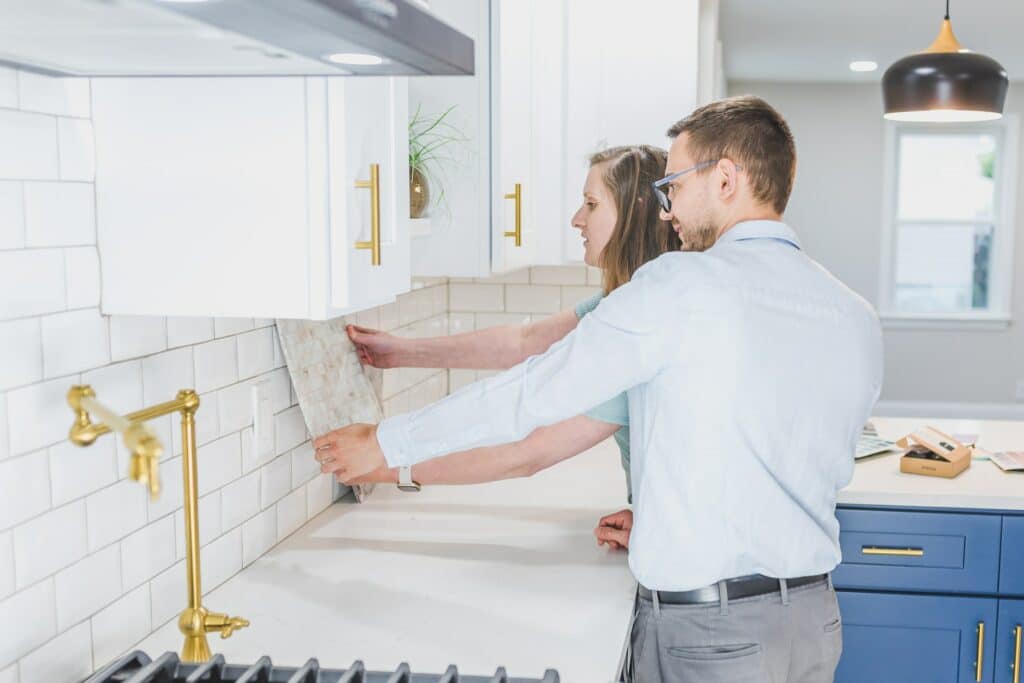 Beyond complementing your countertops, a kitchen backsplash can serve to protect your walls against food and liquid splatters (and make cleanup easier when they inevitably happen). So, how do you settle on the best kitchen backsplash for you? The right answer can be influenced by several factors, from your kitchen layout to your personal design and maintenance preferences. Let's take a look at some of the most favored options and their respective characteristics.
What Is the Best Kitchen Backsplash Material?
From natural stones like granite, quartzite and marble to engineered quartz to ceramic or porcelain tile, you have a wealth of options for your kitchen backsplash. The most well-aligned pick will depend on what catches your eye and satisfies your aesthetic vision, but also what is most suitable in terms of your desired durability and care level. Heat and stain resistance level are also factors to think about, especially if your backsplash will go behind or near your stove.
So, what is the best kitchen backsplash material for different sets of priorities? Here's some insight:
Quartz – Available in a wide range of patterns and colors, quartz is a manmade, low-maintenance material that can function well as a backsplash in some kitchens. However, it's best not to use it in close proximity to a cooktop or another heat-producing appliance, as the resins and binders holding quartz components together can be melted or warped by high heat exposure. While quartz itself doesn't need to be sealed, it's important to seal the grout in between tiles on a backsplash, as well as to follow manufacturer recommendations for quartz-safe cleaning products.
Porcelain or ceramic tile – From simple, clean subway tile to more ornate designs, ceramic or porcelain tile can be used to create the backsplash of your dreams. Sealing tile typically isn't necessary (although the grout will again need to be sealed), and there are many different shapes and colors to choose from. Elements of an active kitchen can be easily wiped away, and you can depend on these heat-resistant tiles to perform well over time, even directly behind an oven or stove.
Natural stone – Most natural stones (with the exception of soapstone) will need to be sealed (and resealed on a regular basis) to protect them against stains, moisture and bacteria. But, so long as you don't mind this maintenance step, natural stone makes a gorgeous and value-adding backsplash! The exact characteristics and cleaning requirements will vary depending on the natural stone variety chosen, so be sure to speak with a surface expert before landing on a particular backsplash.
Along with all we've discussed so far, the amount of active time you spend in your kitchen can also be a crucial decider in your best kitchen backsplash choice. For instance, if you're the type to make meals at home each day, you'll likely want a fuss-free backsplash like ceramic tile, which can stand up to messes without issue.
On the other hand, if you don't cook very often and are more concerned with creating an eye-catching, luxurious kitchen design that will wow your guests, you might consider higher end materials like marble for your backsplash (along with your kitchen countertops).
Find Your All-Around Best Kitchen Backsplash at Cosmos
From square to rectangular to hexagonal, Cosmos SurfacesTM offers an array of stunning backsplash shape choices, along with a full spectrum of colors and patterns. Whatever most suits your fancy – quartz, natural stone, ceramic tile or porcelain – you can source it from us for a great value.
Highlights from our collection include Anthracite Patchwalk ceramic tile (available in several shapes), Giallo Verona granite, Calacatta Golden Bianca quartz and much more, all viewable in our online gallery. Take a look, see more details and start a list of your favorites that might work well in your unique kitchen!
As you work to narrow it down, our specialists will be happy to guide you according to your specified preferences and needs, answering any questions you may have along the way. To get started on finding your best kitchen backsplash or another high-performance surface alongside our knowledgeable and experienced professionals, contact us on our website or visit one of our showrooms throughout the U.S.
Color of the Month: Keepsakes
Keepsakes is a grey-toned baby blue with a hint of indigo. It creates a spa-like atmosphere in a bedroom or bathroom, or a fresh and clean atmosphere in any kitchen. Pair with white and ivory trim.
Blue Flower is certain to make any room bloom, with bursts of blue and black veins against a white granite background. As durable as it is decadent, this Brazilian stone shines in both interiors and exteriors, from granite tiles to countertops.
Azurra Bay quartzite combines a light blue background, with interweaving greyish-white layers giving the illusion of overlapping waves. The multi-directional lines in this Brazilian quartzite draw your sight away from the center giving a sense of spaciousness to any room it is used in. Quartzite is resistant to scratching, staining, and fading, and the beauty is unmatched.
Please follow and like us: