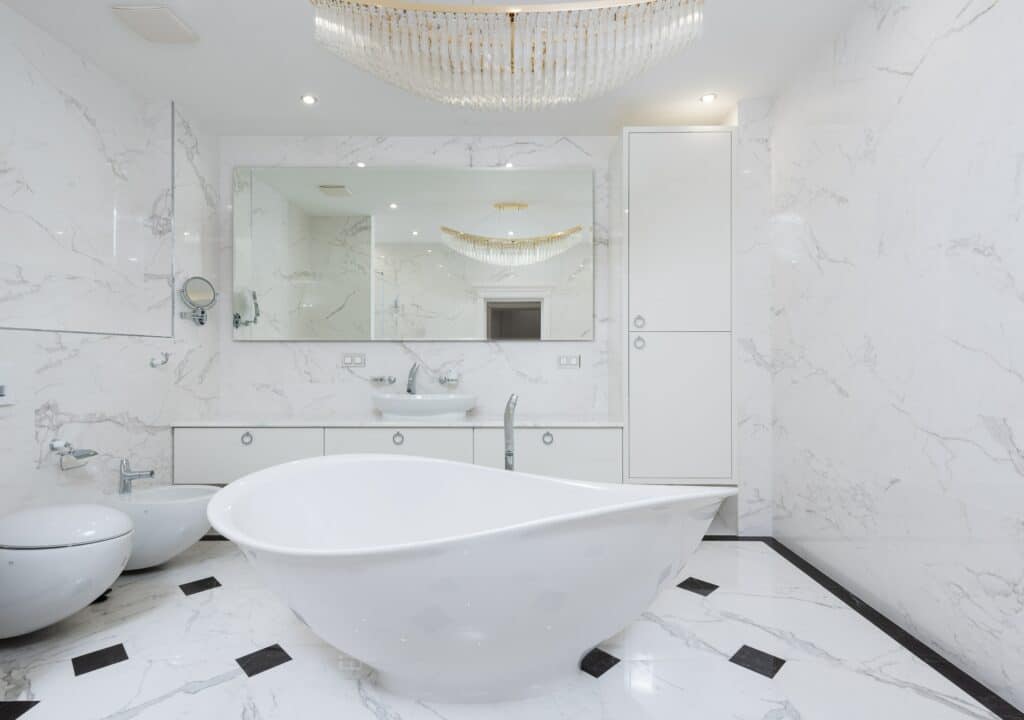 When planning a bathroom renovation, it's important to prioritize durability alongside aesthetic appeal. For instance, you might look for floor tiles for bathrooms that are known for their moisture tolerance and overall resilience, as well as for being pleasing to the eye. There are quite a few options which can meet this criteria, depending on your specific bathroom design and other considerations like your budget and maintenance preferences. Let's compare some of the top choices for a tough, beautiful and long-lasting bathroom floor.
Floor Tiles for Bathrooms: Best Materials
At the ground level, your floors can definitely define your bathroom – not just in terms of appearance, but also in the way of utility. There are several different types of tile that can fulfill the unique needs for the application of a bathroom floor. For instance:
Natural stone tile – Natural stone can be well suited, especially if you aim to create a sophisticated bathroom that stands out. Marble in particular is an excellent heat retainer, keeping your floors comfortable underfoot. Opting for a honed finish will provide traction to maximize the safety of a marble bathroom floor, while the classic veining will impart a beautiful look. But, keep in mind that marble (and most natural stone varieties) will require sealing to protect against moisture intrusion, and you'll want to be attentive in wiping these floors dry to prevent etching or dulling over time.
Porcelain tile – Engineered for high performance, porcelain is extremely dense and boasts the highest moisture resistance level of any kind of floor tile. Sealing porcelain typically isn't necessary (although it will be for the grout in between tiles), and the high traction level makes for a slip-resistant floor. Porcelain is also antibacterial and easy to keep spotless with everyday household cleaners, whereas natural stone can be more finicky. Wood and marble look porcelain are both available, allowing the low maintenance requirements of this cost-effective material to be enjoyed while creating various looks.
Ceramic tile – Also manmade and comparably durable to porcelain, ceramic tile comes in many different patterns, hues and shapes. Commonly used as floor tiles for bathrooms as well as for kitchen applications like backsplashes, it's a versatile material that affords design freedom and can stand up to daily use. The one caveat is that it may be more vulnerable to water and staining, depending on the specific variety chosen. In any case, it's vital to seal the grout between tiles regularly – but, with today's large format options, less grout can be used for ease of maintenance and a more cohesive look. As with porcelain, ceramic may be made to imitate hardwood grain or natural stone patterns.
With such a range of favorable options, how do you arrive at the very best bathroom floor material for your personal project? The surfacing professionals at Cosmos are here to help you weigh various factors and line up the most well-aligned picks with regard to your specific tastes and concerns. We'll discuss everything from your price range to your desired appearance to your preferences for sealing and cleaning frequency.
Partner with Cosmos for Your Flooring Project 
Interested in exploring floor tiles for bathrooms in a range of colors, styles and shapes? Cosmos SurfacesTM offers a wide selection of ceramic, porcelain and natural stone tile options to achieve your vision for your new bathroom. We can help you determine the most ideal material for this setting in particular, guided by the rest of your design details, budget and other individual specifications.
From Petrified Wood tile to Pegasus marble to Taj Mahal porcelain, our surface supplier provides a collection of stunning, top-quality floor tiles for bathrooms that can blend beautifully into both contemporary and more traditional designs. If you're excited to see our magnificent tile gallery, visit our website or find your closest Cosmos SurfacesTM showroom and stop by!
We have locations in Seattle, Greenville, Portland, Boise, Spokane, Savannah, Salt Lake City, Atlanta and San Francisco, where our knowledgeable professionals are well equipped to point you to the perfect surface for your purpose. We can also help you from afar by answering all of your questions and educating you on the pros and cons of different surface choices. Reach out to our customer-focused representatives today to get started!
Color of the Month: Pine Forest
Pine forest is a lush, verdant dark green with teal undertones, the perfect color for kitchen cabinets. Pair it with white marble countertops for a distinguished yet warm atmosphere.
Verde Maestro quartzite fittingly gets its name from its deep green color. Native to Brazil, this quartzite is also known as Vivid Green, due to the numerous shades of green and silvery metallic sheen that resembles the ariel view of the Amazon rainforest of South America. The Verde Meastro quartzite looks great in a rustic setting or next to rich and lush plant life. Quartzite is resistant to scratching, staining, and fading, and its beauty is unmatched.
A soft green interspersed with veins of golden brown, green onyx resembles the diverse terrain of the Amazon. A symbol of purity, restfulness, and peace, green onyx is an artful material to install both inside and outside to transport you to a calming rainforest and to add a unique look to any space.
Please follow and like us: