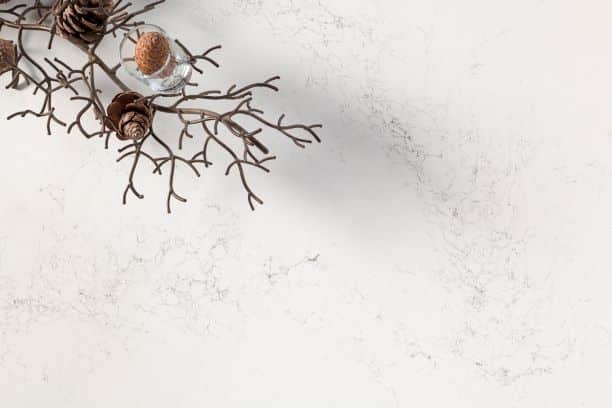 On the quest for showstopping yet easily maintainable counter and vanity tops that can handle all that happens in an active home, many modern homeowners are landing on white quartz. What's so special about this material and this color specifically, you might ask? Let's review some of the unique white quartz benefits you can gain by installing this surface in your kitchen, bathroom or elsewhere in your home.
White Quartz: Benefits and More
While natural stones like granite and marble have long been go-tos for durable countertops, engineered quartz offers its own distinctly impressive collection of perks. Some of the most noteworthy white quartz benefits include:
No sealing needed – Natural stone almost always needs to be sealed at installation and throughout the years, while quartz will typically never require sealing. This is because the surface of quartz is nonporous, meaning it comes with built-in defense against moisture, bacteria and stains. The luxury of avoiding the need to apply and periodically reapply sealant can be a pro for busy homeowners, as it's one less task to keep up with.
Chip, scratch and crack resistance – Quartz is one of the hardest and, in turn, toughest materials used across applications. It won't crack, scratch or chip easily, so incidental drops and bumps shouldn't be anything to worry about. In case everyday wear and tear does lead to a nick, there are professional repair options available to make it look like nothing ever happened.
Bright, luxurious aesthetic – If you're aiming to make your kitchen, bathroom or another area of your home look bigger and brighter, then this may be one of your favorite white quartz benefits yet! This surface selection will imbue sophistication into virtually any space, with hue options ranging from pure white to off-white accentuated by gray, gold, beige or black. Veining patterns reminiscent of marble are an option if you love this classic look, but without the maintenance requirements and price tag of this high-end natural stone.
Because modern engineering technology affords so many different design options for quartz, you'll definitely want to see samples of any varieties you're considering in person before making a decision. This way, you can envision how it will coordinate with other existing or planned design features in your space.
What to Keep in Mind About Quartz 
Depending on where and how you use it, white quartz can come with downfalls. Here are some considerations which may steer you towards a different material or color for your renovation project:
The plastic-like resin binders found in quartz are susceptible to warping or melting, so it's essential to use hot pads, trivets and coasters every time you place a hot piece of cookware or dish on a quartz countertop.
With installation costs factored in, quartz can be one of the more expensive surfaces. If you're on a set budget, you might consider using remnants of quartz – or limiting its use to a main attraction like your kitchen island and mixing in another material for the rest of the surfaces.
While quartz's nonporous surface resists staining, discoloration is still possible. Imperfections may be particularly noticeable on white quartz, whereas darker hues will better disguise any flaws. In any case, it's key to clean up spills ASAP to prevent set-in stains or a dulled finish.
Heavy disinfectants like bleach and ammonia – as well as textured scrubbers – can damage quartz. Luckily, warm water and mild dish soap on a soft sponge should be sufficient to tackle most messes.
White quartz benefits can still easily outweigh the cons in certain cases; nonetheless, it's important to bear both the positives and possible negatives in mind to make sure you're picking the best surface for your personal situation.
Compare Surface Varieties with Cosmos' Pros
Eager to enter a world of wondrous quartz options after learning all about white quartz benefits? Cosmos SurfacesTM has you covered with everything from samples to care instructions to professional advice on the best choice for your specific application, budget, personal preferences and other factors.
As a family owned company with three generations of combined experience, we are true experts on the full spectrum of different surfaces and where they work best. To consult one of our specialists and get to work on sourcing your ideal material – whether it ends up being a variety from our quartz gallery like Calacatta Telesto, Cloud White, Kaia or something totally different – contact us online or stop by one of our conveniently located showrooms!
Color of the Month: Pine Forest
Pine forest is a lush, verdant dark green with teal undertones, the perfect color for kitchen cabinets. Pair it with white marble countertops for a distinguished yet warm atmosphere.
White crystal bands and silver streaks dance through the vast and layered green and brown background of this Brazilian granite. The high contrast color palette coupled with the unpredictable patterns of Vostok granite are sure to add motion and momentum to modern design elements.
Mountains of colors come to life in the quartzite named Galapagos. Galapagos brings to mind an aerial view of a cloudy mountainous, with peaks of green, rivers of blue and shadows of black. Unique layers and bands of color create a bold tone that looks great among blacks and silvers. Galapagos makes for interesting and artistic countertops and tables. Quartzite is resistant to scratching, staining, and fading, and the beauty is unmatched.
Please follow and like us: