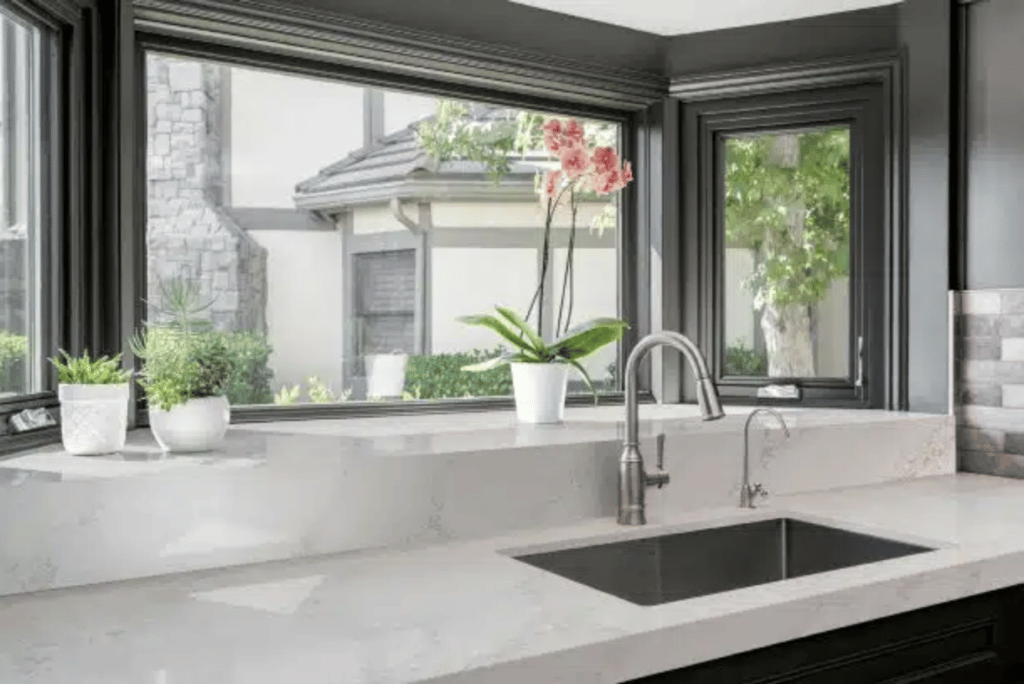 As with anything in life, different people have varying preferences for their kitchen and bathroom countertops. While some like them to be colorful, others gravitate towards clean, neutral options such as pure white quartz countertops. 
Of course, the surrounding design scheme will also factor in when it comes to the most desirable and suitable countertop look for you – simple or more dramatic. And beyond appearance, you'll want to narrow down the practical features which matter most to you in a countertop to establish whether quartz is the best option or if another material may be a better fit.
Where to Get Pure White Quartz Countertops
If you're interested in exploring spectacular, high-performing countertop options, you're in luck – Cosmos SurfacesTM offers an array of gorgeous varieties, from pristine engineered quartz to natural stone.
As surface experts, we know that perusing in person can help ease the decision-making process. But even if you can't make it to one of our showrooms across the U.S., our experts are standing by to answer all of your questions!
In person or from afar, we can provide samples and expert advice to guide you to the all-around most ideal countertop for your unique space and goals. Once you've found your perfect match, you can count on us to help you finalize making your vision a reality with professional installation of your chosen variety – whether it's pure white quartz countertops or something totally different.
Benefits of White Quartz 
As your trusted source for pure white quartz countertops and many other varieties, we'd like to highlight some of the common reasons why customers opt for this particular style of countertop:
Quartz features a moisture-, stain- and bacteria-resistant surface, making it a top pick for fuss-free countertops. No sealing is required, which can be a major plus for those who favor minimal maintenance. This stone is also an overachiever in terms of chip and crack resistance, meaning these countertops can stand up to daily wear and tear without issue.
Pure white quartz countertops in particular make an elegant statement in various rooms. They can blend in seamlessly with all sorts of kitchen and bathroom design styles, from classic to contemporary. Faint speckles or veins of gray, tan or off-white (depending on the quartz variety) can be used to accent other design elements, making them pop alongside the crisp white surface.
Quartz comes in many different designs, so if you decide you want something a bit more visually intriguing than plain white, there's plenty to choose from! As mentioned above, Cosmos can provide samples so you can compare how different varieties look in your space and confirm that the undertones suit.
What to Know About Quartz 
If you're heavily considering quartz for your new countertops, here are a few things to be aware of before making your final decision:
Hot cookware and dishware can damage quartz, so be prepared to use trivets, coasters and hot pads to protect your countertops if you go with it.
Harsh cleaners containing bleach or ammonia should also be avoided on quartz. Mild dishwashing detergent and warm water on a soft sponge should do the trick for handling everyday messes.
While quartz is stain resistant, spills should still be cleaned up promptly to prevent possible discoloration or dulling of the brilliant surface.
Additionally, keep in mind that quartz can get pricey with installation costs tied in, especially if you've got a lot of area to cover. You may want to consider using remnants, or featuring a standout quartz for a smaller area like an island while using a more affordable option for surrounding counters.
Start & Finish Your Search with Cosmos 
Whether you're captivated by pure white quartz countertops or ones with a bit more flair, look no further than Cosmos. Our hardworking surfaces combine durability and beauty, making for the ultimate investment. From white marble look quartz such as Calacatta Venatina to more eye-catching varieties like Cinder, there's no shortage of opportunities to make your kitchen or bathroom a showstopper.
Explore our quartz gallery and the rest of our splendid stones for countertops and beyond online, or get in touch with us for personalized assistance. We look forward to helping you find and obtain a surface you'll be in love with for many years to come!
Color of the Month: Pine Forest
Pine Forest is a lush green with teal undertones, perfect for kitchen cabinets. It pairs beautifully with marble countertops and off-white upper cabinets.
White crystal bands and silver streaks dance through the vast and layered green and brown background of this Brazilian granite. The high contrast color palette coupled with the unpredictable patterns of Vostok granite are sure to add motion and momentum to modern design elements.
Bands of grey and veins of white create a wavy pattern reminiscent of the moon-lit sea. The distinctive layers add depth to the black background that is characteristic of the Agatha granite.
Please follow and like us: