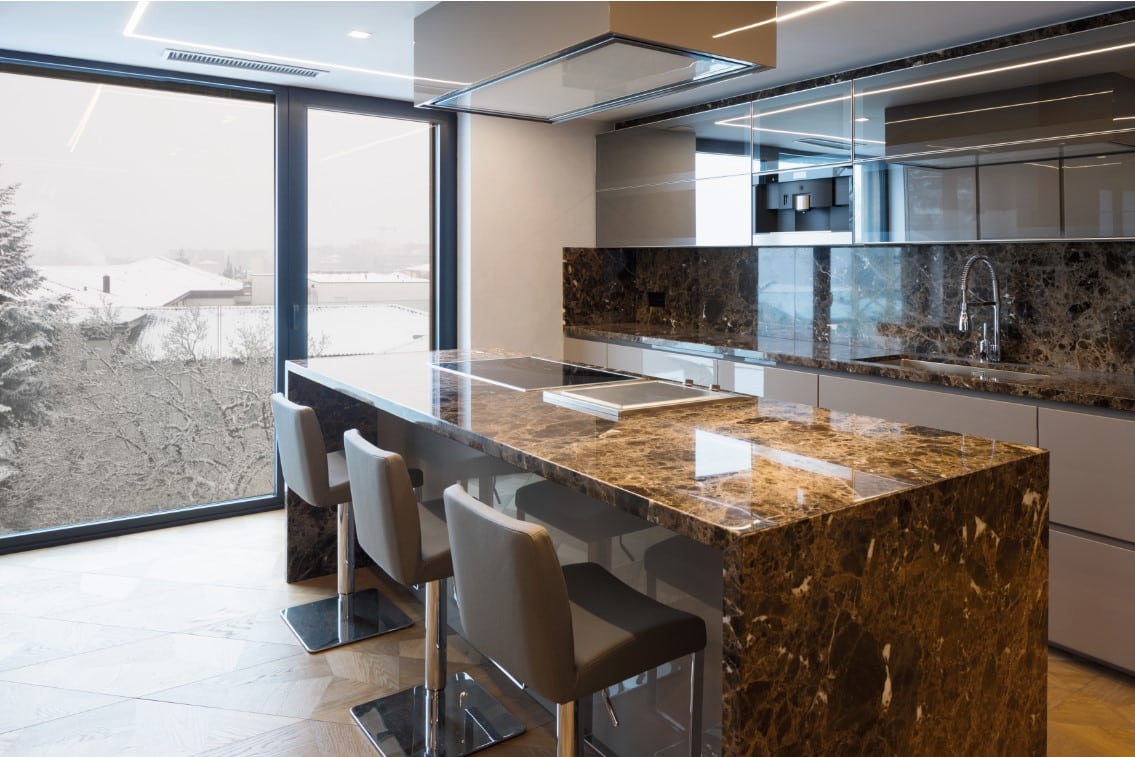 Marble is durable and easy to clean if maintained regularly, but you'll definitely want to know how to care for marble properly to keep it looking its best for a lifetime. Like any other surface, marble needs proper maintenance to prolong its beauty. In this post, Cosmos SurfacesTM will take a look at the best ways to keep your marble countertops, vanities, floors, and other surfaces clean on a daily basis, without damaging this luxurious material.
How to Care for Marble: Daily Cleaning
Marble is absorbent, so it can be vulnerable to spills and acidic substances if not sealed properly and regularly. When used outdoors, it can also be damaged by acid rain and pollutants. The best way to avoid damage is with some simple care techniques. Here are some easy steps you can take on a daily basis that will make it easy to keep your marble clean and safe in the long run:
Wipe up spills and dirt right away with a non-abrasive cloth or sponge. Do not use hot water to clean up milk and blood, as it can make the stain worse.
Avoid using chemical cleaners, acids like vinegar and lemon juice, grout cleaners, and tub or tile cleaners. They can etch and dull the stone.
Soapless, neutral cleaners specifically made for stone are ideal. You can also use mild, phosphate-free, eco-friendly dishwashing liquids or powders, neutral detergents, or vegetable oil based soaps. Make sure to rinse all cleaners off completely with fresh water.
For exterior steps and pathways, sweep and rinse marble often with water.
Use coasters and trivets when placing wet or hot items on marble or another countertop material.
Periodic Cleaning for Marble Floors
No need to wash your marble floors every day, as long as you keep on top of spills and dirt. Mopping and rinsing your floors about twice a month will keep them clean and prevent graying and weathering. Putting mats and rugs at entrances can help prevent damage and debris from shoes.
Use clean, soft mops and brooms on marble floors, and avoid using old vacuum cleaners (they may scratch your marble). Newer vacuum cleaners are safe to use.
Change mop water frequently, and rinse thoroughly with clean water. Remove excess water immediately (hard water can be damaging) and allow marble to dry before use.
Ask the Experts!
At Cosmos SurfacesTM, we're passionate about the best ways to care for marble and other natural stone surfaces! If you have questions about our marble products and how to take care of them, please reach out to us today.
Color of the Month: Cinnamon Stick
This month's featured trending color is Pantone 18-1345, Cinnamon Stick! The Pantone Color Trend Report says, "Earthy and warm, Cinnamon Stick is sweet yet spicy."
Oxford Blue is nature's version of the amalgamation of the Northern Lights, your favorite pair of faded blue jeans and a sunset on the ocean. Layers of blue, white, green, orange, and pink meet in this Brazilian quartzite, creating an atmosphere of liveliness and nostalgia. Oxford Blue looks great in white or monotone kitchens, bathrooms, bars or aquatic environments, such as a poolside bar counters or a waterfall. The Oxford Blue Quartzite is resistant to scratching, staining, and fading, while its beauty remains unmatched.
Please follow and like us: