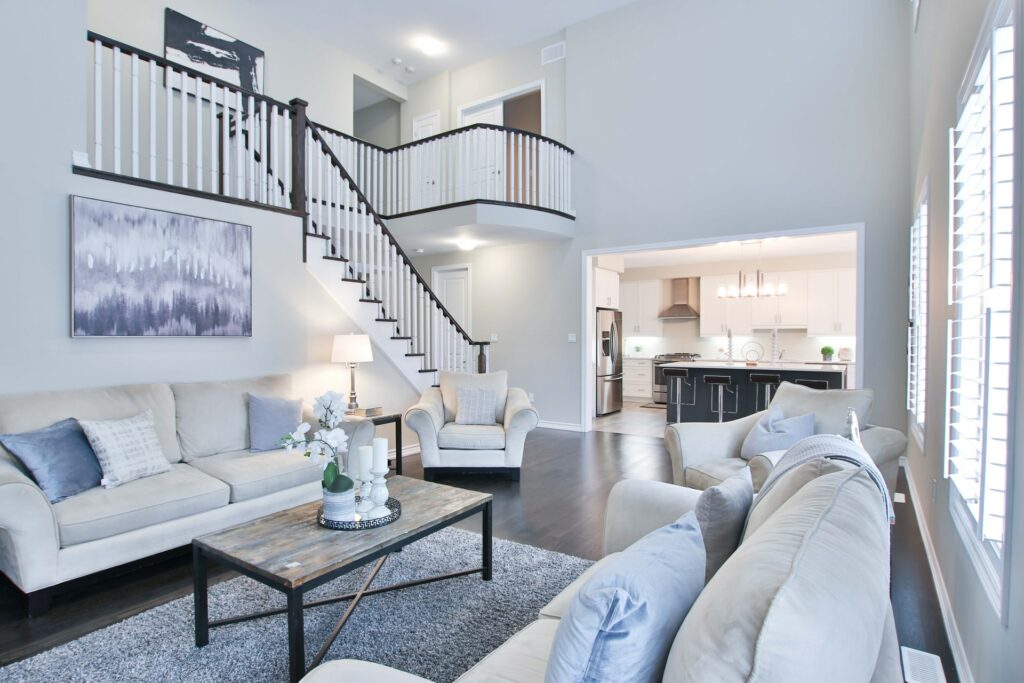 For many homeowners, designing their perfect home is a lifelong dream. Once they move into their first place, whether it's a college apartment or starter home, they start to think about where to place things for optimal convenience and comfort.  The trick to how to do your own interior design, many interior designers say, is to consider each room as you plan to live in it as early in the process as possible.
"Even small details should be introduced into the home planning in the early stages of programming," recommends Suzanne Shumaker of Shumaker Design + Build Associates, an architect led design-build firm that she and her husband Garry founded in Evanston, Illinois, 2009.
She asks clients to consider things such as how you would like to enter your home — from the garage/rear of house or the front? And, where do you want all your stuff to land when you enter? Why do the answers matter? They can help direct long-term decisions. For example, clients may want more durable materials like natural stone to be the surface they land on or a place to leave wet shoes before transitioning to wood floors, according to Shumaker.
"Circulation and traffic patterns organized to areas that are out of the kitchen triangle are important," she adds. "Living rooms and sitting rooms need to fall into more quiet zones. A zone can be defined for reading or small gatherings with a good furniture plan. Laying out furniture early in the design process helps you determine where to add electrical outlets and overhead lighting."
Whether you're thinking about a remodel or designing an entire house, we asked three interior designers what you might want to consider as you work on each major room.
Design Your Home Like a Professional
Kitchen
When designing a kitchen, you have to consider function first, according to Annilee B Waterman, RID, an interior designer and owner of AW Design Studio in Dallas, Texas. "A beautiful kitchen is no good if you can't use it properly," Waterman says. "Your sink, fridge and range should create a nice work triangle, and make sure you have plenty of landing space on both sides of each."
One thing clients often overlook are using drawers for their lower cabinets. "Drawers offer great, versatile storage, and help keep your kitchen organized," she adds. Also, using the countertop natural stone as the backsplash creates a beautiful, clean and classic look that is easy to keep clean (no grout!).
Cris Williams, interior designer with The Life at Home in Houston, Texas, feels the kitchen is the hub of the home and agrees functionality is key.
"Consider the layout. Do you want to be able to interact with friends and family while you cook?" Williams advises. "Opening the kitchen to a living space is a great way to achieve this. Storage is another huge factor of functionality. Take an inventory of what you need in your kitchen and make sure you will have ample storage space to fit those things."
For those who want to add a little more fun into their space, Williams feels the backsplash is an opportunity to get creative and adventurous. You can use many natural stones on the backsplash that wouldn't hold up as a counter material. "Also, certain stones that may be a bit pricier as a countertop could be affordable as an accent on the backsplash," she adds.
Bathroom
When designing a bathroom space, begin by considering what access, if any, you have to natural light. If a window might be located where the shower will be, natural stone window sills and jambs can help protect those windows, according to Shumaker. Also, even if you don't have children, one tub in the house is a must for resale and young kids, she says.
Williams feels the bathroom should be a functional sanctuary. "We often don't think of universal design when designing bathrooms unless we are older or impaired," she says. "We will all, hopefully, grow old one day and having a bathroom that works for us in that stage is important."
Bathrooms are another room in the home where homeowners can showcase natural stone. "Countertops, shower walls, and flooring are all excellent places to feature stone," adds Williams.
Living Room
"Modern-day living rooms are usually informal and serve as an everyday gathering space for the family," says Williams. Again, since storage is important throughout the house, she recommends built-in storage as a great way to keep all the everyday things put away and your space tidy.
Williams suggests that a fireplace is a great place to use natural stone in a living room, and her favorite design element is when it's used to top a floating cabinet. "This creates a space that is equally functional and luxurious," she says.
The direction of natural light can't be dismissed, according to Williams and Shumaker. "The direction of natural light and the placement of televisions seems to be an afterthought in many homes," Williams notices. While she admits the annoying tv glare seems small in the scheme of designing an entire house, it becomes a bigger deal when it's happening and you could have designed the space to avoid that glare.
To help manage it, Shumaker recommends motorized window treatments that can adjust to the day's sunlight as an option.
Bedroom
For many, the bedroom isn't high on their list to "design," per se. But it's a missed opportunity when it's not considered in the overall scheme of a home's design and functionality. Be sure not to overlook the bedroom when figuring out how to do your own interior design.
"A bedroom should be a restful sanctuary," says Williams. "Where you place the bedroom could have a huge effect on that. Do you want direct morning light? Or would you rather have a north/south facing room with indirect light?"
Also, consider what types of features you'd like in or near the bedroom.
"In new homes, I'm either moving the laundry to near the main bedroom, or adding an additional laundry space (one in the mud room/utility, one near the bedrooms, or one inside the master closet)," says Waterman.
Shumaker likes to ask clients if they would like to include a fireplace where you could highlight natural stone. Or if they might have other needs, such as adding a desk or sitting area for reading.
Figuring Out How To Do Your Own Interior Design? Ask a Designer!
"Designing a home is a big project that you want to get right the first time," admits Williams. Rather than rush through the process, she recommends homeowners take their time, and if they're unsure about how to design a space, to reach out to an interior designer who can offer advice and suggestions they might not have even considered.
Color of the Month: Classic Blue
This month's featured trending color is Pantone 19-4052, Classic Blue! The Pantone Color Trend Report says, "A boundless blue hue, Classic Blue is evocative of the vast and infinite evening sky opening us up to a world of possibilities."
The resemblance to the Northern Lights is how Aurora gets its name. A type of quartzite, Aurora is majestic and divine. Black, teal, silver, white, and soft pink meld together to create the picture of the night sky come to life by the Aurora Borealis. Aurora makes alluring and captivating countertops and backsplashes. Quartzite is resistant to scratching, staining, and fading, and the beauty is unmatched.
Please follow and like us: