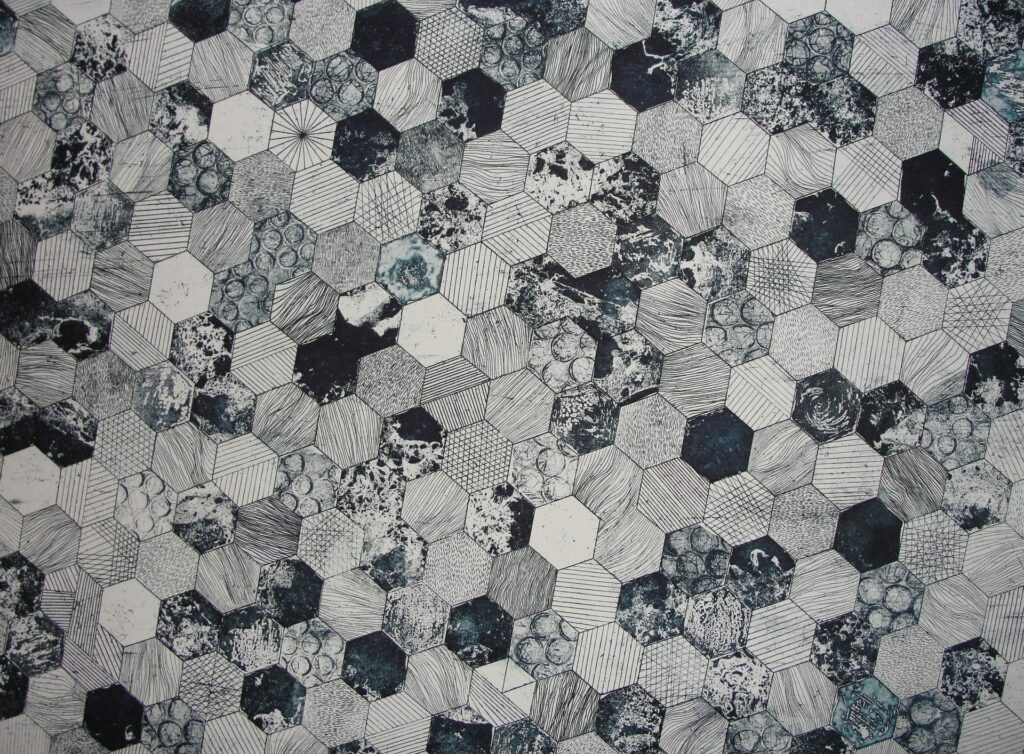 Tile is one of the most diverse surface materials out there––it can be used for flooring, walling, backsplash, outdoor patios and many other applications. It's no surprise, then, your choice of tile material can help set the design tone for your entire space. In this post, we look at the key differences between stone vs ceramic tile to help you decide which one is the right fit for your space.
How it's Made
One of the biggest differences between natural stone and ceramic tile lies in how each material is made:
Natural stone tile is quarried directly from the earth and cut into uniform shapes, creating tiles that can be used in a variety of settings, depending on the type of stone selected.
Ceramic Tiles are man-made from natural clay. This clay is baked in a kiln, and commonly finished with a glaze to protect the tiles from moisture and staining.
Aesthetic Appeal of Stone vs Ceramic Tiles
Depending on the look you are going for, different design styles can be emphasized with each material:
Natural stone tiles lend a sense of luxury to a space. Marble, for example, has long been associated with a timeless elegance that can elevate the look of any room. The range of natural stone options is so diverse in texture and color, and natural stone tiles can be used to create a warm, rustic design aesthetic. These tiles also work beautifully in spaces where natural elements like wood, water and plants are highlighted and celebrated.
Ceramic tiles can often be made to mimic natural stone patterns or hardwood flooring. As it is a man-made material, ceramic is available in a wider range of colors, and also makes it possible to ensure all tiles appear uniform in spaces where consistency in pattern and color are desired. Ceramic tile makes it possible to use colors and patterns not typically found in nature.
Durability
When it comes to areas where everyday wear and tear are unavoidable, durability is key: 
Natural stone tiles vary in durability depending the type of stone you choose. Granite and slate, for example, generally do a better job of holding up to everyday wear and tear than softer marble. They therefore make more appropriate choices for applications like flooring, especially in areas with a lot of foot traffic. Regular maintenance can help natural stone last for generations, Since natural stone tiles may chip around the edges and corners with extensive wear over time, selecting a stone with a rustic look to it can help embrace these imperfections.     
Ceramic tiles are made with different hardness ratings, known as PEI ratings, that range from 1 to 5 ("PEI" is the abbreviation for Porcelain Enamel Institute). For flooring, you'll want to select a ceramic tile with a PEI rating of 3 or higher. Ceramic tiles with a lower rating can be used for applications like backsplashes or wall cladding.
Maintenance
Both natural stone and ceramic require regular maintenance. Let's look at the key differences in maintaining the two materials:
Cleaning Products: Natural stone typically requires PH-neutral cleaners, or cleaners specifically made for natural stone surfaces. Acidic cleaners can damage the stone and should be avoided. Ceramic tiles, on the other hand, can be cleaned with a wide variety of products.
Sealant: Natural stone tends to be porous and needs to be sealed regularly to prevent moisture damage and staining. Ceramic tiles are often manufactured with a durable glaze. It's possible that you will need to apply sealant over the grout between ceramic tiles to prevent staining, while unglazed ceramic will likely require regular sealant applications, much like natural stone does.
Budget
Surface material decisions often come down to budgeting. While ceramic tiles usually make for a less expensive option, natural stone surfaces can be viewed as a life-long investment that can increase the resale value of your home, especially when installed in key areas like kitchens and bathrooms.
It's important to note that decisions throughout the production process, the type of stone and installation process can all drastically change the cost of natural stone surfaces. Before making any final decisions based solely on your budget, reach out to a professional to see whether simple customizations can help place a material within your price range. The luxurious, authentic look and durability of natural stone easily makes it worth the investment.
Natural Stone Vs. Ceramic Tile: Work with Cosmos!
If you have questions about tiling or other surface materials, get in touch with Cosmos! We offer a wide selection of products, and our blog provides information on materials, cleaning and maintenance as well as design tips.
Color of the Month: Ash
This month's featured trending color is Pantone 16-3802, Ash! The Pantone Color Trend Report says, "Solid and strong, eternally timeless Ash conveys a message of longevity."
Allure Quartzite is a type of grey quartzite; a soothing, sophisticated choice for countertops, flooring, walls, backsplashes, and other projects, both indoors and out. The soft, blue-grey tones and wavy veins create a lovely, calming visual appeal. Quartzite is resistant to scratching, staining, and fading, and the beauty is unmatched. Check out this grey quartzite today at your nearest Cosmos location!
Please follow and like us: