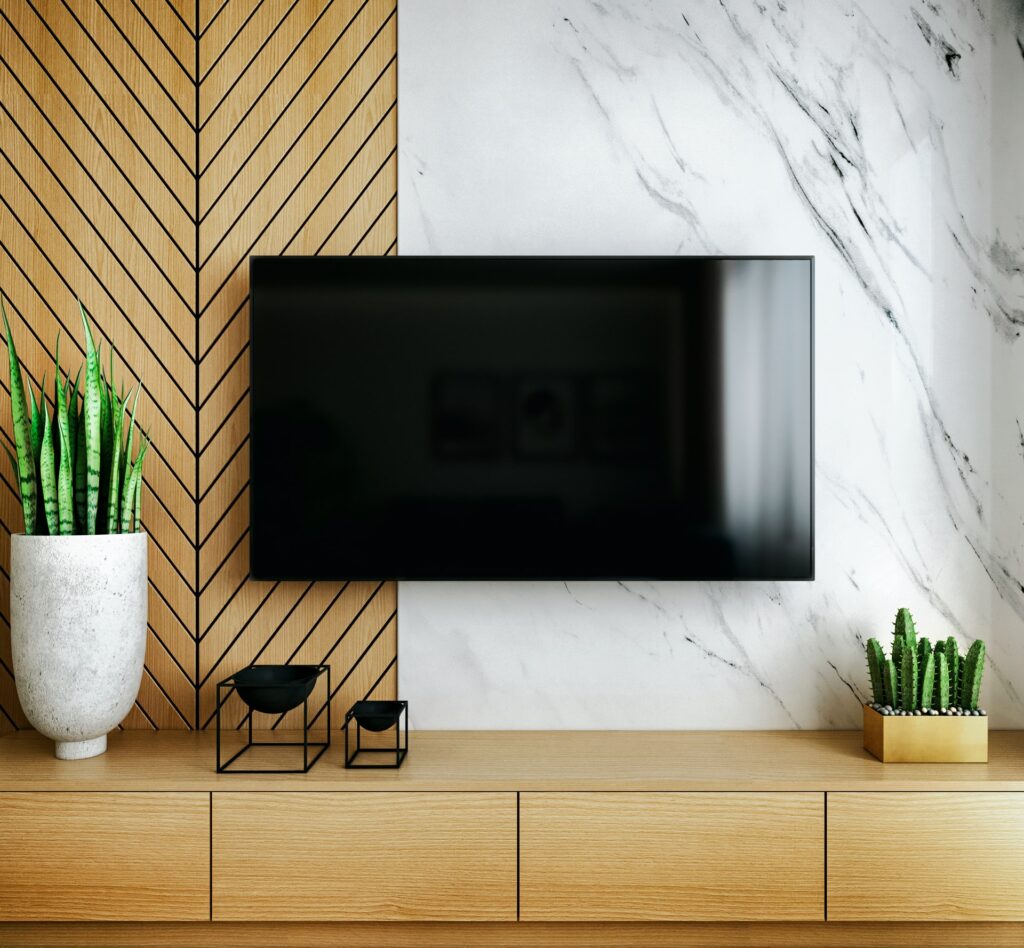 In our last blog, we talked about the different types of stone finishes and how they are created. When choosing between stone finishes, the biggest deciding factors include the location and application of the stone surface. Each finish also creates its own look and texture, which can go a long way toward building a desired aesthetic. In this post, we'll recap the main features of common stone finishes and provide a guide to their various applications.
Polished Stone Finishes
Features:
The most common finish
Glossy, mirror-like shine
Provides a classy, sophisticated look
Reflects light and does not change or hide the true colors and qualities of the stone
Provides a smooth work surface
Protects the stone against spills and stains
Easy to clean
Applications:
Countertops – Polished stone is a popular choice for countertops, as it creates a beautiful, elegant look, draws attention to the stone without distorting its properties and creates a smooth, less porous work surface resistant to moisture and staining. In addition, polished finishes make countertops easy to wipe down!
Flooring – This finish can also be used for flooring to create an elegant, formal look.
Honed Finishes
Features:
Provides less shine/gloss than a polished surface
Has a muted, softer look
Retains the character of the stone
May not show color and texture as well a polished finish does
Provides a smooth work surface
Applications:
Countertops and Backsplashes – Honed finishes, especially honed granite, work well for countertops, as they provide a smooth work surface. They may not show the true color and qualities of the stone as well as a polished surface does, but they retain the essential character of the stone. A honed finish creates a muted, softer look which can give your space a relaxed, casual feel without sacrificing the elegance of the stone.
Flooring – A honed finish leaves the stone less slippery than a polished surface does, which makes it a good choice for flooring. The less reflective surface can also help conceal flaws and evidence of wearing due to foot traffic, such as scratches or scuff marks.
Leathered Finishes
Features:
Also known as a "brushed" finish
Not glossy and has little to no shine
Has more depth than a honed finish
Shows less staining, scratches and fingerprints than a polished surface
Does not have a smooth surface
May be more difficult to clean due to natural pits and fissures
Applications:
Bar Tops and Fireplace Surrounds – A leathered finish makes for a lovely room accent in the form of a bar top or fireplace surround. Its depth and more matte appearance looks beautiful under lower lighting conditions.
Bathrooms – The textured surface of a leathered finish makes it less slippery, which is a desirable characteristic in spaces like bathrooms.
Tumbled Finishes
Features:
Leaves edges of stone rough and chipped, creating a weathered, aged look
Does not have a smooth finish
Hides signs of wear and tear
Applications:
Flooring – The aged, distressed look of a tumbled finish can hide signs of wear and tear in high traffic areas and create a rustic, charming appearance.
Bathrooms – This textured finish leaves surfaces less slippery, which works well in bathrooms.
Backsplash – A tumbled finish can be used with backsplash to create a rustic, charming look and feel.
Bush Hammered Finishes
Features:
Creates a bumpy surface
Can be fine or coarse, with extreme or shallow grooves
Applications:
Walls or Flooring – This finish works well for walls or flooring and can be used for both interior and exterior surfaces.
Flamed Finishes
Features:
Textured, slightly bumpy surface
Can lighten the stone and create a natural, faded appearance
Applications:
Outdoors – This finish creates a non-slip surface and works well for outdoor applications like exterior walls, floors and pavers. It would be an excellent choice for an outdoor kitchen.
Sandblasted Finishes
Features:
Silky, matte finish
Can be coarse, which creates a lighter finish, or fine, which leaves a darker finish
Applications:
Monuments, Artwork and Gravestones – Sandblasted stone has tiny craters in its surface, which creates the matte, silky appearance often sought after for monument work, artwork, statues and gravestones.
A Note on Maintenance
The porosity of a stone plays a role in its ability to resist moisture and staining. A polished finish typically seals most pores in the stone, making it easy to clean and less susceptible to staining and moisture damage. Honed surfaces are more porous and may take on dark spots or staining more easily when exposed to moisture or certain foods, spices and drinks. Textured finishes can be slightly more difficult to clean, as they feature pits, fissures and grooves which can collect dust, moisture and staining agents. However, a regular quick wipe down of any natural stone makes cleaning much easier over time.
Stone Type
It's important to note not all types of natural stone can accept all types of finishes. Depending on the specific stone, it might be wise to reach out to a manufacturer about which finishes are suitable. Here's a quick guide: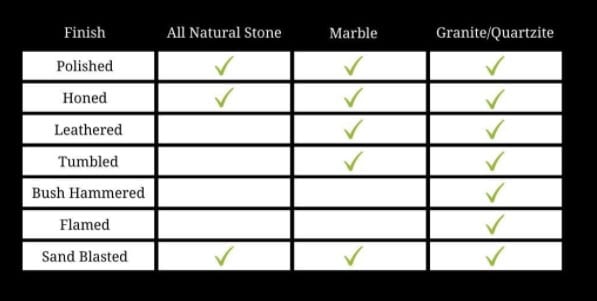 If you have questions about stone finishes and their applications, please reach out to Cosmos SurfacesTM today! We offer a wide selection of stunning natural stone and our team of experts is always happy to help.
Color of the Month: Classic Blue
This month's featured trending color is Pantone 19-4052, Classic Blue! The Pantone Color Trend Report says, "A boundless blue hue, Classic Blue is evocative of the vast and infinite evening sky opening us up to a world of possibilities."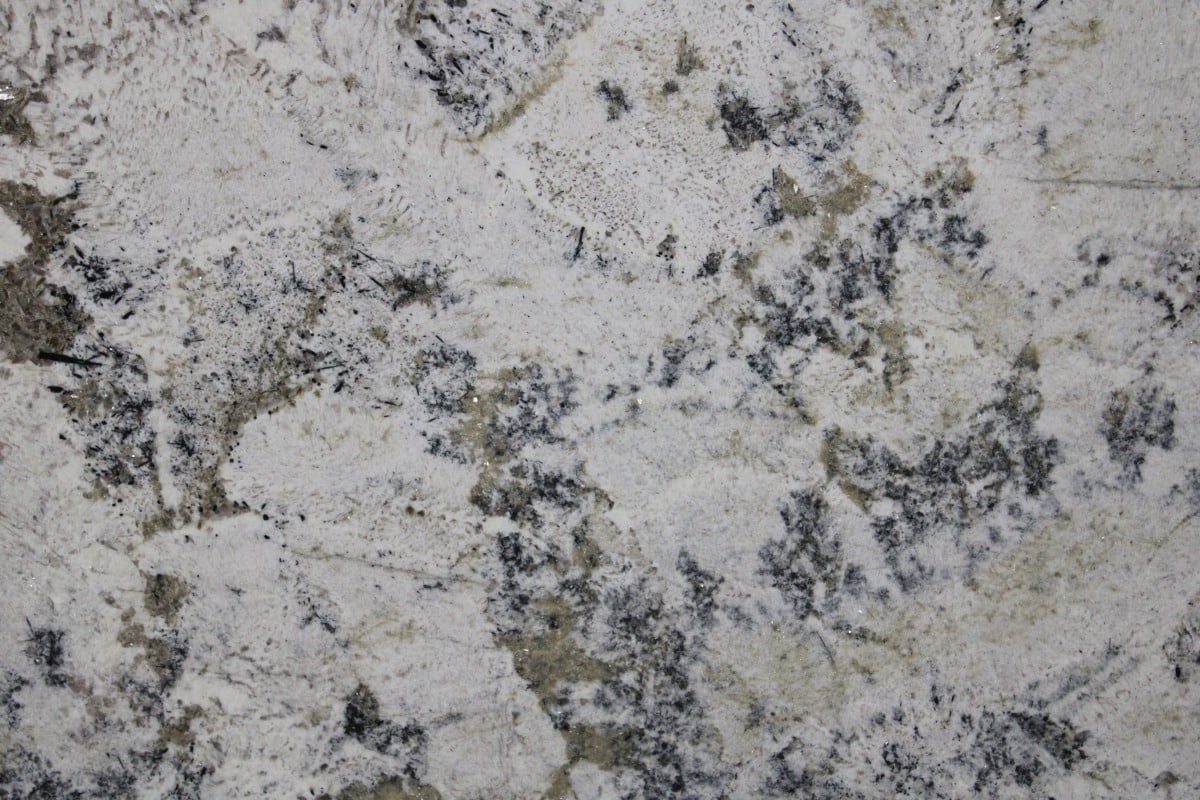 Alpine Blue granite is the definition of understated sophistication. Exquisite flashes of olive oil gold and deep indigo unfold across a canvas of speckled cream in this magnificent natural stone from India. Ground your home or commercial space by adding Alpine Blue to your countertops, floors or other parts of the property.
Please follow and like us: