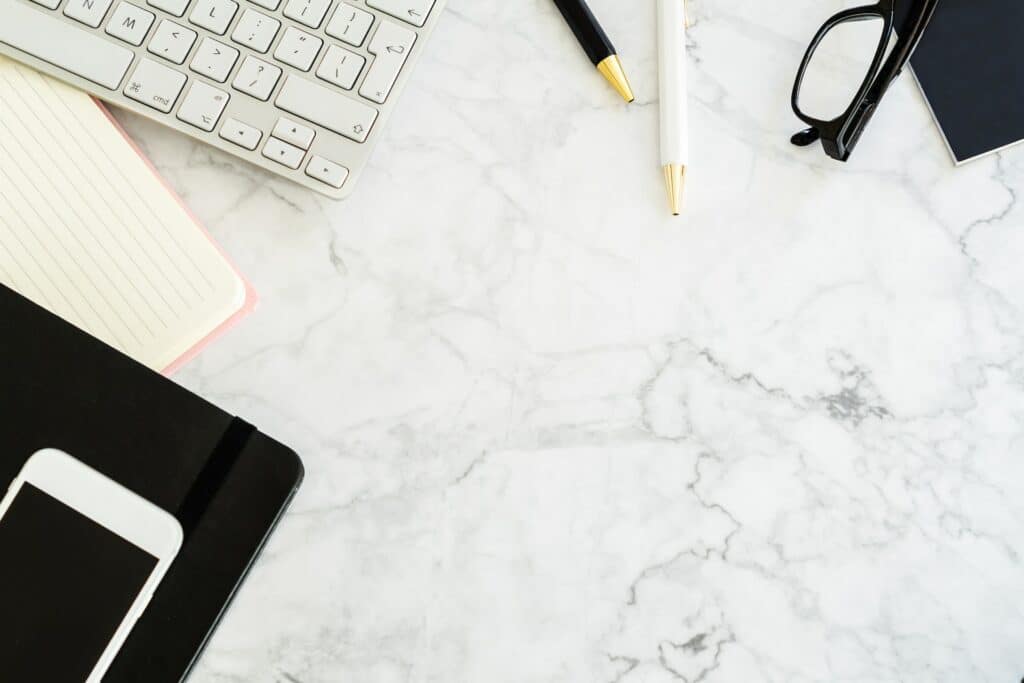 A wishlist-topping choice for countertops, floors, shower walls and more, marble is one of the most versatile surfaces around. So, it's no wonder that it's stood the test of time – from the era of ancient Greece all the way up to the modern day. Adding marble to your home is a pathway to luxury as well as a level of durability you might not initially expect. But, to maintain the beauty and longevity of this natural stone, it's important to know how to clean marble properly. Read on for helpful tips!
How to Clean Marble Surfaces
Whether you use marble for a kitchen countertop, bathroom vanity top, accent features or even flooring somewhere in your home, here are some general guidelines for how to clean marble:
Skip heavy-duty cleaners – Vinegar is a commonly used cleaner known to fight germs while being family and planet friendly. But, because it's highly acidic, vinegar doesn't pair well with marble. The same goes for harsh cleaning agents like bleach. This is because these products can trigger a chemical reaction called etching, resulting in dullness and white streaks on marble.
Manage moisture and abrasive debris – For best results, keep marble countertops (and other surfaces in moisture-prone areas) dry by wiping them down with a soft microfiber cloth as needed. Clean up spills soon after they happen to avoid staining, especially if it's an acidic substance like coffee, wine or fruit juice. For marble floors, keep in mind that debris can lead to scratches if it gets dragged around, so you'll want to stay on top of dirt and grime by sweeping, vacuuming or mopping regularly.
Use gentle cleaners – For any marble surface, pH-neutral cleaning sprays specifically designed for natural stone are your best bet. Warm water and dish soap are also typically fine to use when your marble could use a refresh. Stick with soft towels and avoid scrubbing with a textured sponge or brush, as this can cause premature wear.
Dry thoroughly on a daily basis – Another important note on how to clean marble is to make sure you get it completely dry after wiping or mopping with water or a cleaning agent. Hard water deposits can etch marble, and cleaners may leave a film if they're not fully wiped off after use.
Deep clean as needed – In a marble shower, you may notice soap scum buildup on the floor or wall tiles over time. A solution of warm water mixed with 1 tablespoon of mild dishwashing detergent in a spray bottle should take care of any grime in no time. Simply spray, gently wipe, rinse with plain water and dry with a microfiber cloth. The necessary frequency of deep cleaning will depend on how often the shower gets used, but once every week or every other week should suffice.
Along with knowing how to clean marble correctly, sealing is crucial to protect your marble surfaces and simplify your everyday care routine! Sealing should be done at the time of installation, as well as in regular increments throughout marble's long lifespan. By prioritizing this maintenance step, you'll guard your marble against staining, moisture and bacteria, as the sealant will prevent these substances from penetrating the stone's porous surface.
Personalizing Top-Quality Marble Surfaces Is Simple with Cosmos
If you're intrigued by marble and its sublime appearance and resilience, look no further than Cosmos SurfacesTM for a broad selection of stunning varieties. Our surface experts can help you decide on the best fit for your unique project, whether you're eager to install a marble shower, fireplace, kitchen countertop or bathroom floor.
We can also assist you in choosing the right finish for your marble, depending on the application and your desired look. For example, a honed finish may be suggested to maximize traction for flooring, whereas a polished finish might be a more appropriate option for a design feature or countertop. Plus, we can always advise on how to clean marble of the particular sort that you select.
Partner with Our Experts from Anywhere in the Country 
At our showrooms across the United States and in our online gallery, you can explore options ranging from Arabescato Orobico to Zebra White marble. We also offer several other types of natural stone – including granite, quartzite and soapstone, just to name a few. To begin your journey to sourcing the gorgeous and long-lasting surfaces you desire for your home, get in touch with our pros today!
Color of the Month: Ancient Copper
Ancient copper is a muted apricot orange with undertones of cinnamon. It generates a feeling of warmth and celebration, especially in gathering places such as kitchens and dining rooms.
Audax is a type of schist that is dynamically layered and one-of-a-kind. The layers create fluid bands of brown, black, silver, and white that is stunningly complex and pleasing to the eye. A work of art, audax looks great in kitchens and bathrooms. The long bands of layers can be installed as floors and countertops.
Elegant, powerful, beautiful – Roma Imperiale is one-of-a-kind. Crystals of white and gold crisscross and swirl, battling for dominance in this Brazilian quartzite. Roma Imperiale is complex, detailed, and stunning. It looks great among greenery and in bathrooms as vanities, bathtubs, and countertops. Quartzite is resistant to scratching, staining, and fading, and the beauty is unmatched.
Please follow and like us: