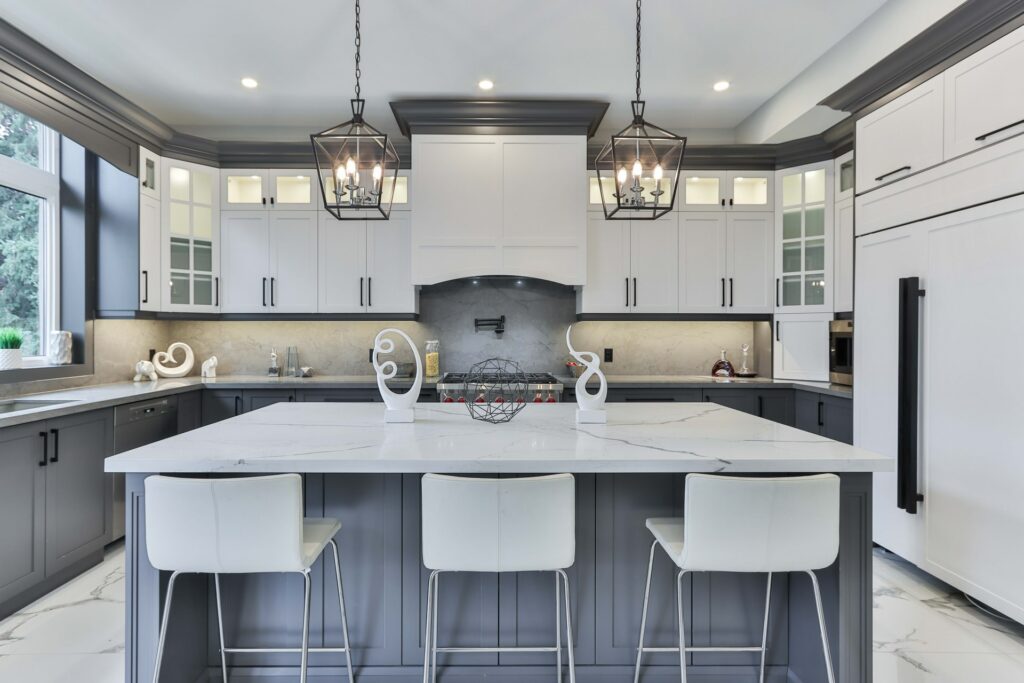 Kitchens are some of the most high-traffic areas in our homes, and they're often highly visible as well. This makes selecting surface materials well suited to our kitchens all the more important. Durability, ease of maintenance and aesthetic beauty all factor into the decision, but when several materials on the market fit these descriptions, which is best for you? In this post, the experts at Cosmos discuss porcelain vs quartz to see how each one stacks up in the kitchen.
What is Porcelain?
Porcelain is a kind of ceramic made by heating materials in a kiln at high temperatures. While the composition of porcelain can vary, kaolinite—a clay mineral—is often an essential component. Kaolinite is a silicate which lends porcelain its plasticity. Petunse, also known as pottery stone, is another traditional component which affords porcelain its translucency and hardness.
Properties & Best Uses of Porcelain
Porcelain has properties of hardness, durability, heat-resistance and color fastness. While porcelain can be used for kitchen countertops, there are some drawbacks, including a lack of depth in surface patterns. This means that if a porcelain countertop gets scratched, it will interrupt/damage the pattern and reveal that it only runs surface deep. Porcelain countertops also tend to be quite thin when compared to more substantial-looking slabs of materials like granite, marble or quartz.
Where porcelain really shines is in the form of tiles used for walls and flooring. Porcelain tiles boast the following properties:
Easy to clean—porcelain tiles can be cleaned with common household cleaners and don't need to be buffed or polished to maintain their finish.
Color Fast—the colors in ceramic tiles—like porcelain—do not fade with age and aren't vulnerable to fading from prolonged exposure to direct sunlight.
Slip Resistant—the traction found in porcelain is useful when it comes to flooring, especially in areas prone to spills and foot traffic.
Aesthetics—porcelain comes in a variety of colors and it can even mimic the look of natural stone, like in the case of porcelain slabs that look like marble.
What is Quartz?
While quartz surfaces do contain quartz minerals, it is essentially a man made surface material. Quartz countertops are composed of pulverized natural stones, industrial waste like glass and mirrors as well as the binders and polymers that keep it all together.
Properties & Best Uses of Quartz
Quartz is dense, durable, scratch-resistant and non-porous. The non-porosity of quartz means it never needs to be sealed and is inherently protected against bacteria, moisture and staining. Quartz countertops are also more tolerant of acidic spills—as long as they are cleaned up quickly—than their natural stone counterparts like marble, but less tolerant to heat unlike the natural stone surfaces.
Quartz is a popular choice for kitchen countertops, where it brings the following properties to the table:
Ease of Maintenance—A soft cloth and mild detergent will often do the trick. Quartz also doesn't require regular sealing the way many natural stone surfaces do.
Durability—along with being scratch-resistant, quartz is dense and durable, making it a worthy contender for popular countertop materials like granite.
Aesthetics—quartz can be made to mimic the look of natural stones, providing a cost-effective way to achieve the elegant, elevated look of stones like marble.
Key Differences Between Porcelain and Quartz
The biggest difference between the two materials is their level of heat-resistance. Porcelain withstands heat well and is unaffected by direct sunlight, while quartz surfaces can warp or become discolored over time.
Both materials are slip-resistant, which makes them good options for flooring. Quartz, however, is best used indoors while many porcelain tiles can be used inside or outdoors.
Conclusion
Quartz and porcelain both make excellent options for indoor tiling and walls, but if you are in search of a material that can be used outdoors as well, many porcelain tiles stand up well to the elements.
When it comes to kitchen countertops, quartz is a substantial, durable material that can serve you well. If heat exposure and direct sunlight are concerns, however, porcelain might be better suited to your needs.
If you have questions about porcelain or quartz surfaces, get in touch with Cosmos! We offer a wide selection of products, and our blog provides information on materials, cleaning and maintenance as well as design tips.
Color of the Month: Lava Blue
This month's featured trending color is Lava Blue! Neutral, dark blue with violet undertones calls to mind the power and beauty of the Earth's natural forces. Pair with white or off-white to create a stunning accent wall, or design your foyer or dining room with this rich, welcoming blue in mind.
Venturesomely dotted and speckled by Mother Nature's paintbrush, Blue Pearl GT is a Norwegian granite with a reputation for unparalleled elegance. Dubbed Blue Pearl for its characteristic spots of white that pop against the rich blues and blacks that span the granite, this natural stone is a terrific pick for a fashionable countertop.
Please follow and like us: