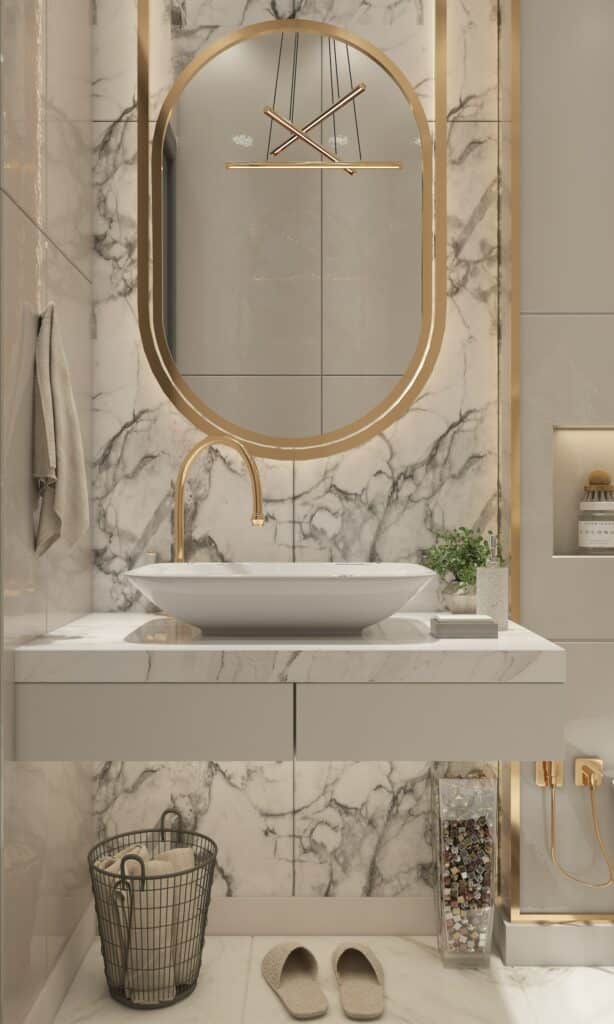 Porcelain is an excellent surface material with uses that range from dinnerware and tiling to kitchen and bathroom sinks. While porcelain is durable, aesthetically pleasing and highly heat-resistant, it's not quite as hard as some of its natural stone counterparts. Dropping a heavy object or accidentally hitting a porcelain sink with cookware can lead to unsightly chips. Homeowners will be pleased to know it's fairly easy and inexpensive to repair a porcelain sink at home. Read on for tips on how to do a successful DIY porcelain sink repair, as well as the grout surrounding a sink.
Use Epoxy to Repair a Porcelain Sink
Two-component epoxy can be found in the adhesives section of most home improvement stores. The compound comes in two separate containers — one containing a catalyst, the other a hardener. While porcelain sinks are commonly white, epoxy can be found in a range of colors, and hues can be mixed to achieve an optimal color match to your porcelain sink.
Let's look at the process of repairing a chip or gouge using color-matched epoxy. Here's what you'll need:
Two-part epoxy
A sponge and soapy water
400–600 grit wet-and-dry sandpaper
A small applicator brush
Step 1: Clean the Area with a Sponge
Using a sponge and soapy water, scrub the chip or gouge thoroughly to remove any accumulated dirt or rust, then dry the area completely. Next, gently rub the chipped area with your sandpiper to remove build-up, like rust, and to create some gritty texture for the epoxy to hold onto.
Step 2: Mix the Epoxy
Mix the two components of your epoxy according to the manufacturer's instructions, blending colors if necessary to create an exact match to your sink.
Step 3: Apply Epoxy to the Damaged Area
Fill the chip or gouge in with the epoxy compound. You can use a small applicator brush or wooden matchstick for this step. Deep gouges may require several coats of product.
Step 4: Allow the Product to Dry
Be sure to allow the epoxy filler to dry as specified by the manufacturer. A good rule of thumb is to wait 24 hours after making the repair before using the sink.
Repair a Porcelain Sink with Epoxy Putty
For large gouges or porcelain sinks that are more difficult to color-match, repairs can be made with epoxy putty and porcelain touch up paint. Just as before, be sure to clean and dry the affected area. Cut the appropriate amount of epoxy putty and knead it (wearing gloves) for roughly one minute, or until it becomes malleable and has a uniform color.
Be sure to apply epoxy putty within 2–3 minutes of mixing it. Using a putty knife, apply and press the product into the gouge, ensuring a smooth and even distribution. Next, rub the area with a finger that's been dipped in warm, soapy water until the surface of the putty is molded to your liking. Allow the product to cure before sanding the area lightly until it is smooth. Apply porcelain touch up paint to the area and allow it to dry fully before using the sink.
Repair a Porcelain Sink with Epoxy Glue
If you've chipped your porcelain sink, but the break was clean and you still have the other piece, it's possible to repair the damage with epoxy glue. Lightly sand both surfaces you are gluing together, then clean and dry them thoroughly. Apply the appropriate amount of epoxy glue and press the surfaces together, immediately wiping away any excess glue. Continue to support the area for at least 10 minutes, and wait the correct amount of time (as per the manufacturer's directions) before using the sink.
How to Repair the Grout Around a Porcelain Sink
The grout around your porcelain sink can wear away or take on damage over time. Luckily, this is another fix homeowners may be able to DIY with a little know-how. Let's take a look:
Step 1: Remove Damaged Grout
Using a grout saw, move the saw back and forth over the damaged grout until all or most of it has been removed.
Step 2: Clean the Area
Remove any remaining debris by wiping the area with a damp (but not sopping wet) sponge. Once clean, dry the area.
Step 3: Use Caulk to Fill in Grout Damage
Run a bead of caulk where the damaged grout was removed, ensuring that it completely covers the joint without leaving any gaps. Unless you need an exact grout color match, caulk is easier to use for repairs than new grout, owing to its flexibility and water resistance.

Allow the product to dry completely before using the sink, and be sure to check for any holes in the caulk or remaining damage before resuming daily use.
To help prevent damage, it's important to note that grout typically needs to be sealed and resealed to create a non-porous surface and avoid moisture-related damage. You can check out our blog to learn more about sealing grout.
Cosmos SurfacesTM: Your Best Resource for Surface Materials
Whether you're in the market for natural stone countertops, porcelain tiles or a new kitchen sink, Cosmos has it all. Give us a call at your nearest location or contact us online with inquiries. Our team is always happy to help.
Color of the Month: Welcome Home
Welcome Home is a smooth, muted yellow with beige and lemon undertones. It is a stately color that pairs well with white trim and deep wood furniture in dining and living spaces.
Exuding strength, mystery, and daring, Titanium is a striking type of granite fit for the bold. Originating in Brazil, and also known as Cosmic Black, the black backdrop with swirls and waves of silver and gold make titanium an alluring and captivating material for any kitchen countertop, fireplace tiling, and bathroom flooring.
With a trademark pattern that's reminiscent of a jaguar's magnificent spotted coat, Jaguar is a fierce granite from Brazil. Moderately varied, its coloring darts from copper to beige to brown, with black dots in between. Sleek and mesmerizing as the big cat after which it is named, Jaguar is an enthralling choice for countertops, vanity tops, table tops, bar tops and more.
Please follow and like us: