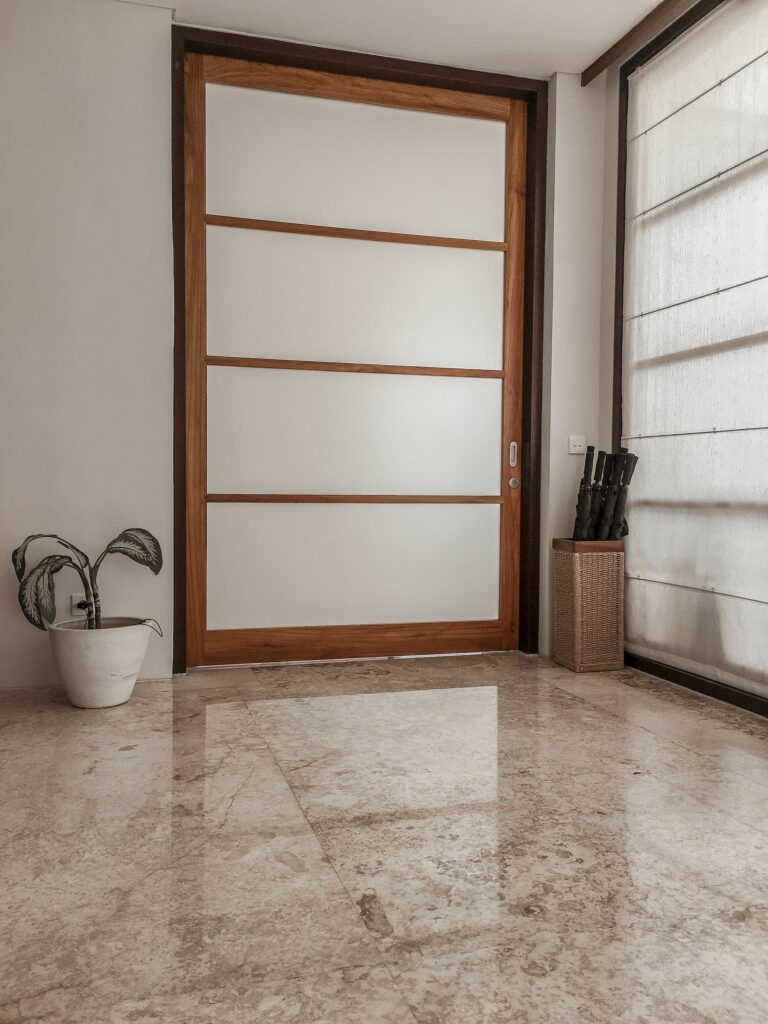 Are you ready to upgrade the flooring in a certain room or all throughout your home? You may find yourself at a fork in the road where you must decide between a manufactured floor or natural stone flooring. Both can have their pros and cons, so the better choice will ultimately depend on your specific priorities. Today, we'll give you a closer look at how various manmade vs. natural floors tend to stand the test of time, what type of care they require and other key considerations.
Stone Flooring vs. Manmade: How Does it Hold Up?
Natural Stone
From marble to granite to quartzite to soapstone, there are a number of different natural stone flooring options which can perform marvelously over time with proper maintenance. By nature, these stones tend to feature a high level of durability, slip resistance and heat/UV resistance.
One thing to be aware of when considering natural stone options is that many are porous; in other words, they can absorb water, stains and spills. Here's what this means:
Porous stone surfaces will typically need to be sealed to protect against moisture intrusion, staining and etching.
When sealed according to the manufacturer instructions and on a proper schedule, a natural stone floor will be easy to care for using a cleaner approved for use on such materials.
Impregnating sealers usually offer the best protection and the most longevity on stones like marble, granite and quartzite.
If you're looking for a stone floor you won't have to seal, check out soapstone. The rare non-porous natural stone, it's great for moist areas like the bathroom, where a slip proof floor is key.
So long as you stay on top of sealing it regularly (if necessary), natural stone flooring can deliver years of beauty, resilience and easy maintenance. With many varieties being readily resistant to fading, foot traffic and other everyday wear and tear, natural stone brings boundless options for refreshing the aesthetic and lastingness of floors throughout your home. It's also a distinctly sustainable option that allows you to bring the Earth's own natural splendors into your interior.
Manmade Options
While natural stone has clear advantages, there are some applications for which you may wish to explore manufactured materials as well. Engineered quartz, ceramic and porcelain are a few alternatives of interest for those seeking a durable and easily-cared-for floor that's made to last.
Here are a few notable benefits (and some possible downfalls) to keep in mind:
Ceramic and porcelain are both rather durable. However, porcelain is generally more dense and less porous, thus boosting its ability to stand up to moisture and heavier foot traffic. But, ceramic tends to have the upper hand in terms of ease of use and affordability. Either material is unlikely to require sealing, although the grout in between tiles/pieces probably will need to be sealed for best results.
Engineered quartz is available in a vast range of gorgeous patterns which make for a stunning floor. Remarkably tough and scratch/stain resistant, it has few maintenance requirements and usually doesn't need to be sealed. But, this surface can be hard to handle and thus may have a high price tag compared to other comparably durable choices.
By virtue of being manufactured rather than quarried, manmade flooring options can come with concerns about chemicals. Even with heightened standards to prevent health and safety hazards and minimize environmental impact, this is something to keep in mind.
Hopefully this has helped to expand your awareness of the major differences between natural stone flooring versus manmade surface options. If you still need help making the right choice for your particular flooring renovation project, look no further than the experts at Cosmos SurfacesTM!
Expectation-Exceeding Products, Service and Expertise 
Our second-generation surfacing specialists bring extensive knowledge of all the different surface selections we offer, which span from natural stone to engineered alternatives. When you source your new floor from Cosmos SurfacesTM – whether you opt for natural stone or another material – you can count on a highly positive experience from start to finish.
A few standouts from our collection include Alpine White granite, Blue Sky marble, Citrino quartzite, Calacatta Vintage quartz and Taj Mahal porcelain, just to name a few. Eager to explore our inventory and get personalized recommendations for stone flooring or other suitable options that align with your preferences and project specifications? Browse our online gallery and get in touch today!
Color of the Month: Serenity
Serenity is a misty light blue with notes of soothing grey. It creates a calming atmosphere in any room, perfect for a spa-like bedroom or bathroom.
Azurra Bay quartzite combines a light blue background, with interweaving greyish-white layers giving the illusion of overlapping waves. The multi-directional lines in this Brazilian quartzite draw your sight away from the center giving a sense of spaciousness to any room it is used in. Quartzite is resistant to scratching, staining, and fading, and the beauty is unmatched.
A cloudless blue sky meets the regal and dignified columns of ancient Rome is what Azul Imperiale brings to the imagination. A striking gold cuts through the mellow blue background, giving this Brazilian quartzite depth and beauty. Azul Imperiale creates a soft and light atmosphere, making it perfect for bathrooms and exterior environments. Quartzite is resistant to scratching, staining, and fading, and the beauty is unmatched.
Please follow and like us: