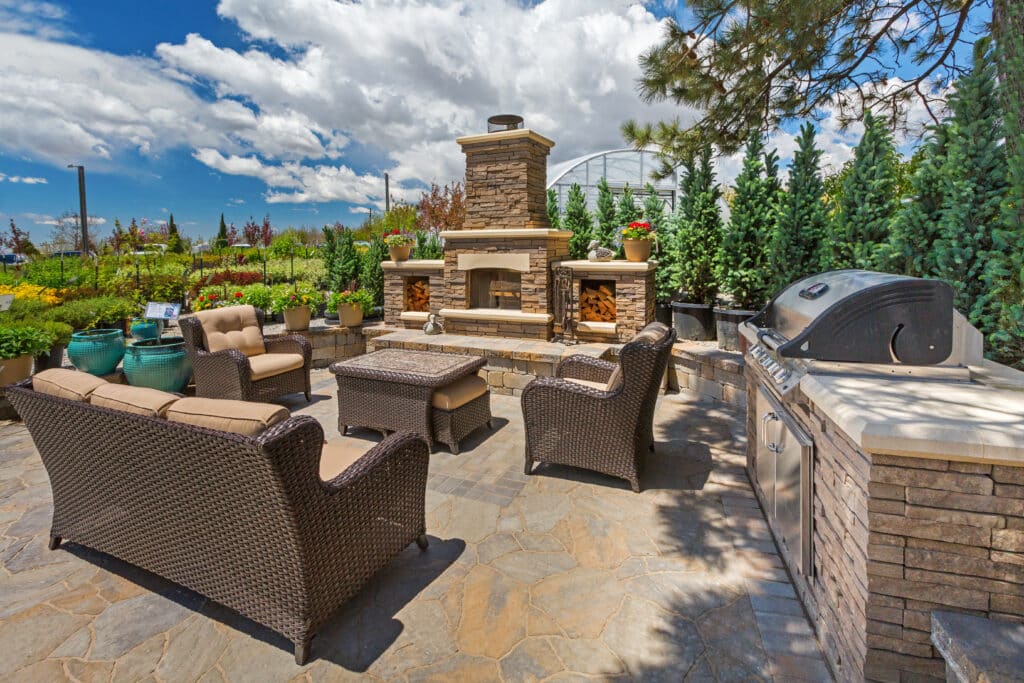 As the days lengthen and the cold weather subsides, now is the perfect time to give those outdoor areas some extra thought and attention. In today's post, we discuss the best stone for a patio, along with a few pro tips for creating gorgeous, functional spaces you and your loved ones can enjoy for decades to come.
What is the Best Stone for a Patio?
Our top picks for outdoor patio and kitchen areas include granite, quartzite, and porcelain.
Granite is durable and heat resistant, and can be used both indoors and outdoors to create a seamless, unified look. Granite can be cut in a variety of shapes, sizes, and colors, and can be treated to make different textures. It's low maintenance and environmentally friendly as well. One possible downside of granite is that it is porous by nature, and should be sealed to avoid possible staining and moisture damage.
Quartzite is also extremely durable and great for indoor and outdoor applications. It is non-porous, not slippery, and harder than granite. However, it can be a bit more costly than granite, depending on your patio design and other factors.
Porcelain is also colorfast, weather-resistant, and low maintenance. Porcelain that is rated for flooring and not glossy is a great choice for a patio surface. This is especially true for those looking to mimic the look of marble outdoors, where calcareous stones (like marble) might not perform as well.
Designing Outdoor Areas
After a long, harsh winter spent indoors, it's easy to see what a valuable asset an outdoor space can be. Whether your goal is to create a safe way to spend time with family and friends this summer, enjoy your own downtime outside or if you just love to entertain in general, a well-designed, functional outdoor area adds value to your home. Before you design your outdoor patio, which might include an outdoor kitchen, firepit, grill surrounds or pizza oven, it's important to consider the following:
Function: The purpose of a space and how it will be used can help you narrow down material options. An area surrounding a pool or jacuzzi, for example, would likely benefit from a stone or material with a non-slip, textured finish. If you're installing outdoor kitchen countertops, you'll want to choose a non-porous, durable stone, like honed granite.
Weather: While some materials hold up better against the elements than others, it's always wise to minimize a stone's exposure to harsh weather, perhaps by placing your patio in a shaded, somewhat sheltered area.
Location: If you're looking to design an outdoor kitchen or food prep area, location is key. You'll likely need to move food and supplies back and forth from your indoor kitchen, so it's wise to keep your layout convenient and accessible.
Aesthetics: Stones that can be used both indoors and outdoors enable you to create a continuous, unified effect by extending the same materials used inside your home into your garden.
Lifespan: Durable natural stones like granite and quartzite make for excellent long-term investments and add to the value of your home.
Tips for Using Natural Stone Outdoors
When it's time to choose a stone for your outdoor project, the following tips can be useful:
For outdoor countertops, thicker slabs (around 3cm) can be used to help ensure long-term durability. More substantial-looking surfaces are also more likely to fit in with an outdoor aesthetic.
Darker stones will get hot in the sun, which can be uncomfortable to walk on with bare feet and/or work around.
Dense, non-porous stones like quartzite will perform better outdoors than porous stones like marble.
Be sure to use a penetrating sealer on natural stone patios to help prevent stains and moisture damage. Proper sealing also makes cleaning and maintenance a breeze, enabling you to wipe off any offending substances. Our blog post on sealing natural stone covers this topic in depth.
Outdoor Uses for Natural Stone
Natural stone comes in a wide variety of patterns and colors, making it versatile, functional and beautiful. Let's look at just a few other outdoor applications where natural stone can be used effectively:
Garden walls
Walkways
Seat walls
Firepits
Pizza oven/Grill surrounds
Outdoor kitchen countertops/islands
Conclusion
Natural stone offers a sustainable, long-term investment into your home and its overall value. When it comes to designing your outdoor patio and garden areas, planning ahead can save you time, money and headaches down the road. Consider working with a professional landscaper or outdoor architect to get the most out of your outdoor oasis. Lastly, getting in touch with a professional stone fabricator can help you find the best materials suited to your needs, climate and budget.
Work with Cosmos!
Whether you're interested in granite, marble, quartzite, schist, onyx or soap stone, quartz, porcelain, tile for your home, Cosmos SurfacesTM offers a wide range of surfacing options to satisfy any design style.
Cosmos brings decades of knowledge and industry experience to the table. As a 2nd generation, family-owned business, our team is passionate about connecting North American businesses and consumers to exceptional materials in a way that is respectful to local communities and the environment. Get in touch by filling out our contact form today!
Color of the Month: Vanilla
Vanilla is a neutral, soft-toned white with honey undertones, perfect for a main wall or any room of your choice. Pair with white accents or softer sand-toned colors, or pops of floral inspired reds, teals, and corals.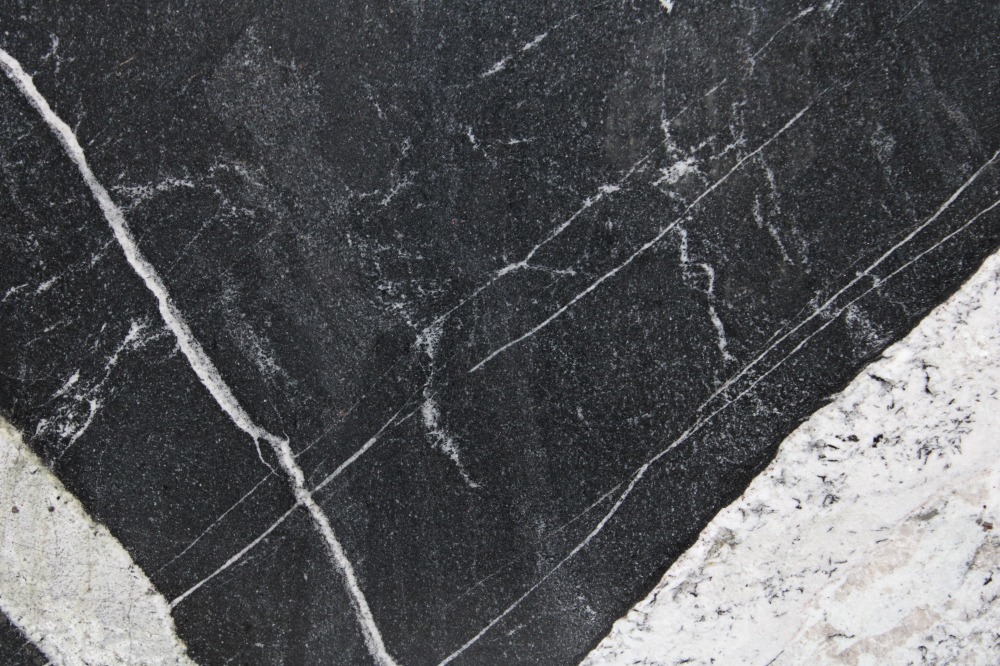 Maori granite has a pattern that's reminiscent of drawings on a chalkboard, with thin-to-wide, grayish-white lines intersecting on top of a stark black base. A striking and stylish stone, Maori is a suitable selection for anyone seeking an adventurously decorated granite countertop that will continue making a statement for years to come.
Please follow and like us: