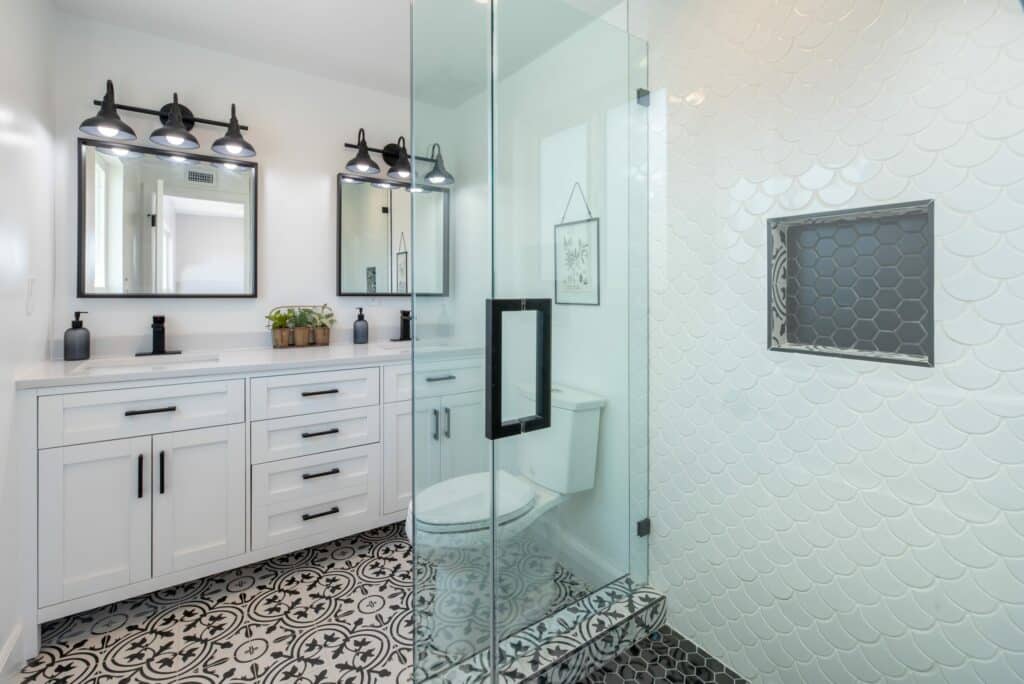 Both porcelain and ceramic tile are in high demand for contemporary kitchen and bathroom renovation projects. Considering how similar they are in appearance – and the fact that their uses often overlap – it's no wonder why many people use the terms "ceramic" and "porcelain" interchangeably when describing tile. However, it's important to note that each surfacing material has its own distinct characteristics. This can make one more suitable than the other for certain projects. So, what is the difference between porcelain and ceramic tile? Cosmos SurfacesTM is here to explain everything that sets the two apart, once and for all.
What Is the Difference Between Porcelain and Ceramic Tile?
To understand what makes ceramic and porcelain dissimilar, it's only logical to start with the materials and methods used to construct them. While ceramic is made from various colors of clay, porcelain consists of a combination of white clay, feldspar and sand. Another important difference: higher temperatures are used to fire porcelain than ceramic.
These differences in how the surfacing materials are made end up influencing their properties. In their final forms, here are the main areas in which ceramic and porcelain differ:
Density & Porosity – Owing to the materials and high temperatures used to make it, porcelain tile is more dense and hardwearing than ceramic. It is also less porous, meaning it doesn't absorb as much water.
Ease of Use – The downside of porcelain's higher density is that it can be more difficult to work with. In addition, some homeowners may perceive it as being a bit too hard to the touch. Ceramic is softer and easier to cut/shape, while still being impressively durable.
Cost – Generally speaking, ceramic tile tends to be more affordable than porcelain. This could give ceramic an edge over porcelain for larger projects and renovations on a budget.
Design Options – Both ceramic and porcelain tile come in a range of breathtaking styles. But if you're looking for a more intricate and unique design, you might have better luck finding it in ceramic. Ultimately, it comes down to what you prefer.
Suitability for Interior/Exterior Projects – The higher density of porcelain makes it a favorable choice for projects both inside and outside of the home. On the other hand, ceramic tile is approved for interior use only.
Choosing the Right Type of Tile for Your Project
Hopefully, you now feel clear on the answer to "what is the difference between porcelain and ceramic?" As you can see, finding the right type of tile for your project means considering numerous factors, including your application, style preferences and budget. Let's summarize where porcelain and ceramic tiles are best used:
Porcelain is durable enough to be installed both indoors and out. It is capable of withstanding heavy foot traffic in applications like residential or commercial flooring. Furthermore, it performs well in environments with high moisture and some are even rated to be frost proof, making it a standout choice for shower walls and floors, countertops, exterior wall cladding and more.
Ceramic is suitable for interior walls, backsplashes and floors that receive low foot traffic. Typically more cost effective and easier to work with than porcelain, it is a resilient and budget-friendly material that's available in an endless variety of stunning styles.
One important benefit of both materials: whether you choose ceramic or porcelain tile for your project, you will enjoy easy maintenance. Consult our guide to cleaning porcelain tile to learn how to keep tile surfaces in the kitchen or bathroom pristine. The recommended upkeep for ceramic tile is very similar! Once you've chosen your tiles, you can also find helpful advice on choosing the right tile grout color on our blog.
Count On Cosmos SurfacesTM for Durable & Delightful Porcelain Tile
Cosmos SurfacesTM is proud to provide an extensive array of surfacing options, including our OPULITH large format porcelain tile collection. Our remarkable selection has something for every taste and design project. Those who wish to invite luxury into their home might consider Taj Mahal, an iridescent champagne porcelain that entrances and intrigues.
Our highly trained team members are standing by, ready to assist you on your quest for the ideal surfacing material to complete your project. Known for our exceptional customer service and competitive pricing, Cosmos SurfacesTM is dedicated to helping you make your design dreams a reality. To request professional assistance from our industry experts, reach out to us today.
Color of the Month: Classic Blue
This month's featured trending color is Pantone 19-4052, Classic Blue! The Pantone Color Trend Report says, "A boundless blue hue, Classic Blue is evocative of the vast and infinite evening sky opening us up to a world of possibilities."
Azul Bahia is a type of granite which takes its name from the place where it is sourced — the state of Bahia, Brazil. With veins of sparkling white, black and gray interspersed between the azure, this beautiful polished stone seems otherworldly. Use Blue Bahia to add a breathtaking pop of color to fireplaces, countertops, showers, floors and other surfaces.
Please follow and like us: