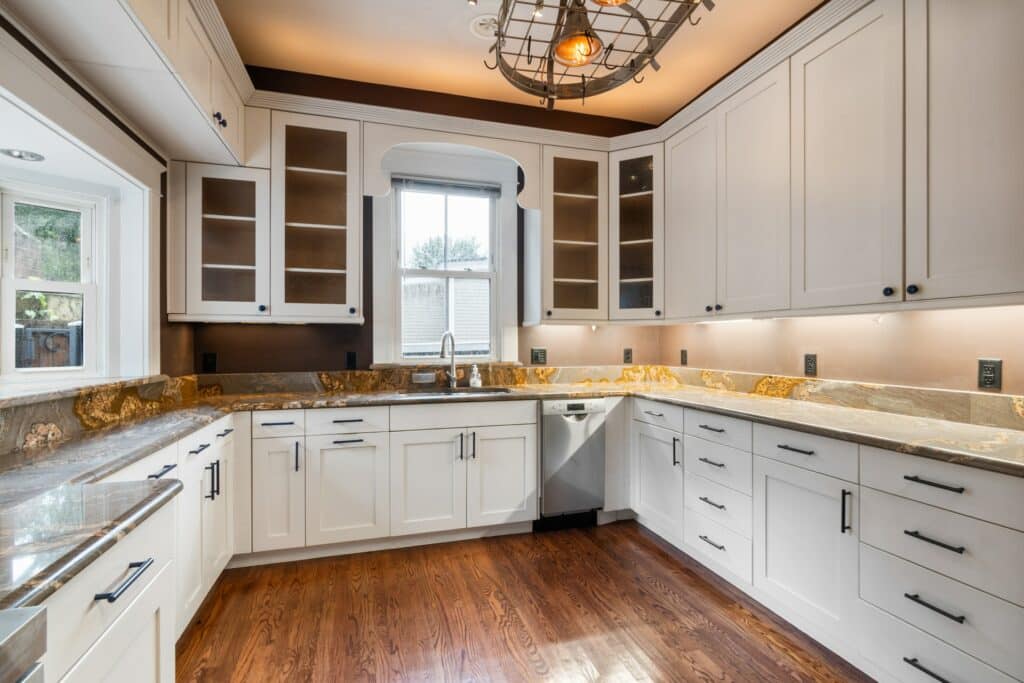 Synonymous with majestic beauty and spectacular strength, granite is an igneous rock formed by magma crystallizing deep underground over millions of years. One of nature's many splendors, granite makes for awe-inspiring, highly durable surfaces throughout the home, from countertops to floors to accent walls. Mention of its versatility and resilience begs the question: Does granite need to be sealed? In this article, the pros at Cosmos SurfacesTM will answer this common question, along with other FAQs about granite.
Does Granite Need to Be Sealed?
Like any surfacing material, granite comes with its own distinct features and care requirements. So, it's important to be aware of these before committing. Without further ado, let's launch into some key things to know about granite:
Does granite need to be sealed? – Like most natural stone varieties, granite is porous, meaning that moisture, bacteria and stains may be absorbed into the "pores" of the stone. This is where sealing comes into play! Proper sealing at the time of installation and on a regular basis afterwards is very important to protect your granite and extend its beauty and longevity. For granite kitchen countertops, sealing is also vital to maintain a healthy and safe place to prepare food.
How often does granite need to be sealed? – The exact time frame will vary depending on the specific variety of granite you choose, its porosity level, how heavily it gets used and other factors. The best quality sealers can offer up to ten years of protection.
How will I know when it's time to reseal my granite? – If you begin to notice darkened spots or rings that persist after wiping up your granite surface, this is a sign that resealing is needed as soon as possible.
How do I protect my granite surfaces between sealer applications? – To maintain gleaming granite, get in the habit of wiping up spills promptly and keeping areas around sinks/faucets dry. For everyday maintenance, use a neutral cleaner, ideally one that's designed for natural stone. Even though granite is hard wearing, you should avoid placing very hot cooking implements or cutting directly on it. Use trivets, coasters and cutting boards to preserve the integrity of your granite surfaces and prevent scratches, cracks or chips.
We hope this crash course in granite maintenance has been informative to you and will help you decide if it's the right surface for your project. If you'd rather not have to keep up with sealing your countertop or other surfaces, soapstone is a wonderful option worth considering.
Because it contains hydrophobic (water resistant/repellent) talc, soapstone doesn't require any sealing at all. In turn, it's one of the most easily maintained stones out there! However, it's not quite as hard as granite, which can make it somewhat more susceptible to chipping and scratching over time. To learn more about the differences between granite vs. soapstone, check out our detailed side-by-side comparison of these two popular materials.
Choosing a Granite Variety
If you decide to go with granite, you might wonder where to start to pick a well-matched variety for your home. While different kinds of granite have certain characteristics in common, this natural stone's appearance can vary quite a bit from slab to slab. The pattern and coloration will be determined by the mineral content in a particular piece, while the size of visible mineral grains will depend on the rate at which the minerals cooled beneath the Earth's surface.
Generally speaking, granite may contain minerals like feldspar, quartz, garnet and amphiboles, among others. Hinging on a granite slab's unique mineral composition, the resulting tableau may feature colors like:
Milky white, from quartz
Dark green or black, from amphiboles
Off-white, from feldspar
Rich red, from garnet
Gold or yellow, from muscovite
Coral, from potassium feldspar
Black or dark brown, from biotite
Different combinations of minerals make for striking granite varieties such as Agatha – a deep black granite with repeating bands of ethereal gray and white – and Kamarica – an intriguing scape of swirling seafoam, gold, milky white and tempered gray.
You'll Be Dazzled By Our Surfaces, Selection & Service!
At Cosmos SurfacesTM, granite and other stone surfaces are our specialty. If you'd like professional assistance with choosing the best sort of surface for your application, in terms of everything from look to porosity to maintenance requirements, reach out to our experts anytime. We have showrooms across the U.S. where you can browse our vast selection. Or, we can help you make your project a success from afar! Check out our online gallery, and contact us to begin comparing beautiful options with our expectation-exceeding surfaces supplier.
Color of the Month: Pacific Blue
Pacific Blue is a deep orchid blue with neutral violet undertones. It lends a stately Colonial appeal to any room and pairs well with floral prints and elegant golden tans.
Azurra Bay quartzite combines a light blue background, with interweaving greyish-white layers giving the illusion of overlapping waves. The multi-directional lines in this Brazilian quartzite draw your sight away from the center giving a sense of spaciousness to any room it is used in. Quartzite is resistant to scratching, staining, and fading, and the beauty is unmatched.
A cloudless blue sky meets the regal and dignified columns of ancient Rome is what Azul Imperiale brings to the imagination. A striking gold cuts through the mellow blue background, giving this Brazilian quartzite depth and beauty. Azul Imperiale creates a soft and light atmosphere, making it perfect for bathrooms and exterior environments. Quartzite is resistant to scratching, staining, and fading, and the beauty is unmatched.
Please follow and like us: