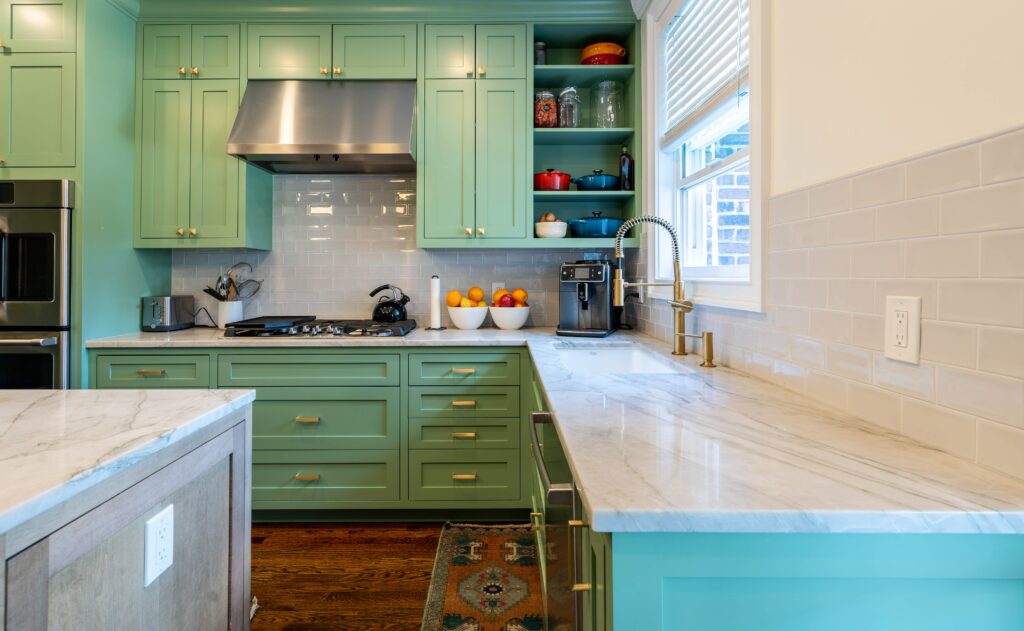 Deep beneath the Earth's surface, quartzite forms as sandstone and quartz crystals are exposed to extreme heat and pressure over time. The result of this metamorphosis is a marvelous and impressively enduring stone which lends itself to use throughout the home. Not to be confused with quartz – an engineered stone – quartzite is naturally occurring, giving it a distinct and unmatched organic beauty. Quartzite in bathroom applications is particularly popular, thanks to the material's ability to withstand everyday wear and tear coupled with its tranquility-invoking appearance. 
With a hardness level comparable to granite and an alluring mystique reminiscent of marble, quartzite truly gives you the best of both worlds. Let's walk through what to know when thinking of incorporating quartzite into a new or refreshed bathroom.
All About Using Quartzite in Bathroom Projects
From high durability to one-of-a-kind beauty, quartzite in bathroom applications has a lot to offer. But as with any surfacing material, it has certain characteristics and maintenance requirements which you should be aware of up front. Without further ado, let's answer some key questions about using this natural stone for bathroom features like a backsplash, vanity, floor, tub surround or wall cladding:
Will my quartzite surfaces need to be sealed? – By virtue of being a natural stone, quartzite can differ in its porosity level depending on the specific variety. But, in a high-moisture environment like the bathroom, sealing and occasional resealing will almost always be recommended. An easy way to tell it's time to reseal quartzite is when areas that are subject to splashing begin to look darkened, indicating that liquid is being absorbed into the material. Typically, sealing of quartzite in bathrooms is needed only about once per decade, but the timeline can vary.
Do I need to worry about stains on quartzite? – Quartzite surfaces are generally quite resistant to staining and fading, but once again, sealing will make them even more resilient. If you begin to notice discoloration in certain spots, even after thorough cleaning, this is a tell-tale sign that it's time to seal your quartzite again.
How should I care for my quartzite surfaces? – A soft cloth or sponge and a mild, neutral cleaner approved for stone surfaces should do the trick to clean quartzite! To prevent water marks and grime, it's good to get in the habit of wiping quartzite around your sink or shower dry promptly after each use. As an important note, you should never use harsh cleaners like bleach or abrasive scrubbing pads on quartzite or any other natural stone surface.
As you can see, quartzite is rather low maintenance and holds up well over time, making it a wonderful choice for a busy bathroom. It's also among the more affordable natural stone surfaces, adding to its advantages for those on a budget.
Choosing the Right Quartzite for Your Bathroom
If you're attracted to the aesthetic and practical benefits of quartzite, then the next question is which variety is the best match for your personal bathroom design. Regardless of your style, there's a lot to choose from!
For example, Montezul is a gorgeous gray, gold and white quartzite with veining that tells the story of its time underground. Dense yet delicate looking, it makes for a glorious bathtub foundation or sink surround.
Citrino is another showstopping quartzite with iridescent, celestial white and rich tones of gold and black sprawling across its surface. Particularly striking in bright light, this versatile quartzite can be at home in classic and contemporary bathroom schemes alike.
At Cosmos SurfacesTM, we have these and many other stunning varieties of quartzite in our vast inventory. Drawing on decades of experience, our natural stone authorities are available to help you decide on the perfect pick for your project!
Browse Quartzite & Other Natural Stone Surfaces with Our Specialists
Whether you're already eager to put quartzite in bathroom or you'd like to discover our full range of natural stone offerings before making your decision, it's easy to get started with us.
Browse our online gallery to learn more about our magnificent quartzites and other products we carry, and reach out anytime to consult our knowledgeable surface professionals about what will work best for your project. We also have showrooms across the U.S. you can visit to see our top-quality products in person! Begin your journey to finding and acquiring your ideal bathroom accents today with Cosmos, one of the nation's leading surface suppliers.
Color of the Month: Paperplane
Paperplane is a soft, gray, sepia greige with an umber undertone. This soothing, pleasing neutral elevates any room and pairs beautifully with grayed or creamy whites.
The pale white background of this Brazilian quartzite is adorned by rays of charcoal and grey. The predictable patterns of the Invictus quartzite stone make it an excellent choice for adding elegance and energy to any space. Quartzite is resistant to scratching, staining, and fading, and the beauty is unmatched.
Dark grey and green veins and waves cascade across a white background making Destin White a dynamic choice for any space. This high variance marble from Vermont, USA ensures that each application is a wholly unique experience.
Please follow and like us: