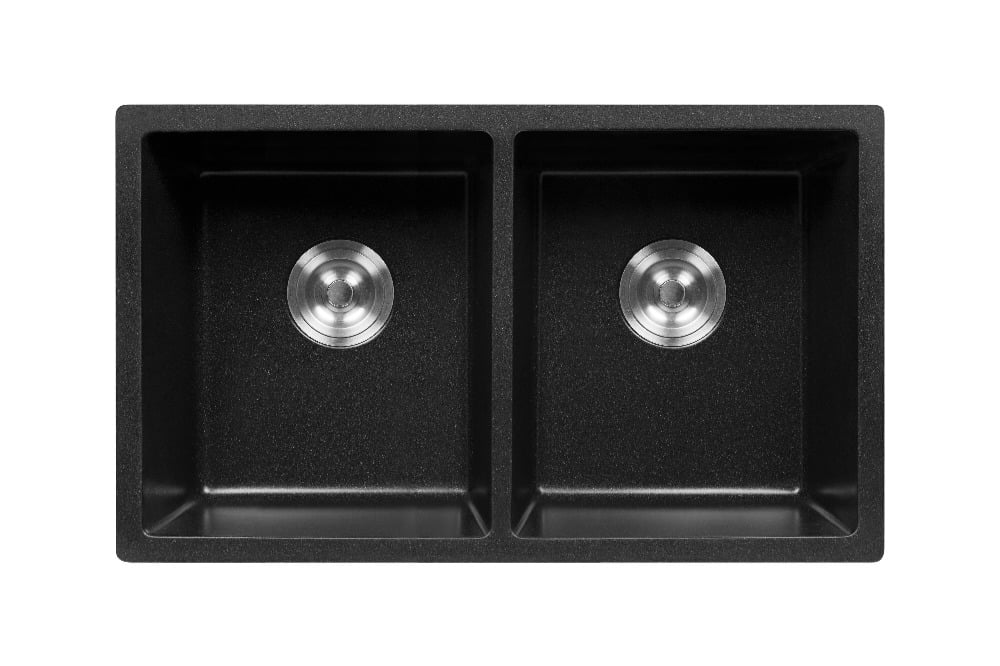 When shopping for a kitchen sink, there's more to consider than you might initially realize. There are numerous sink materials to choose from, each offering its own list of advantages. For example, composite sinks for kitchen applications can lend beauty and durability to an everyday cooking space while complementing certain countertop materials and kitchen designs. To help you decide if this type of sink is well suited to your personal kitchen, let's go through some of the most noteworthy features offered by composite sinks.
Benefits of Composite Sinks for Kitchen Use
If you're looking for a heavy-duty and practical yet stylish sink, there are plenty of reasons to consider composite. Favorable characteristics of these sinks include:
Stain resistance – Because they're typically nonporous, composite sinks won't absorb food or liquids easily, making them virtually stain proof. Still, it's a good idea to wipe down the basin frequently, for sanitation purposes and to prevent water marks.
Easy maintainability – With regular wiping, your composite sink will stay fresh and gleaming. If you do happen to notice any grime or leftover food stuck to your sink, a soft cloth or non-abrasive sponge, warm water and mild dish soap should take care of it. A coat of mineral oil or olive oil can help to restore the sink's luster as needed.
Impressive resilience – Made from a blend of tough materials like granite and quartz mixed with acrylic resin, composite sinks can stand up to everyday use in a busy kitchen. They resist scratches, dents and chips remarkably well, meaning that composite sinks for kitchen are a durable and fuss-free choice for culinary enthusiasts and families alike.
Heat resistance – Along with being longwearing, the components of composite sinks tend to be quite heat tolerant, so moderately hot pots and pans shouldn't pose an issue. Even so, it's a good idea to let them cool down a bit before placing them in the sink for washing.
Aesthetic appeal – The dark hues of a composite sink invoke intrigue and forward a sleek, elegant and unique look in kitchens of various styles. Alongside quartz or granite countertops in particular, selecting a composite sink in a coordinating hue can help create a continuous and harmonious design.
Making a statement and affording many practical benefits, composite sinks are a top contender for those seeking a high-performing kitchen sink. Cosmos SurfacesTM offers several varieties of composite sinks for kitchen, including our black Vortex single bowl sink and double-bowl sinks.
Possible Drawbacks of a Composite Sink
As with any sink material, there are a few potential negatives to keep in mind which may impact your decision to purchase a composite sink. Here are some important things to consider before committing:
The flip side of composite sinks being very hard and durable is that dishes can break or chip more easily if dropped into them.
Since they tend to be heavier than other sink materials (like stainless steel), composite sinks may require extra support to be added during installation.
Although composite sinks are considered heat resistant, they are not heatproof. Thus, extremely hot pots and pans can potentially warp or melt the acrylic resin binders and damage the sink.
If any of the above is a major concern for you – or if the look of composite sinks for kitchen doesn't quite align with your design vision – then you might consider a stainless steel or porcelain sink instead. For more details on these options and their respective pros and cons, check out our detailed comparison of porcelain vs. stainless steel vs. composite sinks.
Work with Our Knowledgeable & Friendly Surface Specialists
Ultimately, it's up to you to choose which type of sink best matches your needs and desires, in terms of both appearance and functionality. If you'd like some expert guidance on the benefits of composite sinks as you explore the options, the Cosmos SurfacesTM team is here to help!
Drawing on decades of experience in the world of sinks, countertops and other kitchen surfaces, we can assist you in your search for the most ideal kitchen sink for your home, budget and design preferences. We're dedicated to providing helpful information and top-quality products to customers across the nation, so feel free to reach out from anywhere in the U.S. Contact us online today or locate your nearest Cosmos SurfacesTM showroom to get started!
Color of the Month: Paperplane
Paperplane is a soft, gray, sepia greige with an umber undertone. This soothing, pleasing neutral elevates any room and pairs beautifully with grayed or creamy whites.
Chilly, light granite is tempered by warm eggshell coloring and flecks of grey in White Ice to create an atmosphere that is just right. Sourced responsibly from Brazil, this granite countertop looks decidedly cool in both bathrooms and kitchens.
Imagining you're on a crackled snowy rockface isn't difficult when looking at the textured marble of Bianca Venatino. Like crackled grey stone and white snow, Bianca Venatino creates a cool atmosphere that is calming and subtle. It complements well with black and looks great in minimalistic spaces, bathrooms, and kitchens.
Please follow and like us: