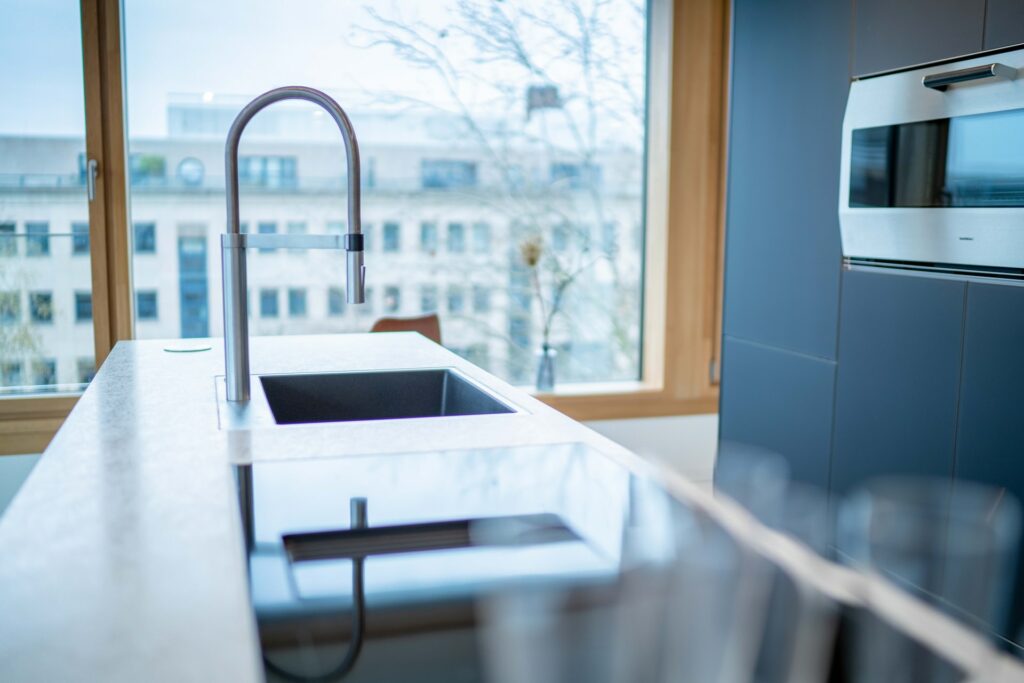 From food prep to dishes, the kitchen sink is one of the most frequently used features in the home. As a result, choosing the best kitchen sink material for your needs is worth some time and consideration. In today's post, the experts at Cosmos SurfacesTM compare porcelain, stainless steel and composite sinks.
Kitchen Sink Materials: What to Consider
Kitchen sinks need to be highly functional, but they should be aesthetically pleasing and easy to clean as well. When deciding on the best material for your kitchen sink, consider the following:
How frequently do you cook/use the kitchen?
Will the sink be exposed to extreme heat?
Will you frequently clean and sanitize the sink?
Which design elements in the kitchen should your sink match with?
With the answers to these questions in mind, it's time to compare materials.
Porcelain Kitchen Sinks
Porcelain sinks make for a gorgeous addition to any kitchen. The pros of installing a porcelain sink in your home include:
Strong and durable, porcelain sinks hold up well over time when cared for.
Porcelain sinks are available in a wide range of colors.
Porcelain can mimic the look of natural stones, like marble.
It's a low maintenance material that's easy to clean.
Porcelain can often be refinished if damaged.
The cons of porcelain sinks include:
Can be damaged by abrasive cleaners.
Can take on stains if not wiped up.
Susceptible to chipping. While porcelain is durable, it can be chipped if something heavy is dropped on it.
Leaving harsh chemicals or acidic substances in the sink could damage it.
Stainless Steel Sinks
Simple and functional, stainless steel sinks are a beloved favorite in the food industry and in homes. Let's look at the pros of installing one in your home:
Price—while stainless steel sinks tend to be more expensive than porcelain, they're less expensive than granite, making them a great middle-of-the-road option.
Stainless steel sinks vary in the thickness of the steel, but they are incredibly durable and long lasting.
Stainless steel does not easily take on staining or damage from scrubbing or heavy dishes.
Stainless steel doesn't tarnish or rust and it's resistant to high heat.
Stainless steel sinks are non-porous, which makes them easy to clean and sanitize.
They can easily match with kitchen appliances.
The drawbacks of stainless steel sinks include:
Stainless steel sinks are limited in their look. If you're aiming to match specific colors and décor in your kitchen, it might be difficult to incorporate stainless steel.
Hard water can leave visible calcium deposits that may need to be wiped off frequently.
Abrasive cleaners and scouring pads can leave scratches.
Stainless steel sinks can make a lot of noise when dishes are dropped into them. In some cases, dampening pads are installed beneath sinks to mitigate the noise factor.
Composite Sinks
As the name suggests, composite sinks are made from a combination of materials. While they're sometimes referred to as "granite sinks," they really contain granite powder and acrylic resins molded into the shape of a sink.
Let's look at the pros of installing a composite sink in your home:
Composite sinks are incredibly hard and durable, which means they stand up well to the everyday wear and tear common to kitchen areas.
They're aesthetically pleasing and add value to your home.
Composite sinks are heat resistant.
Composite sinks are easy to clean and maintain.
As with any material, there are a few drawbacks to composite kitchen sinks. Let's take a look:
Composite sinks tend to be heavier than its counterparts, like stainless steel sinks, and may require additional supports upon installation.
While they are heat resistant, composite sinks are not heat proof and should never be exposed to extreme heat, like hot pots or pans placed directly in the sink.
Composite sinks are very hard. While this is mostly a benefit, as it means your sink will be protected, dishes dropped in a composite sink are more likely to break or shatter.
Work with Cosmos SurfacesTM
We hope you've found this comparison of sink materials helpful. If you have questions or concerns about the best kitchen sink material for your home and budget, reach out to Cosmos SurfacesTM today! We bring decades of experience to the table, and our team of experts is always happy to answer questions!
Color of the Month: Pacific Pearl
Pacific Pearl is a soothing oyster white with a hint of sea-green undertone. It is perfect for sunny rooms, main walls, and pairing as a trim with any color scheme.
This beautiful gray Brazilian quartzite evokes waves and foam at a seashore making it one of our most unique natural stone selections. With sweeping dark gray veins, Dakar quartzite is a lovely choice for accent walls or fixtures without straying too far from the neutral palette. Pair with similarly neutral walls and floors to allow this quartzite to shine, or allow it to complement bolder jewel tones or metallic accents.
Please follow and like us: