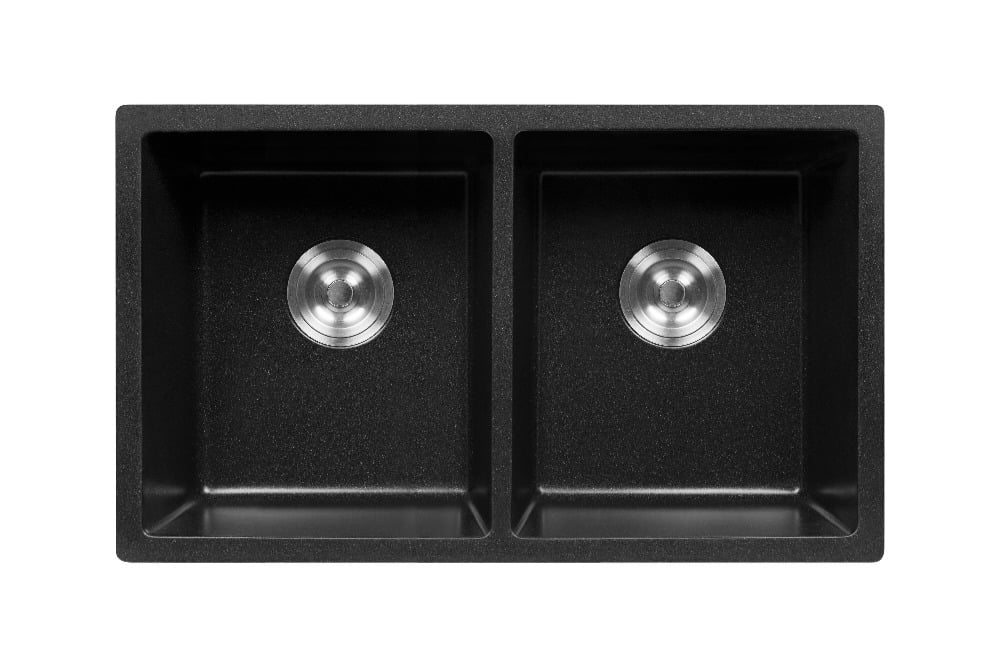 When it comes to kitchen sinks, not all are created equal. From stainless steel and enamel to copper and soapstone, each material comes with its own set of benefits and drawbacks. You may have heard the name, but exactly what is a composite sink? Read on to learn more about this excellent kitchen sink material option.
How Composite Sinks are Made
As the name suggests, composite sinks are made from a combination of materials. Components like acrylic resins are combined with pulverized minerals, like quartz or granite. Composite sinks are sometimes referred to as "granite sinks," though these are not made from a solid piece of granite. Typically, composite granite sinks contain granite powder and acrylic resins molded into the shape of a sink. Composite granite sinks can be integrated with a granite countertop, though getting an exact match may not be possible.
The Pros of Installing a Composite Sink
Let's look at the pros of installing a composite sink in your home:
Durability—composite granite or quartz sinks are incredibly hard and durable. This means the sink won't take on dents, chips or scratches from everyday wear and tear.
Aesthetics—because they are made from a blend of materials, composite sinks can be matched to other design elements in your home more easily.
Maintenance—composite sinks are typically a breeze to clean and maintain. A little dish soap, water and non-abrasive scrub pad will often do the trick.
Heat-Resistant—composite granite sinks are heat resistant, which is a desirable property in the kitchen.
Price—composite granite sinks tend to be less expensive than solid granite, but still affords homeowners many of the benefits of having granite in their home.
The Cons of Installing a Composite Sink
Let's investigate the drawbacks of going with a composite sink:
Heat-Resistance—while composite sinks are heat-resistant, they aren't heat-proof. It's important to note the acrylic resin binders found in composite sinks can warp or melt when exposed to extreme heat. An example of this is when a hot pot or pan is placed directly in the sink.
Weight—composite sinks tend to be heavier than some of its counterparts, like stainless steel sinks. Some composite sinks may require additional support when installed.
Hardness—while the hardness and durability of a composite sink means your sink will be protected, the same can't be said for your dishes. Because composite sinks are so hard, dishes can break more easily if dropped in the sink.
Composite Sink Care and Maintenance
One of the best things about composite sinks is how easy they are to care for. Let's look at a few daily cleaning tips:
Composite sinks can be cleaned daily with dish soap, water and a sponge, scouring pad or cloth.
Once clean, rinse the sink thoroughly with clean water to prevent any soap streaks, residue or soap scum build-up.
When using commercial cleaners like Soft Scrub, Liquid Bar Keepers Friend or Liquid Ajax, be sure to rinse the sink thoroughly with clean, warm water and dry it off completely with a soft cloth.
If you're dealing with stubborn stain and scuff marks in your composite sink, try the following:
Make a 50% vinegar and 50% water solution and let it sit in the sink for an extended time. Be sure to rinse the sink thoroughly with warm water and dry off with a soft cloth.
If you notice white, chalky rings on the bottom of the sink, you're probably dealing with calcium stains. Commercial products like CLR (Calcium Lime Rust) or Lime Away will help banish these, just be sure to follow the manufacturer's directions.
Oxalic Acid Cleansers like Bar Keepers Friend Powder or Eco Clean can be used on a damp sponge or cloth. As always, rinse with warm water and dry with a cloth.
You can protect your composite sink by placing a sink grid on its surface. To bring back or enhance the luster or sheen of a composite sink, mineral oil or olive oil can be applied using a clean cloth. To keep your composite sink looking its best, avoid the following:
DO NOT use bleach.
DO NOT scrub a sink with steel wool.
DO NOT use the sink as a cutting surface.
DO NOT pour solvents like gasoline, acids or alcohol down the sink.
DO NOT use the sink for grout materials or to clean paint.
Work with Cosmos SurfacesTM!
Cosmos SurfacesTM is proud to offer composite granite sinks perfect for any modern, high-traffic kitchen. We are a 2nd generation, family-owned business dedicated to providing knowledge, meaningful customer service and high-quality surface materials. We offer a wide range of products and resources to assist our customers in all their surface material needs. Contact us today to get started!
Color of the Month: Pacific Pearl
Pacific Pearl is a soothing oyster white with a hint of sea-green undertone. It is perfect for sunny rooms, main walls, and pairing as a trim with any color scheme.
Clean, beautiful, and cool – Vento Cinza is the smooth white of an undisturbed icy tundra. Upon closer look, you'll see beautifully subtle lines of crystalline silver in this Brazilian quartzite. Vento Cinza is simple in both color and texture, but that doesn't make it any less striking. It looks great in any space as a countertop, floor, wall, or table. Quartzite is resistant to scratching, staining, and fading, and the beauty is unmatched.
Please follow and like us: