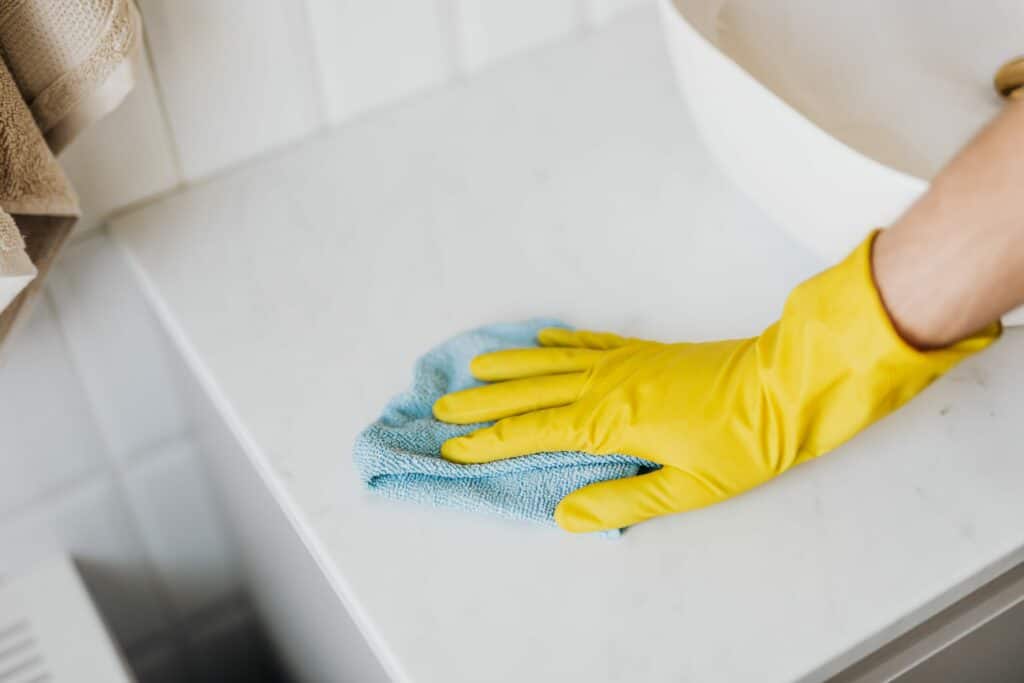 From countertops to floors to tub surrounds, there are so many surfaces for which natural stone can be a marvelous choice! Whether you seek to enliven your interior or to ground a space within your home, different stone varieties such as marble, granite and quartzite can help you achieve your design dreams. Regardless of how you leverage the beauty and durability of natural stone in your home, you'll naturally want to maximize its longevity through proper care. From installation day forward, knowing how to clean natural stone is a must to maintain its pristine appearance and optimize its performance.
How to Clean Natural Stone: What Every Homeowner Should Know
To help you protect your investment, Cosmos SurfacesTM is here to share a few important natural stone maintenance steps:
DO Be careful to choose an appropriate cleaner – Using a cleaner which isn't approved for your particular natural stone surface can be detrimental in several ways. First off, it can damage the stone in the form of burning or etching. Additionally, it can break down the sealant (if one was applied) and dull the finish. Thus, you should take care to always read labels and confirm that products are compatible with your natural stone before applying them.
DO Be sure your stone remains well protected – If you select a porous natural stone such as granite, regular sealing will likely be recommended to preserve the stone's beauty & integrity. How often sealer will need to be reapplied will depend on several factors, including the porosity of the stone, the chosen finish and whether the surface is located in a high-traffic area. If you wish to skip sealing, consider a non-porous stone such as soap stone.
DO Get in the habit of dry mopping/wiping regularly – Dust and debris can cling to polished stone surfaces. Luckily, it's easy to lift them away with a dry dust mop or a microfiber towel. Doing so on a daily basis – and before using a moist cleaner on your stone surfaces – will prevent signs of wear such as scratches.
Common Natural Stone Cleaning Mistakes to Avoid
Now that we've highlighted a few major do's for how to clean natural stone like an expert, let's look at what you generally should NOT do:
DON'T Use acidic cleaners on natural stone – Vinegar and lemon juice are useful for cleaning and disinfecting many surfaces throughout the home – but not so much for natural stone. A word to the wise: Acidic cleaning agents will etch the surface of many natural stones, including marble and granite, so it's best to avoid them altogether.
DON'T Clean your natural stone with harsh chemicals – Of course, you want to make sure your natural stone surfaces remain clean and sanitary for your family. However, using heavy-duty disinfectants such as bleach or ammonia can discolor & damage most types of natural stone. As a safer alternative, we recommend choosing a stone-specific cleaner with bacteria-fighting properties. Aside from skipping the intense chemicals, avoiding the use of abrasive scrubbing pads in your natural stone maintenance routine is also advisable to prevent scratches.
DON'T Try to repair major damage yourself – Natural stone wins praise for its hardwearing properties. Still, by virtue of daily use, it can be subject to chips, stains and other damage. Wiping up spills right away and taking care to avoid placing hot cookware directly on your natural stone will go a long way to sustain it. Further, a simple baking soda and water paste can often be effective at buffing out small marks or scratches. But if significant gouging, chipping or etching occurs, it's best to call a professional for stone restoration. Attempting to DIY your stone repair will likely be ineffective, and could actually make the issue much worse.
Look to Cosmos SurfacesTM for the Broadest & Best Selection of Natural Stone
Perhaps you have already made the decision to incorporate a stunning natural stone surface into your home design, or maybe you are still exploring whether this material is the best choice for your project. Either way, we hope you've found our tips on how to clean natural stone to be valuable!
As long-time surfacing industry experts, Cosmos SurfacesTM is proud to be an authority on natural stone. If you are seeking a gorgeous surface that will mesh with your lifestyle and design goals, our team is here to help you find the perfect product in our extensive natural stone collection. We are also happy to offer our professional advice on caring for natural stone so it continues to look fresh and perform beautifully for decades. To be connected with a member of our team, get in touch today!
Color of the Month: Fired Brick
This month's featured trending color is Pantone 19-1337, Fired Brick! The Pantone Color Trend Report says, "Strong and sturdy, Fired Brick adds gravitas."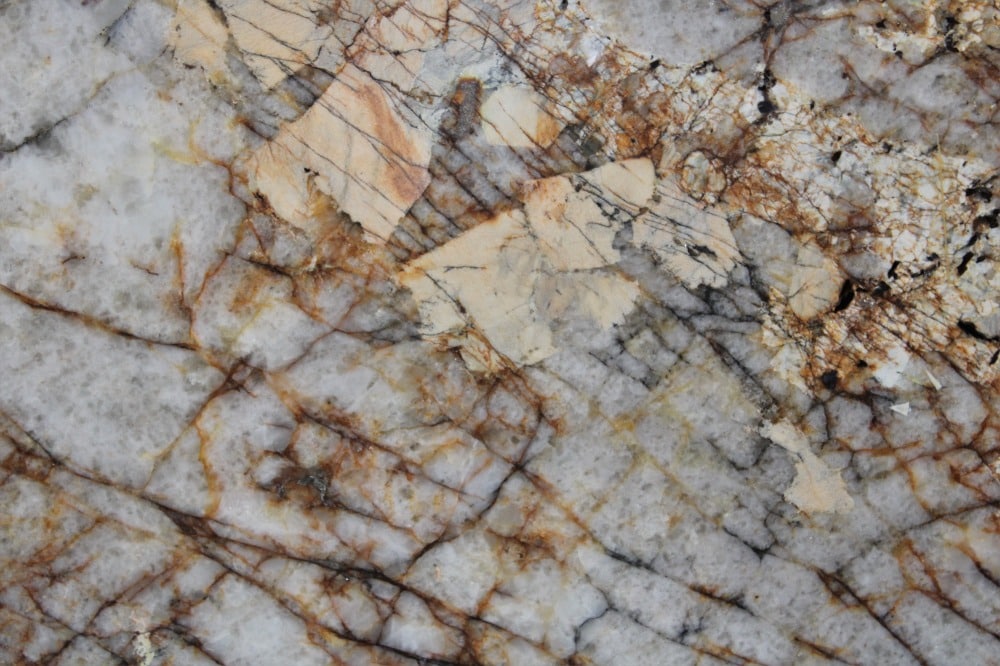 The granite dubbed Vitrium is both bold and complex. Hailing from Brazil, a creamy Feldspar and white quartz background is accentuated by diverse patterns that range from strikes of gold to swirls of black. No two areas of Vitrium are the same; every inch is uniquely diverse and beautifully translucent in some areas, which makes Vitrium a versatile option for any room or application.
Please follow and like us: