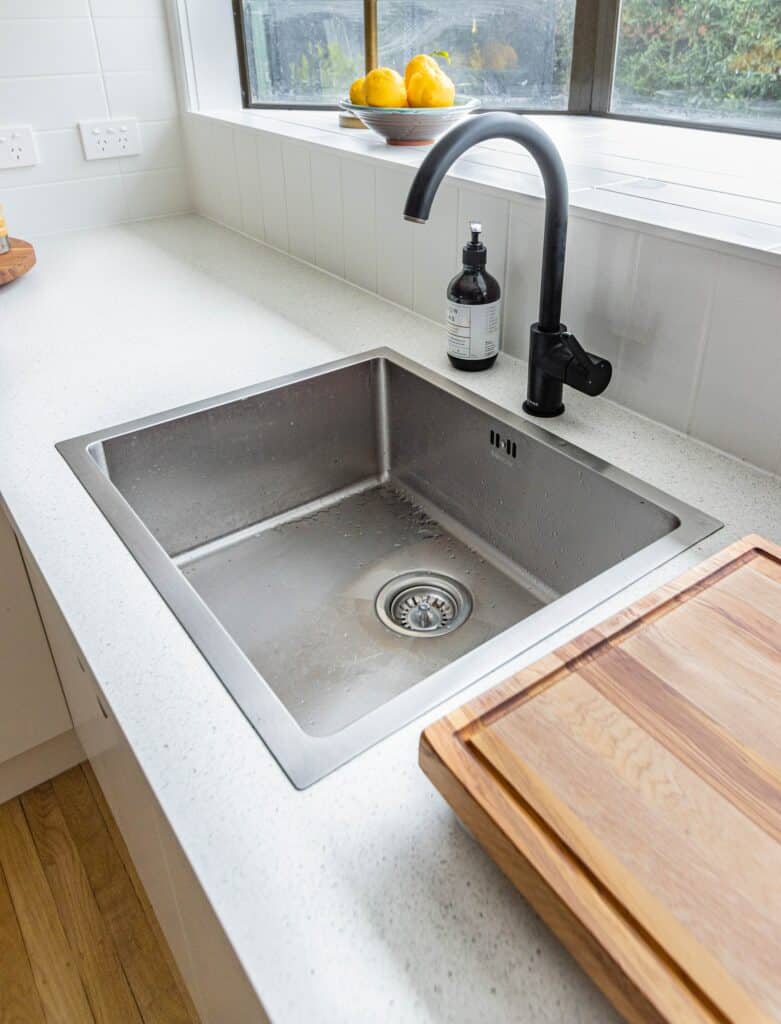 Sustainability is at the forefront of discussions ranging from political and industrial spheres right down to everyday consumer decisions. In 2021, we know more consumers actively seek out and champion sustainable brands and products than ever before. Concerns about the environmental impact of the products we use extend to every part of our lives, and that includes home appliances and fixtures, such as kitchen sinks. In today's post, we answer a common question: Is stainless steel sustainable?
Is Stainless Steel Sustainable?
Stainless steel is durable, long-lasting and 100% recyclable. This makes it one of the most eco-friendly sink materials homeowners can invest in. Stainless steel is a widely popular option for sinks, owing to qualities like scratch-resistance, longevity and ease of maintenance. When it comes to environmental impact, it helps to understand the qualities that make a product sustainable. Let's take a look at a few key questions we can ask to help determine how "green" a material really is:
How durable is the product/material?
Is it corrosion-resistant?
Can materials be recycled at the end of the product's life?
Does the product or material have high-recapture rates?
Do materials have high "recycled content" values?
Stainless steel sinks are able to meet all of these requirements. The durability of a stainless steel sink may be determined by the gauge of the sink at production. The higher the gauge, the thinner the steel. This makes it more prone to taking on dents and scratches, which will ultimately decrease its lifespan. Stainless steel sinks typically range from 18-gauge to 23-gauge.
The Benefit of a Stainless Steel Sink
Aside from the sustainability factor, stainless steel sinks offer many benefits when used in both residential and commercial spaces, including:
Affordable pricing
Durability
Scratch-resistance
Heat-resistance
Stain-resistance (hence the name "stainless" steel)
Corrosion and rust-resistant
Pore-free surfaces
Aesthetically sleek
Easy to clean and maintain
Since stainless steel sinks are pore-free, they are not susceptible to harboring bacteria. This makes it easy to clean and maintain a stainless steel sink even in high-traffic situations. The hygienic traits of stainless steel make this material an excellent choice for settings like commercial kitchens and medical environments, where cleanliness is paramount.
Stainless steel has a high scrap or "recapture" value. As it is 100% recyclable with no reduction in quality, products designed with recycled stainless steel help divert materials from landfills while reducing the need to use scarce resources.
The Downsides of Stainless Steel Sinks
All materials have pros and cons, though the importance of these will vary depending on your needs and situation. The potential cons of stainless steel sinks include:
Potential for scratches and dents in high-gauge sinks
Limited color options available
Sinks may be prone to water spots (though these can be scrubbed out)
Stainless Steel Sinks: Cleaning and Maintenance
Regular cleaning helps maintain the look and luster of a stainless steel sink, as well as its ability to resist corrosion. Check out our top tips for stainless steel sink cleaning and maintenance:
Create a schedule for daily cleanings combined with more thorough weekly cleanings
Soft, abrasive cleaners can be used in combination with warm water, sponges or cloths
Scrub in the direction of polish lines
Many soaps and detergents contain chlorides, so it's important to rinse your sink after cleaning to prevent corrosion
Avoid using carbon steel brushes and steel wool
Dry your sink thoroughly after use to prevent water spots
Always wear rubber gloves when working with cleaners to protect your skin
Never mix cleaners together, as they can react with each other in dangerous ways
Clean residue immediately
Do not let sponges, towels or rags dry in or on your sink, as it can dull the surface
After cleaning, homeowners can apply a few drops of olive oil to a lint-free cloth, such as a microfiber cloth, and buff the surface for extra shine
For more information, check out our comprehensive guide to cleaning stainless steel sinks.
Stainless Steel Sinks at Cosmos SurfacesTM
So, is stainless steel sustainable? Definitely! Here at Cosmos SurfacesTM, we're proud to offer a wide range of stainless steel sink options. Whether you're in the market for a single-bowl or double-bowl sink, our team can help you find the perfect option to suit your needs and budget.
Cosmos SurfacesTM brings decades of knowledge and industry experience to the table. As a 2nd generation, family-owned business, our team is passionate about providing businesses and homeowners with exceptional materials. If you have questions about stainless steel sinks or where to find them, we'd love to hear from you! Get in touch by filling out our contact form today.
Color of the Month: Translucent
Translucent natural stones are airy and delicate, with vibrant undertones glowing just beneath the surface. As countertops, tiling, backsplashes, and more, translucent surfaces are a striking yet soothing addition to any room.
Like its name suggests, Cristallo is a sea of crystals. A vibrant white, streaks of gold dance across this quartzite. When backlit, the translucent white glows golden, creating a unique masterpiece with endless potential. Cristallo makes an elegant and light-toned choice for interior and exterior spaces alike. Quartzite is resistant to scratching, staining, and fading, and the beauty is unmatched.
Alexandrita Quartzite is a type of light green quartzite; a beautiful, tranquil stone that is perfect for countertops, floors, wall applications, backsplashes, and more. The soft hues of green, ivory, and peach create a calming effect, reminiscent of sand and sea foam. Quartzite is resistant to scratching, staining, and fading, and the beauty is unmatched. Call your nearest location and see this beautiful green quartzite for yourself!
Please follow and like us: