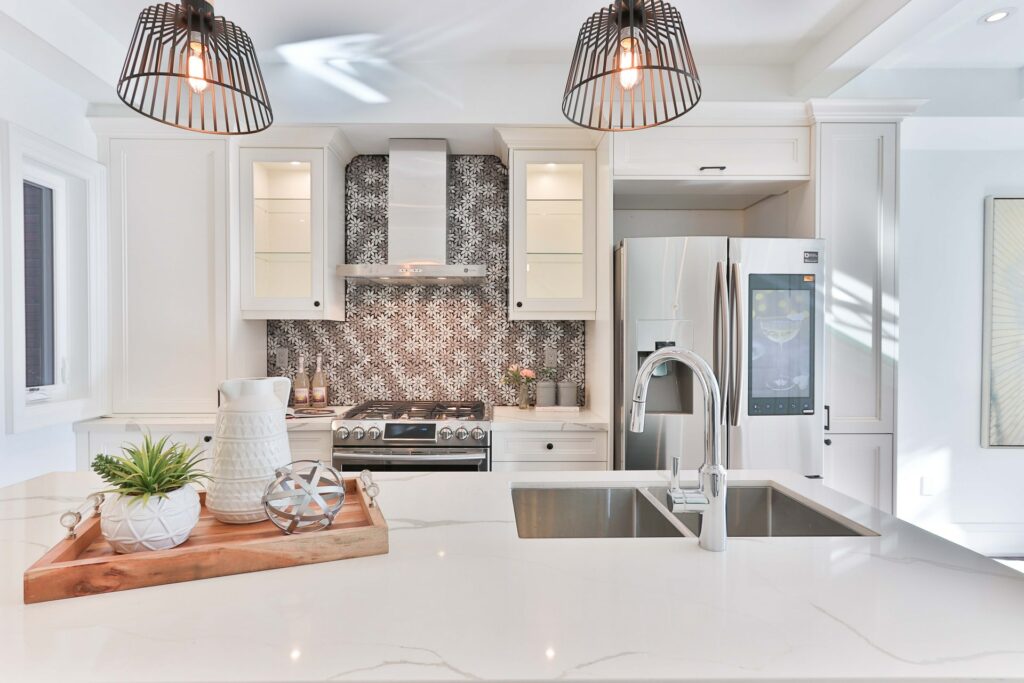 When it comes to kitchen countertops, one of the most popular choices by far is white quartz. This gorgeous surface material is lauded by interior designers and fixer upper warriors alike for its versatility, aesthetic beauty and ease of maintenance. Read on to learn all about white quartz kitchen countertops and how the experts at Cosmos SurfacesTM can help you find the perfect match for your home.
What Are Quartz Countertops Made Of?
Quartz countertops are a man-made material that closely resembles the look of natural stone. Rather than a solid slab extracted straight from the earth, quartz countertops are made through a manufacturing process where approximately 90–95% ground natural quartz is mixed with 5–10% polymer resins to bind it together.
Since quartz countertops are man-made, they offer a wide variety of color choices and patterns. As a durable, lower cost alternative, white quartz kitchen countertops can mimic the look of marble with subtle or dramatic veining patterns.
The Pros of White Quartz Countertops
There is perhaps no area in the home that takes on as much wear and tear as our kitchen countertops. Whether we are cooking, cleaning, working, doing crafts or simply socializing, the kitchen counters and island often play host to a range of activities. Here's why white quartz countertops remain a fan favorite:
Durability — Quartz countertops are highly durable and don't chip, crack or break easily
Stain Resistance — Quartz counters are non-porous, which protects them from staining and harboring bacteria
Aesthetics — With the ability to mimic the look of marble, white quartz countertops can lighten and brighten up a kitchen with the look of luxury at a lower cost
Ease of Maintenance — Owing to its non-porosity, quartz countertops are easy to clean and don't need to be sealed like some of its natural stone counterparts do.
Versatility — Quartz kitchen countertops come in a variety of patterns with subtle undertones that can match the look homeowners want in their kitchens
The Cons of White Quartz Countertops
Just about every surface material has a few downsides, depending on who you ask. Quartz is no different, though some of these may not be an issue for every homeowner. Here's what to consider:
Low Heat-Resistance — Quartz countertops do not handle exposure to extreme heat well. That's because the resin binders holding everything together are essentially a type of plastic — it can melt or warp. That means placing hot pots, pans or baking sheets directly on quartz counters is a no-go.
Requires Professional Installation — Quartz countertops are an investment that requires precision, knowledge and the right tools for proper installation. This is one you don't want to DIY, folks.
White Quartz Kitchen Countertops: Care and Maintenance
Taking care of quartz countertops is simple, as it is a low-maintenance material. The following habits will help keep white quartz countertops looking new and beautiful in the long run:
Use trivets, cooling racks and coasters
Never place hot cookware directly on countertops
Avoid using abrasive cleaners and scouring pads, and never use cleaning products containing ammonia or bleach
Wipe counters down with a soft, damp cloth or sponge, mild dish detergent and warm water
Clean spills up right away
Tips for Designing with White Quartz Countertops
White counters can instantly give a room a face-lift, brightening up the space and creating a clean, elegant look. White quartz countertops often have varying grey tones and veining patterns.
Far from limiting your design options, however, the possibilities are good and plenty — and so are the decisions you'll have to make before deciding on the perfect kitchen countertops for your space. Let's look at a few design tips to keep in mind:
Mix and Match — Save money by investing more in a statement piece, such as a kitchen island countertop with dramatic veining like Calacatta Supreme, and using lower-priced types of quartz for peripheral countertops.
Pair Undertones — While grey patterning on a white countertop seems neutral enough, both colors can have warm or cool undertones, dramatically changing the effect. Utilize samples whenever possible to see which undertones work in the context of your kitchen. As an example, grey veining with warm undertones like those found in Calacatta Spear can help bring out the warmth of wooden cabinets, tying the overall look together.
Use Remnants — If you have small countertops or if you'd like to use quartz counters in the bathroom, check in with a manufacturer to see if smaller remnants are available at a lower cost.
White Quartz Countertops at Cosmos SurfacesTM
We're proud to offer a wide range of gorgeous white quartz kitchen countertops here at Cosmos SurfacesTM. Whether you're in the market for a dramatic veining pattern or a simple, elegant white surface, our experts can help you find the perfect fit for your home. Give us a call at your nearest location or contact us online with any inquiries. Our team is always happy to help with expert advice.
Color of the Month: Translucent
Translucent natural stones are airy and delicate, with vibrant undertones glowing just beneath the surface. As countertops, tiling, backsplashes, and more, translucent surfaces are a striking yet soothing addition to any room.
The multicolored layers of Travertine Onyx bring to mind the diverse terrain of a canyon wall. From brown and reds to blacks and silvers, Travertine Onyx spans a color spectrum that looks well with nearly every material. Install as a kitchen backsplash, fireplace tiling, or for an exterior countertop to bring layers and dimension to any space.
Rose Onyx is the stone of choice for anyone in search of lovely, delicate aesthetic appeal. This pink onyx contains a variety of soft hues that are sure to captivate, from light pink to grey and white, with patterning that gently bends and swirls against a polished finish. This pink onyx will charm you from the start.
Please follow and like us: