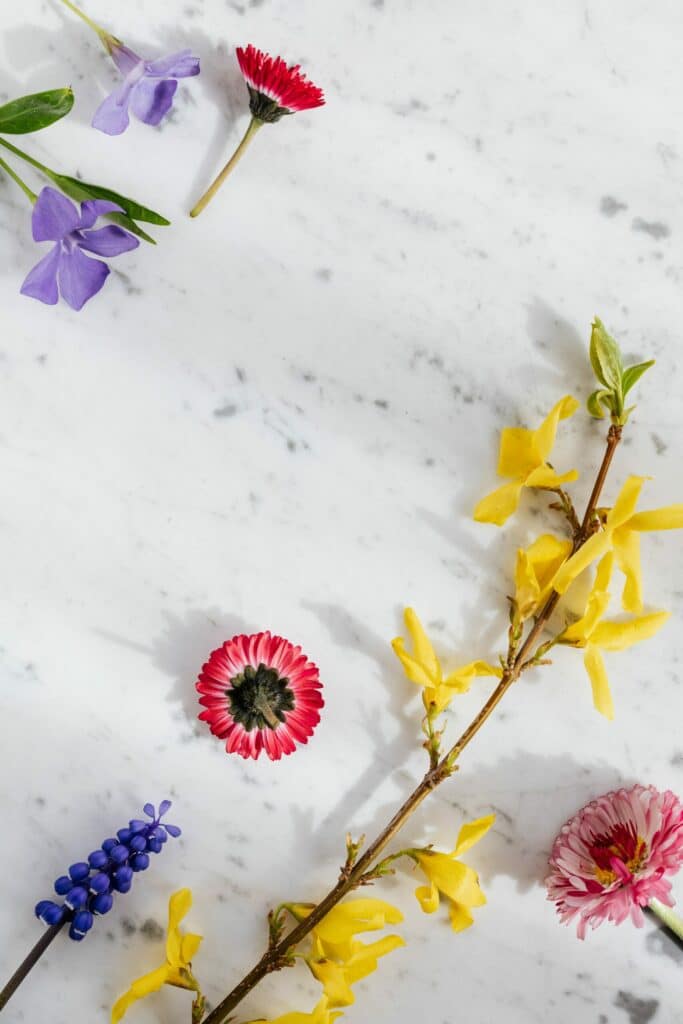 Since the era of Ancient Greece & Rome, marble has been marveled upon for its stately beauty, enduring strength and standout veining pattern. In modern times, the appeal of this natural stone remains steadfast – particularly for homeowners desiring a distinguished looking, long-wearing countertop. Marble offers distinct advantages as a surface, but it also has its fair share of potential downfalls to keep in mind. If you're contemplating marble countertops, pros and cons of choosing this material are something you'll want to put on your radar. Today, our trusted stone specialists will fill you in on some top concerns about marble and how they can be worked around, should you select this stone for your kitchen countertop.
Marble Countertops Pros and Cons: Common Issues & Helpful Solutions
For every possible problem you might encounter with marble, there is an effective & straightforward solution! As you read on, you'll discover that preventative maintenance plays a huge role in keeping marble pristine over time – as is the case with just about any stone surface. Knowledge is power, so let's discuss some marble vulnerabilities to be aware of and keys to avoiding countertop dilemmas.
Etching & Staining
When a marble countertop is exposed to acidic substances such as coffee, citrus juice or cleaning products containing vinegar, etch marks may be left behind. The reason for this is that the calcium carbonate present in marble has a chemical reaction with acids, resulting in corrosion of the stone. Marble can also be stained by water, oil, ink, markers, or paint if spills or drips are not cleaned up promptly and end up being absorbed into the stone. The solution? Having your marble countertop sealed at regular intervals will help it readily resist absorption which causes dark spots and etching.
Porosity
Marble is a porous stone. This means that liquids and bacteria can seep beneath the surface of the stone when it is in its natural form. Once again, sealing your marble countertop on a regular basis will save the day by creating and maintaining an impenetrable barrier against spills, stains and germs.
Chipping & Scratching
While marble is known to perform outstandingly well in a high-traffic kitchen, there is always a chance that your countertop could be scratched or chipped during daily use. Luckily, these flaws can be addressed by a professional. Depending on the chosen stone finish and the specific imperfections, a stone specialist may use resurfacing, polishing and/or honing to restore your countertop to its original brilliance. (An important note: Avoiding the use of abrasive cleaning agents and scrubbers will help prevent scratches from occurring in the first place.)
Heat Tolerance
Our list of marble countertops pros and cons wouldn't be complete without noting that a marble surface can discolor/crack if hot cookware is placed directly on top of it. As is best practice with any stone countertop, we highly recommend using coasters and trivets to avoid unwanted damage.
Learn More About Best Practices for Marble Maintenance
Hopefully, reading this article has helped you feel more attuned to the characteristics of marble countertops – pros and cons both included! For more helpful advice on preserving marble surfaces of all sorts, head over to our blog post dedicated to how to care for marble countertops, vanities, floors and more.
Find the Countertop of Your Dreams with Help from Cosmos SurfacesTM!
Would you like to transform your kitchen with a memorably stunning and magnificently durable new countertop? The experts at Cosmos SurfacesTM are here to help you decide on the best stone surface for your design style and practical needs!
Our wide collection features classic marble varieties such as Calacatta Matarazzo and Carrara White, as well as more adventurous selections like Rain Forest Green. We also offer porcelain that looks like marble for those seeking the classic look of marble combined with the heightened affordability & ease of maintenance of engineered stone.
Regardless of what you're looking for, you can depend on our seasoned surfacing specialists to guide you to your perfect countertop match! To browse our expansive selection of top-quality stone products and get your project in motion, visit our website & reach out to us today.
Color of the Month: Ash
This month's featured trending color is Pantone 16-3802, Ash! The Pantone Color Trend Report says, "Solid and strong, eternally timeless Ash conveys a message of longevity."
Like black soapstone and jade soapstone, gray soapstone is durable and elegant. Our gray soapstone, also known as silver soapstone, is accented with natural veins of white, adding unique character and beautiful variety to each slab. Smooth to touch, grey soapstone is a perfect fit for breathtaking countertops and vanity tops.
Please follow and like us: