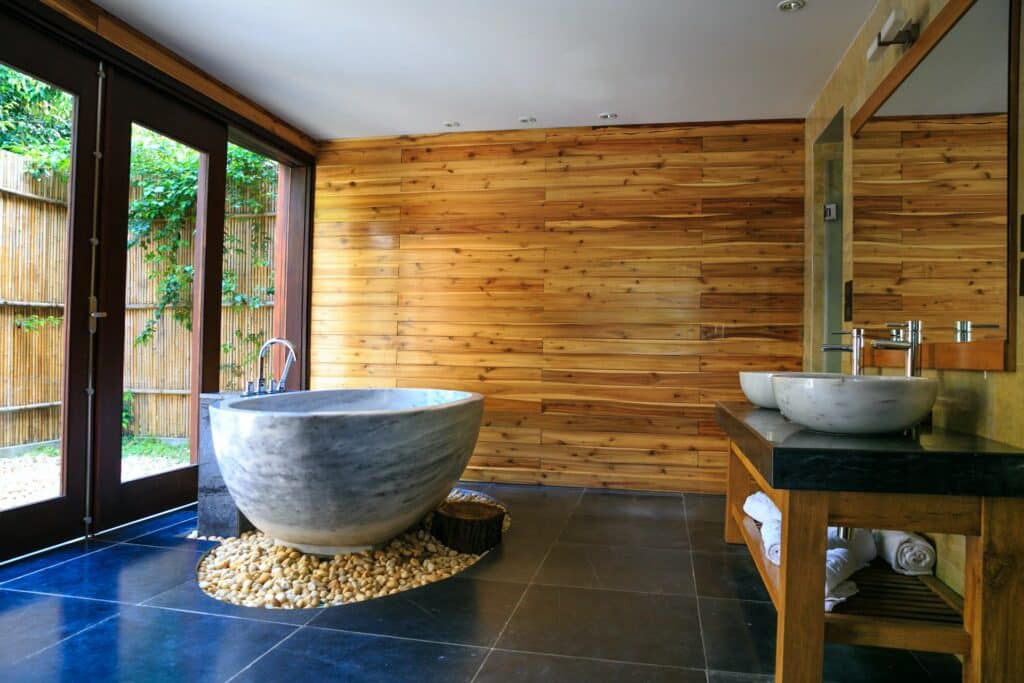 Natural stone surfaces make for gorgeous, eye-catching features in the home. In addition to its status as a sustainable, durable material, natural stone can be a powerful design element, adding color and texture to any space. In this post, the experts at Cosmos discuss different types of colored natural stone, interior design enthusiasts can't get enough of.
Breaking Away from Black and White
Black and white design motifs have long been considered timeless and classic. However, colored stones are rising in popularity once again. Whether warm, inviting spaces or dark, dramatic palettes suit your design needs, colored natural stone is making a comeback in a big way.
Dark Natural Stone Colors
Dark colored stones are an excellent option for countertops, walls or flooring, especially in spaces that open out into gardens or outdoor patios. In these cases, the same stone can be used indoors and outdoors, creating a continuous or "infinity" look. Darker hues make for a dramatic effect that contrasts beautifully with lighter-colored furniture and appliances. Stones like quartzite, granite and slate come in a variety of dark colors, including shades of blue, grey, green and brown. These various dark tones can help create a cozy, rustic look that plays well with natural elements like plants, wood and water.
Warm Tones in Natural Stone
Warm hued natural stone colors can range from dramatic, fiery red tones to subtler reddish, brown and yellow tones. Bright, dramatic reds inspire a sense of energy and expression, while subtler hues within this color family help create a warm, inviting atmosphere. This makes warm colored natural stone an excellent choice for spaces often used for entertaining. A marble stone like Daino Reale Extra is an excellent example of a warm, inviting stone with gorgeous brown and white tones.
Stones with ochre, honey or yellow hues help create a bright, happy atmosphere, while pale yellows pair well with elements in complimentary pastel colors, like mint green, sky tones and violet.
Blue Natural Stone
Blue tends to be a popular color family for both interior and exterior stones. Lighter sky-blue tones can have a calm, soothing effect, while saturated blue hues pair well with contrasting tones like white or yellow to create a more energetic, dramatic effect. Azul Bahia is a breathtaking blue granite that can add a gorgeous pop of color to fireplaces, countertops, showers, floors and other surfaces.
Green Natural Stone
Green natural stone can create a serene, tranquil feeling that pairs well with natural elements in the home. Our blog post all about green natural stone takes an in-depth look at different types of green stone, like soapstone and green granites like Emerald Pearl, exploring their properties.
Neutral Stone Colors
Neutral stone colors can include off-whites, greys and black in warm or cool hues. These colors have long been favored in design because of their versatility. Pairing well with nearly all other color palettes, cool neutral colors work beautifully in modern spaces and contrast well with white. Gray stone colors from a warmer palette create an inviting atmosphere and play well against natural features like wood. A marble like Grey Imperiale features multiple shades of grey along with white veining, adding depth to the stone and pairing well with darker colors.
Natural Stone Accent Colors
Many types of natural stone have features like veining or dramatic bursts of color on an otherwise neutral backdrop. These stones can be used to great effect, drawing the eye in order to accent specific pops of color. These colors can often be matched with surrounding furniture or other design elements in the home to help tie a room together.
How Natural Stone Colors Affect Your Mood
Aside from helping us create a desired aesthetic in the home, the colors we use in our spaces can affect our emotions when we spend time in those spaces. Our blog post on how natural stone colors can affect your mood takes an in-depth look at the emotional effect various stone colors can have on us.
Work with Cosmos!
If you have questions about colored natural stone, or if you are searching for a stone with specific color properties, Cosmos can help!
Cosmos SurfacesTM is a 2nd generation, family-owned business dedicated to providing you with knowledge, meaningful customer service and high-quality surface materials. We offer a wide range of products and resources to assist our customers in their surface material needs.  Contact us today to get started!
Color of the Month: Ash
This month's featured trending color is Pantone 16-3802, Ash! The Pantone Color Trend Report says, "Solid and strong, eternally timeless Ash conveys a message of longevity."
They say every cloud has a silver lining, which is exactly the idiom that this quartzite brings to mind. Flashes of silvery white streak through a curtain of cloudy grey to create a stormy but hopeful atmosphere. Install Silver Lining in bathrooms to set a rejuvenating mood or in kitchens to complement a modern aesthetic. Quartzite is resistant to scratching, staining, and fading, and the beauty is unmatched.
Please follow and like us: