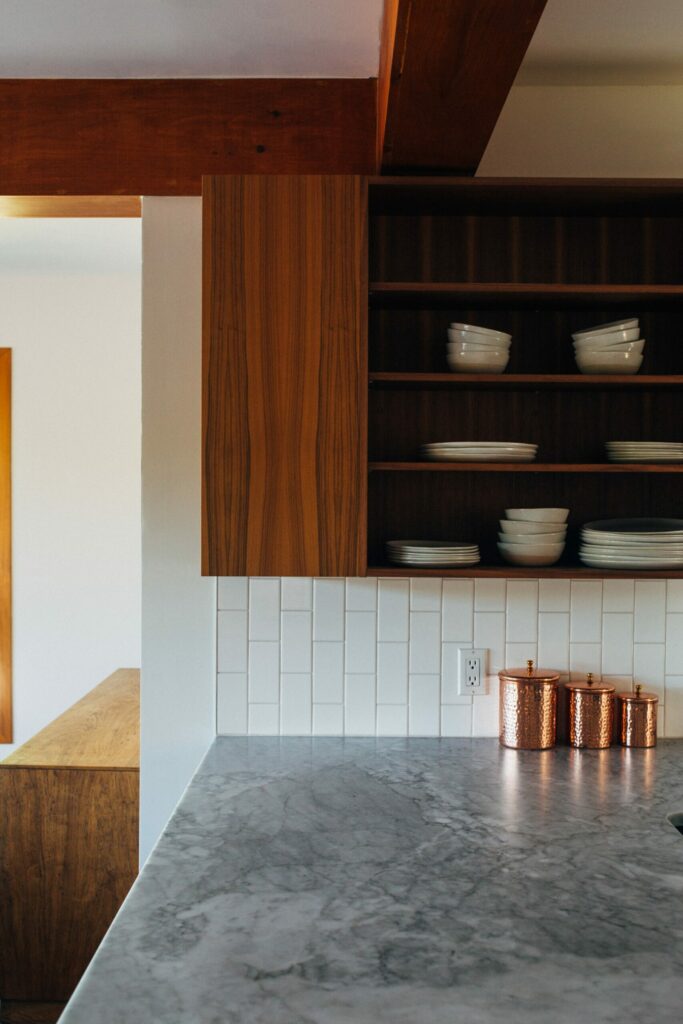 If you are thinking of using ceramic tiles in your next kitchen or bathroom project, you may be wondering, "Are ceramic tiles sustainable?" As we learn more about climate change and how humans are impacting the Earth, people are increasingly looking for ways to use "green" building materials that will minimize their negative impact on the environment. As a design process, green building takes sustainability into account every step of the way, from site selection to maintenance to eventual removal. We've already talked about how natural stone is sustainable and eco-friendly; this week, Cosmos SurfacesTM will talk about sustainability and ceramic tiles.
Are Ceramic Tiles Sustainable?
Great news for those looking to harness the beauty and versatility of ceramic tiles: they are highly sustainable and made of natural materials that don't harm the environment. They are easily produced, can be recycled, and can be cleaned and maintained without toxic chemicals. Let's take a closer look at some of the characteristics that make ceramic tiles a good option for green building and remodeling.
Material Extraction
Ceramic tiles are composed of natural clay that is extracted straight from the earth and baked in a kiln. Natural clay is plentiful, easy to extract, and often found in close proximity to tile factories. This means that extraction, fuel consumption, and transportation costs are all kept to a minimum during the ceramic tile production process. Efficient production plays a major role in whether a building material can be considered truly sustainable.
Recycled Content
Many ceramic tiles use recycled materials. In addition, manufacturers often recycle raw material and water waste back into the production cycle. Even the "leftovers" of the tile production process are typically ground up for road filler, paving brick, and other uses. Because ceramic is inert, it can be reused again after the useful life of a building. In other words, ceramic tiles can be recovered and recycled as filler material if a building is demolished or removed. Minimal waste makes ceramic tiles a very sustainable surfacing material.
Durability
Because ceramic tiles are highly durable when properly installed and maintained, they won't need to be repaired or replaced often. The expected lifespan of a ceramic tile is about 50 years. This longevity means less money and resources spent on extracting raw materials, transportation, installation, and all the other steps that go into producing and using ceramic tiles.
Maintenance
Ceramic tiles are extremely easy to clean using warm water, pH-neutral cleaners, and a soft cloth or sponge. There is no need to clean ceramics using toxic chemicals, solvents, or waxes that can leach into our drinking water or soil. Because they are non-porous, most ceramic tiles also don't need to be sealed and won't absorb stains or odors over time. A quick wipe-down as part of your weekly cleaning routine eliminates the need for deep cleaning when it comes to ceramic tiles.
Are Ceramic Tiles Right for Your Project?
Now that you know that ceramic tiles are sustainable, are they right for your kitchen or bathroom project? Ceramic tiles are perfect for a wide range of applications. They are most often seen in backsplashes and interior walls, where you can create beautiful and colorful tile patterns. The large array of color and texture options can be used to create any kind of look or feel you want in a design. Ceramic tiles can even closely mimic real wood or luxurious natural stone, while being completely water-repellant and a breeze to maintain.
However, not all ceramic tiles are ideal for use in high-traffic floors, outdoor applications, and other places where they might be exposed to extreme hot or cold temperatures. For projects like outdoor patios, kitchen countertops, and entryway floors, natural stone is the most durable option. Be sure to read our blog on natural stone vs. ceramic tile for more information about where these materials are best used in your next project.
Explore High-Quality, Sustainable Ceramic Tiles with Cosmos SurfacesTM
Cosmos SurfacesTM is passionate about connecting clients with sustainable surfacing options. We offer a wide range of natural and engineered stone and tile options to suit any design style and application. Be sure to browse our full catalog of surfacing materials. If you want to learn more about our ceramic tile portfolio, get in touch by filling out our contact form today.
Color of the Month: Chive
This month's featured trending color is Pantone 16-0323, Chive! The Pantone Color Trend Report says, "A savory herbal green, Chive imparts a healthy and restorative harmony."'
Named after the famous Renaissance artist, Botticelli is an artful masterpiece. Intensely complex, Botticelli is comprised of swirls, waves, and layers of color. Browns and golds meet grays and blacks in this Brazilian quartzite. Whether for flooring, tables, or countertops, Botticelli is sure to turn any room into a work of art. Quartzite is resistant to scratching, staining, and fading, and the beauty is unmatched.
Please follow and like us: