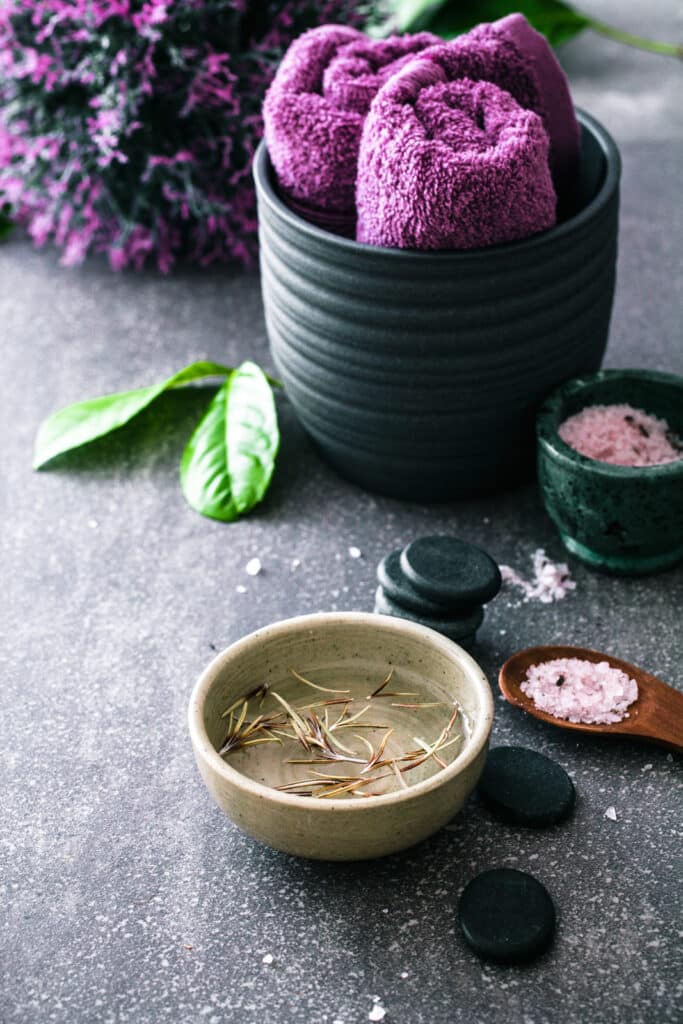 Breathtaking design engages the senses. Gorgeous color palettes can go a long way, but using textures with intention will turn your space into a sensory experience. In this post, our experts provide tips for incorporating natural stone texture into your interior design. 
How Natural Stone Texture Affects Design
Polished and honed surfaces are popular and often seen in the home. Polished surfaces are sleek and shiny, invoking a sense of high-end luxury. Honed surfaces have less shine, favoring a matte finish that creates a soft, warm glow.
On the opposite end of the spectrum, textured stone finishes are growing in popularity. Textured natural stone offers a great way to make your space unique and inviting. Stone finishes rapidly rising in popularity include:
Leathered finishes—stones with a leathered finish have natural pits and fissures, creating texture and depth. Leathered finishes show less staining, scratches and fingerprints than polished surfaces, but may be harder to clean. Textured stone with a leathered finish works well in areas like bar tops, where it creates a warm, inviting feeling. Textured stones are also less slippery, which makes them an excellent choice in areas like bathrooms or as pool surrounds.
Flamed finishes have textured, slightly bumpy surfaces. This finish can lighten the stone, creating a natural, faded appearance perfect for outdoor applications like floors, pavers and outdoor kitchens.
The Benefits of Textured Stone
Textured finishes can be a wonderful addition to a space. Let's look at just a few of the benefits of working with a textured natural stone surface:
Less prone to showing water spots, smudges and fingerprints.
Helps hide scratches, chips and staining.
Non-slip textures are excellent options for bathrooms, pool and jacuzzi surrounds.
Textured finishes help bring out the natural colors and patterns in a stone. Sleek, glossy finishes—like polished finishes—can slightly obscure a stone's true beauty.
Changing Stone Texture
Stone quarries typically apply an initial texture to stone slabs. You can work with a natural stone fabricator to change the finish on a slab of stone before installation. It's important to note that not all types of stone can accept all types of finishes. To learn more about different stone finishes and which stones can accept them, take a look at our post on how to choose a textured finish.
Sealing Textured Stone
While some textured stone finishes—like leathered finishes—are more stain-resistant than honed finishes, they still need to be sealed properly. A good sealant protects stone against staining and other types of damage, like moisture damage, mold and bacteria growth. Sealed stone surfaces are also easier to clean and maintain. To learn more about sealing natural stone, check out our blog post all about sealing natural stone.
Tips for Designing with Textured Natural Stone
To get the most out of your natural stone texture, consider the following design tips:
Pair textured natural stone with sleek, polished surfaces to complement their modern look. Intentional contrasts create visual interest and depth.
Use textured natural stone to complete a rustic, farmhouse-inspired aesthetic.
Incorporate natural elements like plants, wood and water features around textured natural stone for a warm, earthy feel.
Textured Stone Cleaning Tips
Stone surfaces can often be cleaned with warm water, mild dish soap and non-abrasive cloths or sponges. Textured surfaces can hide dirt and staining better than smooth surfaces can, but dirt and grime can also get stuck in grooves and fissures. Performing regular deep cleanings of textured stone will help prevent permanent staining and discoloration. The following tips can go a long way:
Use a vacuum cleaner—vacuum flooring to remove loose dirt. Hand-held vacuum cleaners can be used on countertops to remove loose debris from grooves and fissures.
Steam clean flooring—whether you have granite, marble, quartzite, slate or another type of natural stone flooring, a steam mop is typically a safe choice for cleaning, as it is chemical free and won't damage the stone. Always check with a manufacturer to ensure products are safe to use on the types of natural stone in your home.
Use a baking soda paste—add just enough water to baking soda to form a paste. Next, dip a cleaning brush with soft bristles into the mixture and gently scrub any problem areas. Be sure to test this method first on a small, somewhat hidden area to ensure you aren't damaging the stone.
Work with Cosmos!
If you have questions about how you can use natural stone texture in your space, reach out to Cosmos SurfacesTM today! We offer a wide selection of natural stone and our team of experts is always happy to help!
Color of the Month: Vanilla
Vanilla is a neutral, soft-toned white with honey undertones, perfect for a main wall or any room of your choice. Pair with white accents or softer sand-toned colors, or pops of floral inspired reds, teals, and corals.
The light beige background of the Istanbul granite is interspersed with fields of white and deep golden veins. The shifting patterns and earthy tones of this Brazilian granite give each slab a unique appearance, making it a popular choice in varying applications for projects of all sizes.
Please follow and like us: