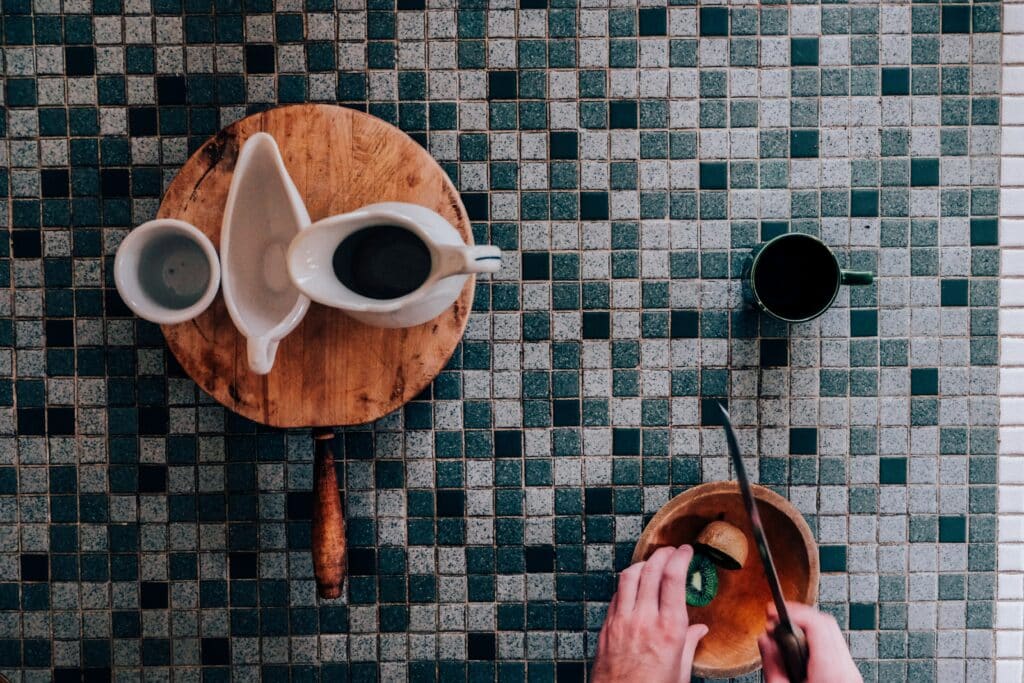 When it comes to selecting countertop materials for your home, there are plenty of great options on the market, ranging from natural stone to man-made. Ceramic tile countertops are durable, versatile and affordable, but are they right for you? In this post, the experts at Cosmos discuss the pros and cons of ceramic tile counters to help you decide.
What is Ceramic? 
Ceramic tiles typically consist of a water, sand and clay mixture. The mixture is pressed, sometimes glazed and then fired in a kiln at extremely high temperatures. The grout used to lay tile is usually a mixture of water, sand and a cement-like material. While you're probably familiar with ceramic tiles being used for flooring, in bathrooms and as kitchen backsplash, they also make a great option as a countertop surface material.
The Pros of Ceramic Tile Countertops
Versatile and sustainable, ceramic tiles have a lot to offer. Let's look at the pros of installing ceramic tile countertops in your home:
DIY-Friendly—ceramic tile countertops can be installed by a handy DIY-enthusiast, though the job requires precise measuring, cutting and the proper tools.
Versatility—ceramic tiles are available in a wide range of shapes, colors and sizes, which makes it easy to get exactly what you want. It's also easy to switch to a smaller tile size if you're interested in creating a matching backsplash or incorporating intricate patterns.
Visual Interest—tiles can effectively add elements of texture and patterns to your space to create depth and visual interest. Contrasting grout colors can be used to emphasize geometric patterns created by tiles, while tile laying patterns provide nearly endless combinations.
Heat-Resistant—ceramic tiles are highly heat-resistant, which makes them a great option to install around areas like the stove.
Affordable—ceramic tile countertops offer an affordable way to elevate your kitchen design.
Large-Format Tiles/Slabs—new technologies have introduced large-format tiles and porcelain slabs, which require less grout and make it possible to achieve a more "seamless" look.
Sustainability—ceramic tiles are often made of completely natural materials, which means they're a highly sustainable option you can feel good about incorporating into your home. As a bonus, these properties also make them easy to recycle when you're done.
Easy to Maintain—ceramic tiles are resistant to stains, acids, dirt, scratches and common household chemicals, which makes maintaining them easy and straight-forward.
For an in-depth look at ceramic tiles, check out this overview of ceramic tile properties.
The Cons of Ceramic Tile Countertops
You'd be hard-pressed to find a material that didn't have a few cons to its name. Alas, it's time to discuss the drawbacks of installing ceramic tile countertops:
While ceramic tiles are easier to install yourself, they do require precise measurements, accurate cuts and lots of patience. You'll also need to invest in the proper tools, especially for grout work.
More often than not, installing ceramic tiles means you'll deal with grout lines. Dirt, food and other contaminants can get stuck in grout lines and build up over time. This can, however, be avoided with diligent cleaning and regular maintenance.
Staining agents like coffee, wine or juice can stain grout in between tiles. It's important to keep up with sealing grout, as it tends to be a porous material, which makes it vulnerable to staining.
While it is a durable material, ceramic tile can chip if something hard and/or heavy strikes it.
Not all ceramic tiles are suitable for use as countertop materials. It's always a good idea to check in with a manufacturer to ensure a material is suitable for its intended use.
Conclusion
Ceramic tiles offer an affordable way to add gorgeous colors and patterns to your home. With such a wide variety of colors and size options available, you can truly customize your kitchen and create a unique design that sets your home apart. If you have questions or concerns about installing ceramic tile countertops, we'd love to hear from you!
Cosmos SurfacesTM is a 2nd generation, family-owned business dedicated to providing expert knowledge, meaningful customer service and high-quality surface materials. We offer a wide range of products and resources to assist our customers. Contact us today to get started!
Color of the Month: Vanilla
Vanilla is a neutral, soft-toned white with honey undertones, perfect for a main wall or any room of your choice. Pair with white accents or softer sand-toned colors, or pops of floral inspired reds, teals, and corals.
Drift away with Shadow Storm, a super white marble featuring delicate swirls and eddies of shadowy grey. White marble is the epitome of classic grace and luxury, and Shadow Storm is a prime example – beautiful as a countertop, backsplash, fountain, or as the floor of your grand entranceway. It makes an exceptional impression.
Please follow and like us: