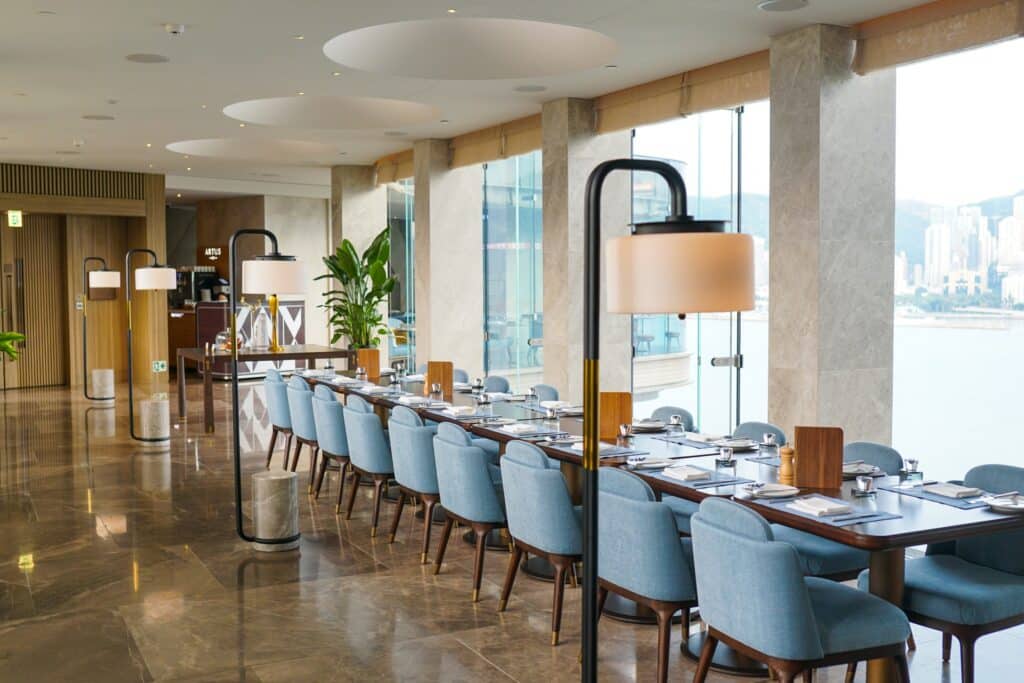 Commercial settings sport flooring materials ranging from natural wood and stone to man-made options like porcelain, concrete and laminates. Business owners have a unique set of concerns that factor into every decision when it comes to preparing a space for public use. In today's post, we compare wood vs. stone vs. porcelain tiles to see how they compare.
Choosing Tiles For Commercial Spaces
Business owners are responsible for creating and managing spaces that are visually appealing, safe to use and easy to keep clean. When it comes to selecting tiles for flooring, the following factors are paramount:
Aesthetics—tiles should compliment the visual tone of the space, whether the setting is natural and rich or elegant and luxurious.
Safety—slip-and-fall concerns are often at the forefront of any business owner's mind. That means tile textures should be considered, especially in wet areas like pool surrounds or bathrooms.
Maintenance—due to the high-traffic nature of commercial spaces, ease of maintenance plays a major role in the ability to keep a space looking clean, new and trustworthy. Depending on the setting, business owners will likely want to opt for durable, scratch resistant surfaces that are easy to clean and maintain over time.
Stone Tiles in Commercial Spaces
Natural stone tiles are an excellent option for any commercial space. That's because they are gorgeous, durable and often easy to clean and maintain. If that doesn't check off enough boxes on the list of desirable traits, natural stone flooring is available in a wide range of colors, textures and patterns. That means stone floors can be designed to match and elevate just about any interior design aesthetic. Let's look at the key traits of natural stone and why you might want to consider it for your commercial space:
Durability—natural stone is one of the most durable materials you can select. This is important in high-traffic areas where scratches, scuff marks and general signs of wear and tear are a concern. Hardy stones like granite will look great and last much longer than more vulnerable alternatives, making it a worthy investment in the long run.
Water-Resistance—in areas where tiles are prone to get wet, business owners will want to compare stone tiles to see how they handle water. Marble, for example, is a calcareous stone, which means its porosity can make it vulnerable to taking on stains and water damage. To combat this, most natural stones need to be sealed every six months to annually, depending on the type of stone.
Aesthetics—natural stone can help tie together a design style, matching colors or creating interesting contrasts in texture or patterns. A dramatic accent wall or unique floor can elevate your business, creating an experience for anyone that enters your building.
Safety—textured natural stones create gorgeous non-slip surfaces. This trait is especially useful in areas like restrooms. Marble is the most slippery natural stone tile, while honed granite and slate are less so.
Porcelain Tiles in Commercial Spaces
Porcelain tiles are a budget-friendly, man-made alternative to natural stone. Let's see how they stack up:
Durability—while not quite as hard and durable as natural stone, porcelain tiles are more durable than their ceramic relatives or vinyl options. Porcelain is also easy to clean and maintain and offers good water-resistance.
Affordability—porcelain tiles provide a desirable middle-ground option for those who can't afford natural stone, but still want materials that are a step above vinyl flooring.
Versatility—porcelain tiles can be manufactured in a wide range of colors—natural or not—and it can be designed to mimic the look of natural stones like marble or the warm, inviting look of wood grain.
When deciding between natural stone and porcelain tiles, the key differences are price, durability and design style.
Wood Flooring in Commercial Spaces
Wooden features work well in settings with a warm, rustic aesthetic. When it comes to flooring in commercial settings, however, wood can be difficult to maintain and properly clean. The wear and tear of high-traffic areas means wood flooring is more likely to take on staining and damage. For the look of wood without the headaches, it might be best to opt for a wood grain-style porcelain tile. In settings where a natural, rustic look is desirable, one can try pairing other wooden features like furniture or plants with dark, natural stone flooring like granite or slate.
Shop Natural Stone and Porcelain Tiles at Cosmos!
If you have questions about commercial surface material options, reach out to Cosmos SurfacesTM today! We offer a wide selection of natural stone and porcelain. Our team of experts is always happy to answer questions and make the best recommendations based on your needs and budget.
Color of the Month: Juniper Berry
Juniper Berry is a deep billiard green with azure undertones. Pair with touches of gold and off-white for a traditional theme in any kind of room.
On Kamarica granite, sea foam green, rust orange, soft ivory and space gray swirl and twirl with one another to produce magical shapes. Bold yet sophisticated, this exotic, naturally occurring Brazilian stone is an awe-inspiring choice that works well for countertops, backsplashes, window sills, walls and many other interior design projects.
A gorgeous gathering of greens from forest to seafoam, Verde Karzai green quartzite is the perfect material for bringing an earthy accent to your space. One of the perks of quartzite is the naturally occurring collage of colors and crystalline minerals. Verde Karzai green quartzite has that beautiful natural variation plus a pop of color.
Please follow and like us: