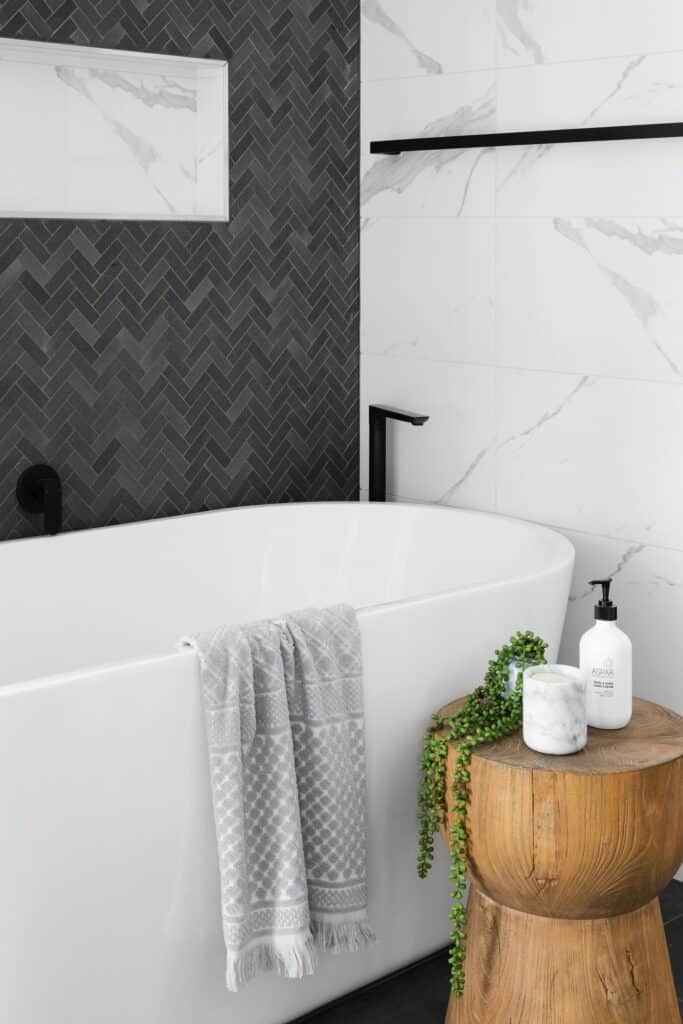 There are plenty of decisions to make when shopping for the tile of your dreams—from colors and patterns to size, shape and finish. In today's post, our experts discuss glazed vs unglazed tile. Read on to learn more about what they are and why you might want to choose one over the other.  
What Are Glazed Tiles?
There is a common misconception that glazed tiles are always glossy. Rather than referring to the finished look on tiles, the term "glazed" refers to the material tiles are coated with–typically a liquid glass or enamel. Glazed tiles can have either a glossy or a matte finish, so it's important to remember just because a tile isn't glossy, that doesn't mean it's unglazed.
What Are Unglazed Tiles?
Clay tiles, such as porcelain or ceramic tiles, are placed in a kiln for firing. If the tiles are to be glazed, the glaze coating must be applied before tiles are fired. This process infuses the glaze into the top layer of the tile. When tiles are fired without a coating of glaze, they are known as unglazed tiles.
The Benefits of Glazed Tiles
All surface materials have their own unique qualities that can guide your decision-making on the quest for the perfect match. Glazed tiles have the following benefits:
Color Fast—the finish on glazed tiles protects colors and patterns from fading over time, despite exposure to elements like direct sunlight.
Easy to Clean—glazed tiles provide a non-porous, smooth surface that's easy to wipe down with warm, soapy water and a soft microfiber cloth.
Wide Variety—glazed tiles are available in a wide range of colors, patterns and designs, while unglazed tiles typically have a more natural, earthy look to them.
Stain-Resistant—owing to their non-porosity, glazed tiles are highly resistant to absorbing or taking on stains.
Scratch Resistant—inherently protected by their coating, glazed tiles are scratch resistant and therefore perform well in high-traffic areas.
Thinner/Less Dense—glazed tiles are thinner than unglazed tiles, which can help create a more subtle, elegant look, though it also means glazed tiles could be more fragile than unglazed tiles (light glazes are typically harder than dark glazes).
The Best Applications for Glazed Tiles
Glazed tiles are versatile and durable. This tile option is well-suited to the following applications:
Kitchen Backsplash—since glazed tiles are typically smooth and easy to clean, they are an excellent option for areas that need to be cleaned often, such as backsplash.
Walling—owing to a wide variety of colors, patterns and flexibility between high-sheen and matte finishes, glazed tiles can match any design aesthetic.
Indoor Flooring—glazed tiles can help create gorgeous, elegant indoor flooring in both residential and commercial spaces. The coating on glazed tiles makes them somewhat slip-resistant, though not quite as non-slip as unglazed tiles.
The Benefits of Unglazed Tiles
Depending on the area you are looking to tile and the design aesthetic you're going for, unglazed tiles just might be the perfect material to get you there. Unglazed tiles have the following benefits:
Slip-Resistant Surface—unglazed tiles provide a non-slip surface, which is beneficial in commercial spaces, outdoor areas and wet or commonly slippery areas, like around swimming pools.
Natural Look—the more natural surface appearance of unglazed tiles make them a great fit for outdoor spaces or areas with a laid back, natural or rustic design aesthetic.
Thickness/Density—unglazed tiles are typically thicker/more dense than glazed tiles, which also makes them durable.
Can Be Sealed—unglazed tiles are more vulnerable to absorbing stains and moisture, but a sealant can be applied after installation to make them non-porous, thus protecting them from stains and moisture damage.
Best Applications For Unglazed Tiles
Though not as widely available as glazed tiles, unglazed tiles have a unique set of properties that make them a great choice for the following applications:
Outdoor Spaces—unglazed tiles tend to be thicker and more dense, which makes them a good choice for outdoor spaces that require durability, like a garden patio.
Slippery Areas—the textured finish of unglazed tiles make them highly slip-resistant, which means they provide a safety benefit in areas that become slippery, such as pool surrounds, laundry rooms and commercial spaces. It's important to note that unglazed tiles will need to be sealed in order to be protected from staining and moisture damage.
Natural Design Aesthetic—if you're going for a natural look in your home or commercial space, unglazed tiles can help create that warm, earthy atmosphere. They also make a great choice for outdoor areas that transition into a garden.
Need Help Choosing Between Glazed Vs. Unglazed Tile? Work with Cosmos SurfacesTM
To learn more about tiles and tiling, check our guide to DIY tiling here, or take a look at our blog post on Tile Laying Patterns.
If you have questions about tiling or other surface materials, get in touch with Cosmos! We offer a wide selection of products, and our blog provides information on materials, cleaning, maintenance and design tips!
Color of the Month: Molasses
Molasses is a rich brown sugar color reminiscent of gingerbread, perfect for accent walls. Pair it with earthy natural stone or wood for dark honeyed tones.
Kona Dragon is a fierce brown quartz, reminiscent of a vast and wild desert landscape. With flecks of black, gold, and amber adorning shades of assertive brown, Kona Dragon commands respect and admiration from all who attempt to tame it. Once captured and incorporated in an exceptional design, this quartz never loses its vigor.
Cafe Forest Brown marble is like gazing into the depths of your artisan mocha, swirling with rich espresso, cream, and dark chocolate. It's a truly delicious sight, one that will invigorate you each and every day. Cafe Forest Brown is ideal for exterior or interior use, irresistible in countertops, mosaics, floors, and walls.
Please follow and like us: