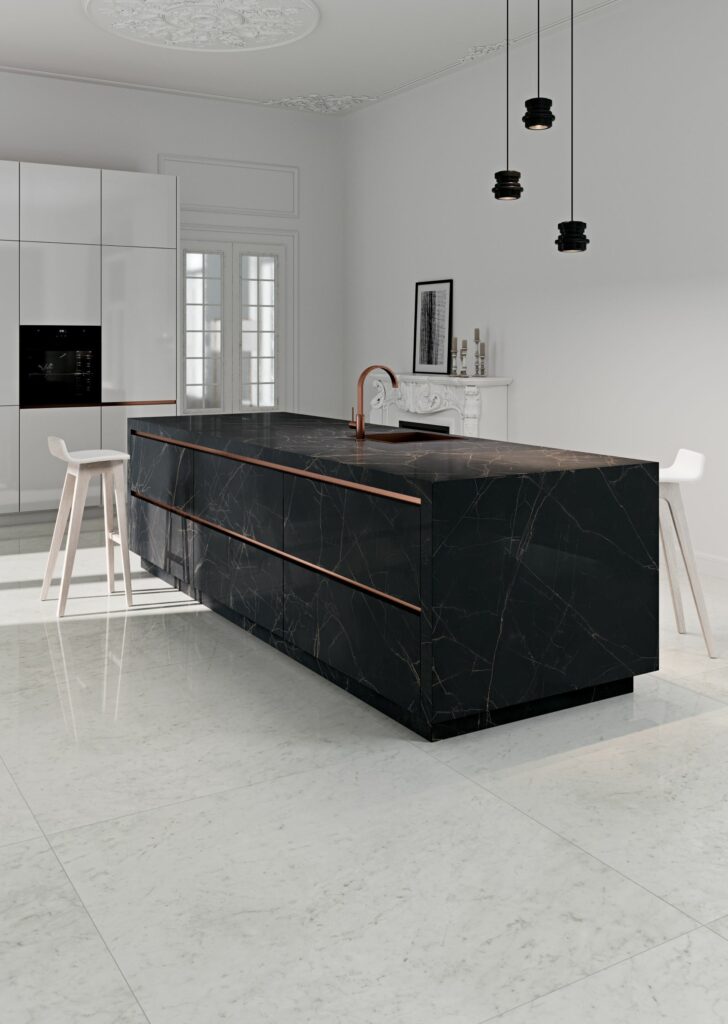 Porcelain is a gorgeous, versatile material that can make remodeling your home a rewarding endeavor. If you want a budget-friendly surface material option that can mimic the look of natural stone, look no further than "porcelain slabs near me" from Cosmos SurfacesTM. In this post, our experts provide a complete guide to porcelain slabs.
What Are Porcelain Slabs?
Several types of ceramic tile fall within the "ceramic tile family." Porcelain tile is one subset of ceramic and is sometimes referred to separately from ceramic tile. When it comes to this tile family, porcelain slabs are the largest. Providing a budget-friendly way to achieve the look of luxury, large format porcelain slabs are durable, versatile and easy to maintain.
The Benefits of Porcelain Slabs
Aside from aesthetics, porcelain slabs have a number of sought-after features. Let's take a deeper look at the benefits of installing porcelain slabs in your home:
Porcelain Slabs: Versatility
Thanks to amazing advances in tile manufacturing technologies, porcelain tile can be made with almost any color, pattern, shape or design. This makes it incredibly versatile in the home. Porcelain slabs are customizable and can be designed to match the color scheme or design aesthetic you're going for.
Porcelain slabs can be used just about anywhere in the home, whether you're looking to install backsplash, porcelain countertops, showers or even outdoor walling and flooring, the options for porcelain are good and plenty.
One of the greatest assets you might gain when working with porcelain slabs is the ability to mimic the look of natural stone, such as marble, for a fraction of the cost. Porcelain provides a sturdy, durable surface that can match the gorgeous veining often found in natural stone. If you have your heart set on a marble aesthetic, but your wallet doesn't agree—or you need a low-maintenance alternative—porcelain slabs are your new best friend.
Porcelain Slabs: Durability
We love porcelain slabs because they offer so much in the way of durability. Our favorite porcelain features include:
Scratch Resistance—this makes porcelain great for use as kitchen or bathroom countertops and flooring.
Water Resistance—porcelain has a water absorption rate of 0.5% or less. This makes it a great option for moisture prone-areas like bathrooms, kitchen backsplash or in outdoor applications like pool surrounds.
Stain Resistance—porcelain is less prone to take on staining from spills, thanks to its water-resistance. This makes it perfect for use in the kitchen, mudroom or dirt and moisture-prone areas.
Heat Resistance—as ceramic products are fired at extremely high temperatures, porcelain has a high heat-resistance level. This makes it appropriate for use in kitchen applications or as fireplace surrounds.
Fade Resistance—porcelain is a color-fast option that does not fade over time, making it great for outdoor use or near sunlit windows.
Slip Resistance—porcelain tiles have inherent traction, which helps keep slippery areas like kitchens, bathrooms and pool surrounds safe for your and your family.
Porcelain Slabs: Sustainability
Ceramic tile options like porcelain have an environmentally sustainable life cycle, start to finish. From locally sourced, natural raw materials to manufacturing practices that include waste-reduction and recycling, porcelain is the way to go for sustainability-minded homeowners.
Porcelain Slabs: Safety and Health
We've already discussed the safety benefits of porcelain as it relates to the material's slip-resistance, but that's not all. Porcelain is non-flammable. When exposed to fire, it won't burn, smoke or produce toxic fumes and can even slow the spread of flames.
Porcelain also has inherent anti-bacterial properties, which means bacteria won't grow on porcelain surfaces. Some options include anti-microbial properties, which deters and even destroys microorganisms like mold and fungi.
Porcelain is free of volatile organic compounds that typically cause health concerns. The material is not only hypoallergenic, but allergens like dust mites, pet dander and mold spores can't penetrate its non-porous surface.
Porcelain Slabs: Cleaning and Maintenance
The ease of cleaning and maintenance makes porcelain an attractive option for the busy homeowner. While grout in between tiles may still be vulnerable to mold growth and staining, porcelain itself is protected from these contaminants. Warm water and mild, neutral cleaners will often do the trick, as well as allowing the surface to air dry, or drying it off with microfiber cloth. Grout lines will benefit from regular cleaning and sealing. Another fringe benefit of working with large-format, porcelain slabs includes fewer grout lines to deal with.
Find "Porcelain Slabs Near Me" at Cosmos SurfacesTM
Whether you are a homeowner, industry professional, vendor or supplier looking for "porcelain slabs near me," you can trust Cosmos SurfacesTM to meet your needs. We offer a wide selection of high-quality porcelain slabs. Get in touch by filling out our contact form today. Our team of experts is always happy to advise and assist!
Color of the Month: Pacific Pearl
Pacific Pearl is a soothing oyster white with a hint of sea-green undertone. It is perfect for sunny rooms, main walls, and pairing as a trim with any color scheme.
Inspired by classic Greek and Italian marble, the white quartz Calacatta Strata fits perfectly on bathroom and kitchen countertops. The soft, creamy white surface is peppered with subtle grey veins that add unique variations. No two segments of Calacatta Strata are the same, making this seemingly ordinary white quartz a modern update of a true classic.
Please follow and like us: