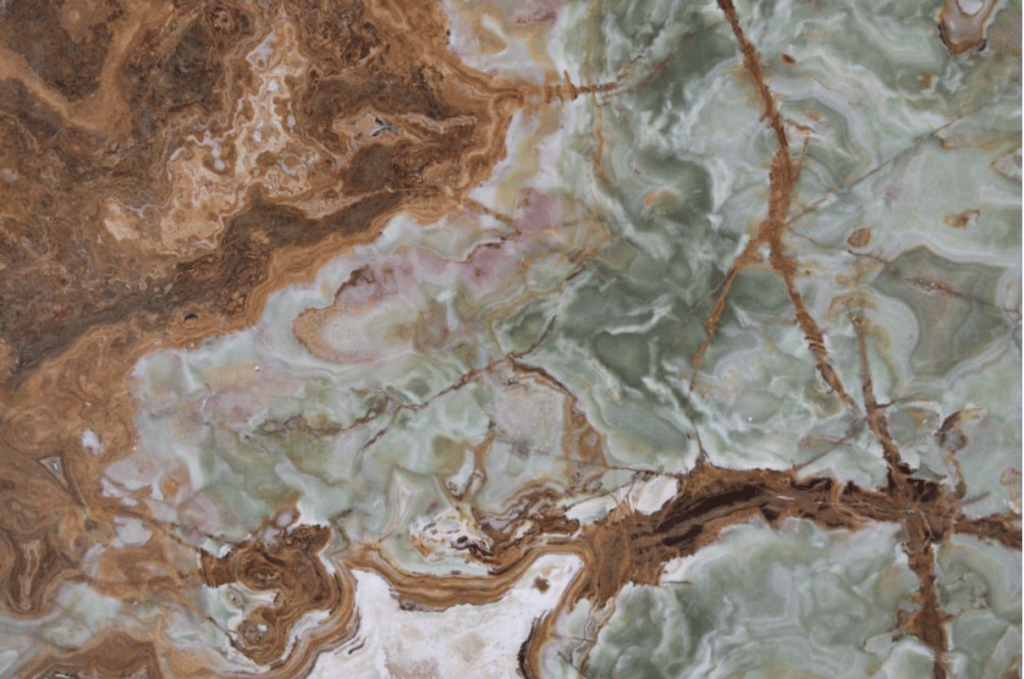 For surfaces throughout the home, our planet gives us an endless array of magical options in the form of gorgeous, naturally occurring stones like onyx. Formed when limestone gets dissolved and then redeposited – often in caves – onyx tells stories through its colorful veins. If you're looking for something out of the ordinary that offers a range of benefits, onyx is worth considering for your kitchen or even your bathroom. Today, we'll focus on onyx shower walls, whether they're a practical choice and what to know if you decide on this beautiful natural stone to help make your bathroom an oasis. 
Pros and Cons of Onyx Shower Walls
When it comes to natural stone options for shower walls, traditional picks like marble, granite and quartzite often come to mind first. But, onyx can work here, too!
Characteristics of onyx which can make it a possible choice for bathroom walling include:
Remarkable appearance – Marked by striking, swirling patterns and tones of green, gold, orange and cream, onyx looks truly otherworldly. So, if you're going for a show-stopping shower design, it doesn't get much more dramatic than this! At the same time, the hues found in onyx are also known to be soothing, contributing to a spa-like atmosphere.
Incredible lasting power – When lovingly cared for, onyx can maintain its allure and integrity for decades upon decades. Outlasting many other surfaces, onyx brings unique beauty that may be passed down through the generations.
Backlighting options – Another thing that makes onyx special is that it's translucent. This means that it can be backlit, creating the ambience-boosting illusion of glowing stone.
Like any stone surface, onyx has its fair share of things to be aware of when considering it for various applications. If you have your heart set on onyx shower walls in particular, here are some important factors to take into account:
Sealant required – Regular sealing is highly recommended for onyx, as it is porous like many other natural stone varieties. This maintenance step is especially vital in a high-moisture area like the shower or bathtub. For onyx shower walls, sealing will prevent water, bacteria, bath & body products and other substances from discoloring or intruding into the stone.
Softer than other natural stones – As compared to granite, marble and quartzite, onyx is soft and delicate. In turn, it's not the best choice for high-traffic areas.
With these pieces of knowledge in mind, you can see why onyx may be a better choice for something like a bathroom accent wall than for the walls of a shower that gets used on a daily basis.
Well-Suited Applications for Onyx
Due to its fragility, onyx isn't necessarily the best option for surfaces that take a lot of wear and tear. So, you may skip using it for demanding applications like onyx shower walls or your kitchen countertop. Still, there are plenty of ways to include onyx in your one-of-a-kind home design! Along with decorative accent areas, onyx works splendidly for:
Bathroom vanity tops
Backsplashes
Kitchen island bases
As we mentioned above, onyx can be backlit so it will appear to gleam, adding an element of luxurious relaxation to your home.
Caring for Onyx 
Due to its calcareous composition, onyx can be easily damaged by acidic substances. So, it's important to avoid acidic or otherwise harsh cleaners no matter where in your home you use onyx.
Instead, opt for mild dish soap and warm water or a cleaner specifically formulated for use on natural stone. Exercising care here will help preserve the exquisite look of your onyx surfaces and maximize their longevity.
Realize Your Surfacing Dreams with Cosmos
Although rare, intricate onyx may not be the best stone for shower walls or kitchen counters, it can be incorporated into the home in several other ways. If you adore this stone, trust the professionals at Cosmos to help you pick the perfect application for onyx. Our exclusive onyx selection features Classic Green, Travertine, Rose, Red Dragon and more.
Plus, we offer a wide range of harder wearing surfaces like granite, marble, quartz, ceramic tile and beyond. If you're eager to start exploring in pursuit of the perfect surface for your next home renovation project, reach out to us today or stop by one of our showrooms across the nation!
Color of the Month: Ancient Copper
Ancient copper is a muted apricot orange with undertones of cinnamon. It generates a feeling of warmth and celebration, especially in gathering places such as kitchens and dining rooms.
Swirling pinks and embers are how the rusty onyx of Red Dragon gets its name. Originating in Iran, Red Dragon resembles an aerial shot of a desert, a soft pink with rivulets of amber. With its polished finish and unique texture, Red Dragon looks great in bathrooms as a vanity, wall tiling, or flooring.
The dry browns and subtle oranges of Nacarado brings a desert scene to mind. Mellow and warm, the Brazilian quartzite of Nacarado is perfect for bathrooms, fireplaces, and exterior countertops. Available in several types of finish, Nacarado looks and feels great among brown and golds. Quartzite is resistant to scratching, staining, and fading, and the beauty is unmatched.
Please follow and like us: